PRINCETON, NJ -- The Democratic Party is in a good position to retain its majority status in Congress this November. Democrats lead the Republicans by 51% to 40% in the party preferences for Congress among all registered voters, and by 52% to 42% among likely voters.
This is according to Gallup's "generic ballot" question, asking Americans which party's candidate they would vote for in their congressional district if the election were held today. The USA Today/Gallup survey was conducted June 15-19, 2008.
The Democrats' 11-point advantage among registered voters is slightly less than what Gallup found in mid-February -- at that time, the Democrats led by 55% to 40% -- however, it still puts them in a comfortable position heading into the fall.
The current registered-voter results are identical to those from Gallup's final pre-election survey in 2006. In that election, the Democrats wrested majority control of Congress from the Republicans, winning 53% of all votes cast nationally for congressional candidates, to the Republicans' 45%. The implication of this, of course, is that the Democrats are on track to hold on to their U.S. House seat majority in the 2008 elections.
Voter turnout typically helps the Republicans narrow any Democratic advantage seen in pre-election polls based on all registered voters. That was the case in 2004, when the Republicans trailed the Democrats by four percentage points among registered voters in Gallup's final pre-election survey, 45% to 49%, but the Republicans went on to win 47% of the national popular vote, and a 30-seat majority in Congress.
Since the 2004 election, however, the Republicans have generally trailed the Democrats on the generic ballot by a much larger margin. The 11-point gap Gallup now sees in the Democrats' favor is very close to the average Democratic lead for all of 2006.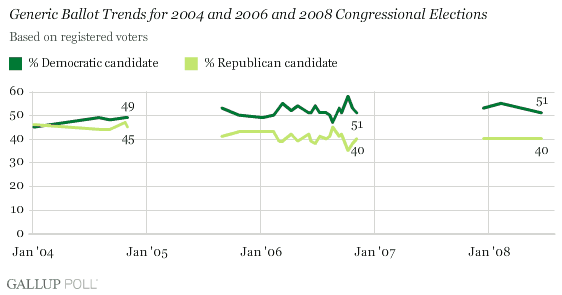 Although the balance of power in the U.S. House of Representatives will be determined by 435 individual congressional elections, Gallup's generic-ballot measure of national support for the two major parties -- more specifically, the final pre-election generic ballot based on likely voters -- has proven to be a strong predictor of the actual percentage of votes cast nationally for all Republican and Democratic candidates. This, in turn, bears a close relationship to the number of seats won by each party.
Survey Methods
Results are based on telephone interviews with 1,625 national adults, aged 18 and older, conducted June 15-19, 2008. For results based on the total sample of national adults, one can say with 95% confidence that the maximum margin of sampling error is ±3 percentage points.
For results based on the sample of 1,460 registered voters, the maximum margin of sampling error is ±3 percentage points.
Results for likely voters are based on the subsample of 1,310 survey respondents deemed most likely to vote in the November 2008 general election, according to a series of questions measuring current voting intentions and past voting behavior. For results based on the total sample of likely voters, one can say with 95% confidence that the maximum margin of sampling error is ±3 percentage points. The likely voter model assumes a turnout of 60% of national adults. The likely voter sample is weighted to match this assumption, so the weighted sample size is 974.
Interviews are conducted with respondents on land-line telephones (for respondents with a land-line telephone) and cellular phones (for respondents who are cell-phone only).
In addition to sampling error, question wording and practical difficulties in conducting surveys can introduce error or bias into the findings of public opinion polls.
To provide feedback or suggestions about how to improve Gallup.com, please e-mail feedback@gallup.com.