PRINCETON, NJ -- Gallup's Net New Hiring Activity measure is essentially unchanged in the first week of July -- matching June -- but this follows a 2.2 percentage-point drop from April to May and a 1.1-point drop from March to April.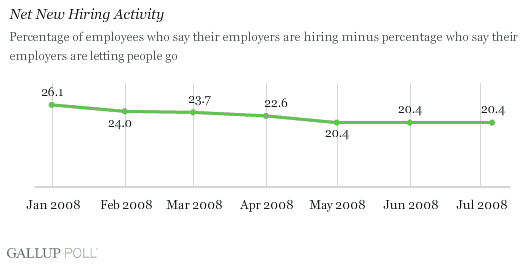 Weak Job Market Conditions Continue in Early July
Just prior to the Fourth of July holiday, the Bureau of Labor Statistics reported that the United States lost another 62,000 jobs in June -- 438,000 for the first half of 2008 -- and that the June unemployment rate was unchanged at 5.5%. At the same time, according to Gallup's Net New Hiring Activity measure, employees reported that the same dismal conditions that characterized the labor market in May continued in June.
Gallup's Net New Hiring Activity measure, based on a survey of nearly 2,000 employees over the first week of July, was essentially unchanged at 20.4 from May and June. Over the first six months of this year, Net New Hiring Activity has dropped by 5.7 points as the U.S. unemployment rate has increased from 4.9% in January to 5.5% in May and June.
The lack of improvement in Net New Hiring Activity in early July suggests that current job-market conditions have not improved, with the economy continuing to shed jobs for a seventh month in a row, and that the unemployment rate is likely to remain at its elevated June level of 5.5%.
Gallup's Net New Hiring Activity measure was initiated in January 2008. It is an effort to assess U.S. job creation or elimination based on the self-reports of more than 8,000 individual employees each month about hiring and firing activity at their workplaces. In order to calculate this measure, Gallup asks current full-time employees whether their employers are hiring new people and expanding the size of their workforces, not changing the size of their workforces, or letting people go and reducing the size of their workforces. Net new hiring activity is computed by subtracting the "letting go and reducing" percentage from the "hiring and expanding" percentage. The assumption is that employees across the country have a good feel for what's happening in their companies, and that these insider perceptions can yield a useful summary indication of the nation's job situation.
During the first week of July, the percentage of employees saying their companies are hiring more workers was 36.9% and the percentage reporting that their firms are eliminating jobs was 16.5%. These percentages are essentially the same as those for May and June but are down substantially from January.
More Jobs Fallout Still to Come
Gallup's Net New Hiring Activity measure confirms the Bureau of Labor Statistics findings that the first six months of 2008 have not been good for the job market. Still, like the BLS unemployment rate, Gallup's measure of job-market conditions should probably be considered a lagging economic indicator. Companies tend to cut back after they experience sales declines, particularly given the way today's higher productivity levels have been achieved. Further, while employees are on severance, they are generally not considered unemployed and many end up shifting into the "retired" category.
The stabilizing of the current dismal conditions in the job market is not good news. Worse yet, instead of indicating a "bottom," this result is likely to be only temporary. For example, many job cuts in the financial sector as well as those in other industries experiencing great hardships have been announced but have yet to be reflected in the marketplace. And, the tax rebate distribution is scheduled to end this Friday, ending whatever boost to the employment picture it has provided.
In this regard, the issue is not really whether the job market is likely to deteriorate further in the months ahead; that is likely to be the case. The real question is whether the unfolding of that deterioration in the jobs picture will in and of itself make overall economic conditions even worse, creating something of a vicious downward cycle -- something to watch for in the weeks and months ahead.
Survey Methods
Gallup is interviewing no fewer than 1,000 U.S. adults nationwide each day during 2008. The economic questions analyzed in this report are asked of a random half-sample of respondents each day. The results reported here are based on combined data of more than 8,000 interviews in January, February, March, April, May, and June. For results based on this sample, the maximum margin of sampling error is ±1 percentage point.
The questions for the first week of July are based on combined data of nearly 2,000 interviews conducted June 30 to July 6, 2008. For results based on this sample, the maximum margin of sampling error is ±3 percentage points.
Interviews are conducted with respondents on land-line telephones (for respondents with a land-line telephone) and cellular phones (for respondents who are cell-phone only).
In addition to sampling error, question wording and practical difficulties in conducting surveys can introduce error or bias into the findings of public opinion polls.
To provide feedback or suggestions about how to improve Gallup.com, please e-mail feedback@gallup.com.