PRINCETON, NJ -- George W. Bush will end his 30th quarter in the White House with just a 29% average approval rating for the last three months, the worst of his presidency.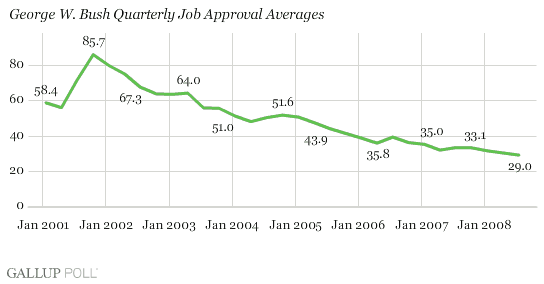 Bush's previous low quarterly average was 31.3% in the prior (29th) quarter. During his 30th quarter (spanning April 20 through July 19), Bush's six individual Gallup Poll approval ratings ranged between 28% and 31%. The 31% reading is from the most recent update, based on a July 10-13 Gallup Poll.
High gas prices, numerous economic troubles, and ongoing U.S. military action in Iraq and Afghanistan all contributed to Bush's recent low ratings, which rank among the lowest Gallup has measured historically. The lowest single rating for any president is Harry Truman's 22% job approval rating in February 1952. Bush has achieved a personal low of 28% five times, three of which occurred in his most recent quarter in office.
Bush spent a good part of 2001 and 2002 at the opposite end of the spectrum, registering some of the highest approval ratings in Gallup's polling history, including a record-high 90% from a poll conducted shortly after the Sept. 11 terrorist attacks. Since then, Bush's approval rating has steadily declined.
Gallup has measured only eight presidential quarterly averages lower than Bush's current 29% since it regularly began tracking presidential approval ratings in 1945 -- all by Truman in 1951 and 1952 or Richard Nixon in 1973 and 1974. Jimmy Carter joins Bush, Truman, and Nixon as presidents with the 15 worst quarterly averages.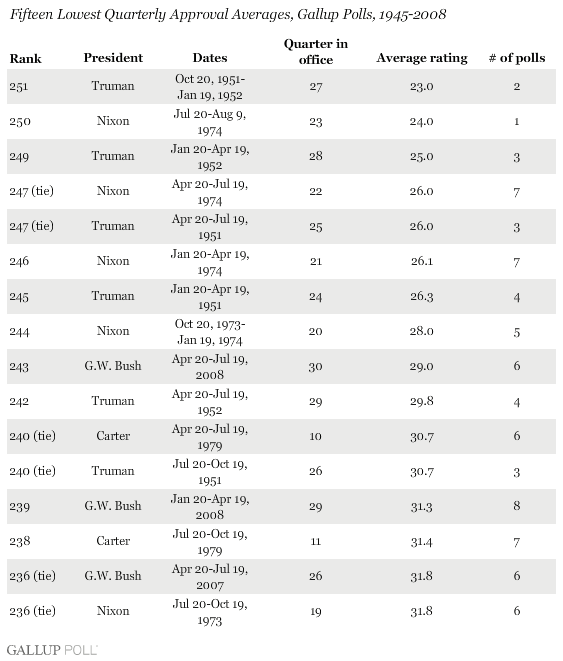 Bush is only the fifth president since World War II to have served a 30th quarter in office, and he now rates as the president with the worst approval average during this time of his presidency. Truman previously had the lowest 30th quarter average, at 32%, while Dwight Eisenhower, Ronald Reagan, and Bill Clinton all averaged above 50%.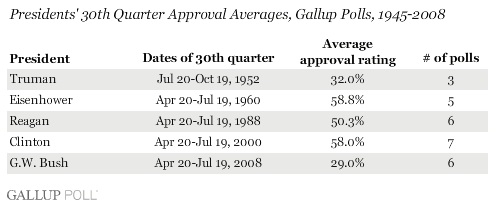 Implications
Bush is clearly limping toward the finish line, with just eight months and two quarters left in his presidency, and unless national conditions improve significantly, he will likely leave office with low ratings (even if he gets a post-election bounce, as outgoing presidents typically do).
His historically low approval ratings are a challenge for John McCain and for the Republican Party's hopes of retaining the presidency. The closest historical parallel to the current situation is the 1952 election, when Democratic candidate Adlai Stevenson unsuccessfully sought to succeed the unpopular Harry Truman as president. But the outgoing president's approval ratings are not very predictive of the outcome of the presidential election. Among the more popular presidents in the late stages of their terms, only Reagan was succeeded as president by a member of his party.
Survey Methods
Results are based on averages of six Gallup Polls, each consisting of telephone interviews with approximately 1,000 national adults, aged 18 and older, conducted between April 20 and July 19, 2008. For each poll, one can say with 95% confidence that the maximum margin of sampling error is ±3 percentage points.
The most recent results are based on telephone interviews with 1,016 national adults, aged 18 and older, conducted July 10-13, 2008. For results based on the total sample of national adults, one can say with 95% confidence that the maximum margin of sampling error is ±3 percentage points.
Interviews are conducted with respondents on land-line telephones (for respondents with a land-line telephone) and cellular phones (for respondents who are cell-phone only).
In addition to sampling error, question wording and practical difficulties in conducting surveys can introduce error or bias into the findings of public opinion polls.
To provide feedback or suggestions about how to improve Gallup.com, please e-mail feedback@gallup.com.