PRINCETON, NJ -- The country's current state of affairs may not be the most restful topic to contemplate when drifting off to sleep this summer; instead, it could call for two aspirin. Just 17% of Americans are now satisfied with the way things are going in the country -- only marginally better than the 14% who were satisfied in June -- while 81% are dissatisfied.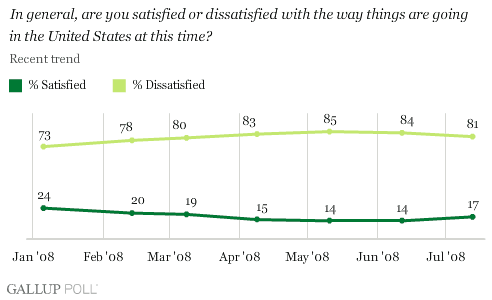 The latest results, from a July 10-13, 2008, Gallup Poll, represent the fifth straight month that dissatisfaction with the country has registered 80% or above, including the record-high 85% in May.
Gallup's long-term trend on this measure of national mood, instituted in 1979, shows only a few other times when public dissatisfaction with the country rose as high as it is today. It registered 84% in July 1979 and June 1992, and 80% in March, April, and July 1992.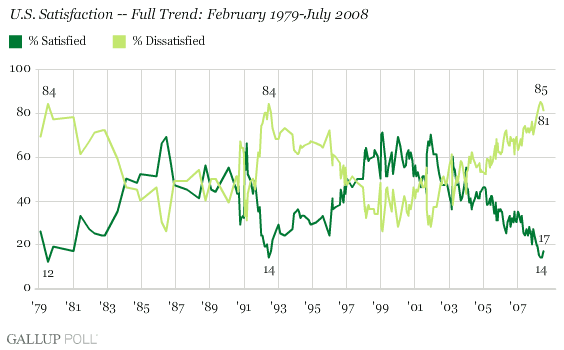 Broad dissatisfaction with the country is found throughout society, although it is particularly high among women and Democrats, and is more pronounced among seniors than among young adults.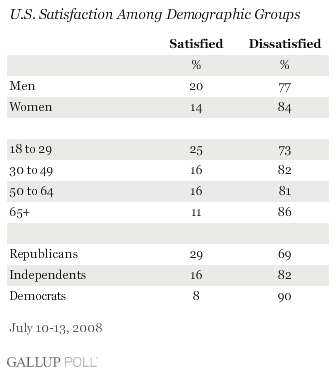 Nation's "Most Important Problem"
The former Sen. Phil Gramm, who is now former co-chairman of John McCain's presidential campaign, recently described this sort of public disaffection with the country as "whining" (a sentiment McCain strongly disavowed).
The why behind the "whine" is evident in Americans' answers to Gallup's monthly measure of the "most important problem" facing the country. In July, the economy, gas prices, and the situation in Iraq are the clear leaders.
Other economic issues registering at least 5% include the high cost of living, generally, and unemployment. Other domestic issues in this league include dissatisfaction with government leaders, lack of energy sources, concern about morality in the country, and problems with the healthcare system.
Gallup's monthly updates on this measure show no major shifts since May in the public's focus on the economy and Iraq (though the percentage citing Iraq has declined from earlier this year). After rising between April and June, mentions of gas and other fuel prices have leveled off at about 25%.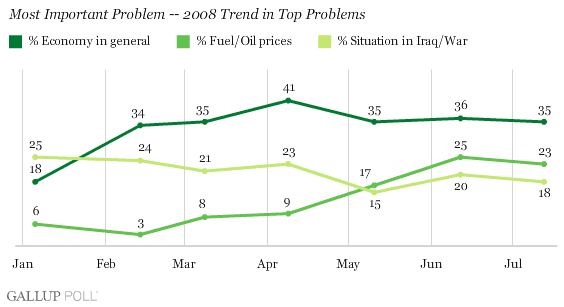 Survey Methods
Results are based on telephone interviews with 1,016 national adults, aged 18 and older, conducted July 10-13, 2008. For results based on the total sample of national adults, one can say with 95% confidence that the maximum margin of sampling error is ±3 percentage points.
Interviews are conducted with respondents on land-line telephones (for respondents with a land-line telephone) and cellular phones (for respondents who are cell-phone only).
In addition to sampling error, question wording and practical difficulties in conducting surveys can introduce error or bias into the findings of public opinion polls.
To provide feedback or suggestions about how to improve Gallup.com, please e-mail feedback@gallup.com.