PRINCETON, NJ -- As gas prices have tumbled during the past few weeks, the percentage of Americans saying economic conditions are "getting worse" has also declined, although the overall level of pessimism -- like pump prices -- remains high.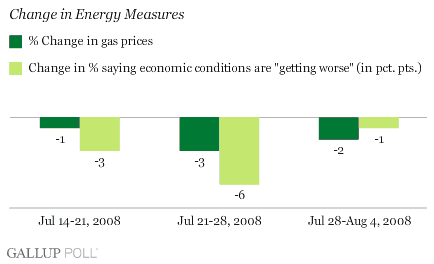 Consumers Getting a Little Less Gloomy
Plunging oil prices globally have been reflected in U.S. gas prices at the pump over the past several weeks, with the average retail price for a gallon of regular gasoline now at $3.88 nationwide -- down 7.5 cents over the past week and 23.4 cents since prices peaked on July 7 but still $1.04 above prices of a year ago. The week gas prices peaked (July 7-13) and the week that followed, 87% of Americans said current economic conditions were getting worse, not better. During the most recent two weeks, the percentage of Americans expressing this sentiment has declined to 84% and then to 81%.
Consumer expectations for the future course of the economy have improved across income levels during the past two weeks. And the impact has been fairly uniform, with those in the lowest income grouping showing an improvement of 8 percentage points and those in the highest income group an improvement of 6 points.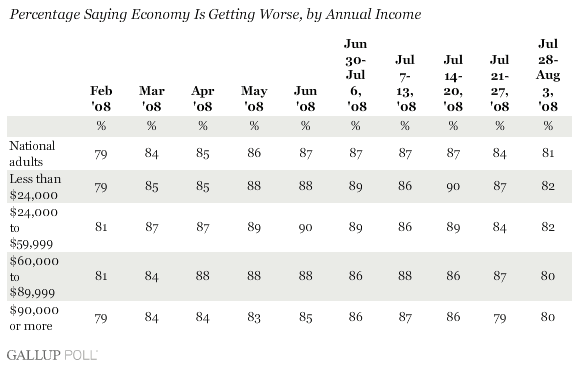 Consumers Rating the Economy Slightly Better
The percentage of consumers rating the economy as "poor," which averaged 47% in June, ticked up to 50% in the first week of July and stayed in that range for the next two weeks, but has edged back down to June levels during the most recent two weeks. While ratings have varied by income group over the past several weeks, they ended the past couple of weeks just about where they were in June.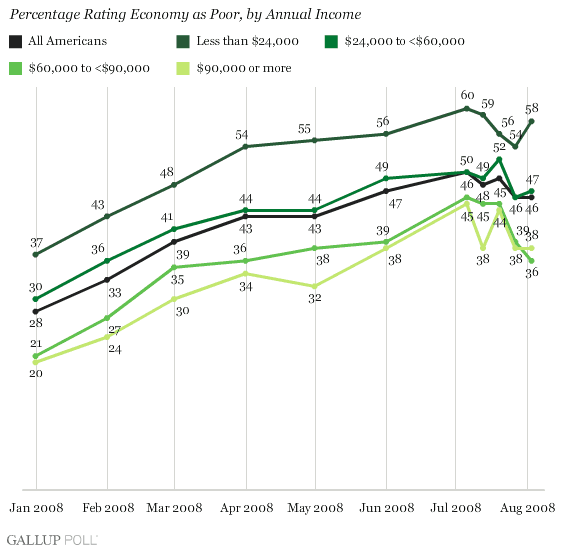 Commentary
Gallup Poll Daily tracking suggests that consumers are reacting positively to the decline in gas prices -- something that may not be fully apparent in the monthly consumer confidence and consumer sentiment numbers for July. Of course, this small improvement continues to leave consumer confidence at extremely weak levels, particularly since consumers continue to rate current economic conditions no better than they did in June. Still, any improvement in consumer attitudes is welcome as retailers enter the important back-to-school season.
In this regard, it is doubtful that recent gas price declines have been steep enough or long-lasting enough to save the current sales season for most retailers. And at this point, it doesn't appear as though there will be a delayed spending of the tax rebates. As the nation's biggest retailers asserted Thursday, prospects for the back-to-school season are not good and a need for added promotions will not help margins or earnings.
Still, if gas prices show some more declines, consumers will have a little more money to spend on things other than gas at the pump. In addition, there could be further improvements in consumer attitudes reflected in Gallup's daily monitoring of consumer perceptions in the days and weeks ahead. More money in consumers' pockets and a little less gloom may not be enough to save the back-to-school sales season, but they might provide retailers with at least some hope that things could get better in time for Christmas.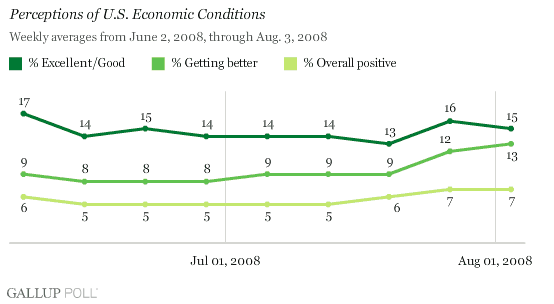 Survey Methods
Gallup is interviewing no fewer than 1,000 U.S. adults nationwide each day during 2008. The economic questions analyzed in this report are asked of a random half-sample of respondents each day. The results reported here are based on combined data of more than 8,000 interviews in January, February, March, April, May, and June. For results based on this sample, the maximum margin of sampling error is ±1 percentage point.
The questions for July are based on combined data of more than 3,000 interviews conducted each week: June 30-July 6, July 7-13, July 14-20, July 21-27, and July 28-Aug. 3, 2008. For results based on these samples, the maximum margin of sampling error is ±2 percentage point.
Interviews are conducted with respondents on land-line telephones (for respondents with a land-line telephone) and cellular phones (for respondents who are cell-phone only).
In addition to sampling error, question wording and practical difficulties in conducting surveys can introduce error or bias into the findings of public opinion polls.
To provide feedback or suggestions about how to improve Gallup.com, please e-mail feedback@gallup.com.