WASHINGTON, D.C. -- As multibillionaires Bill Gates and Michael Bloomberg team up to reduce smoking worldwide, a Gallup Poll finds that most Americans would likely agree in principle with the thrust of the initiative, as 82% consider smoking very harmful, up slightly from last year and on par with what Gallup has measured during this decade.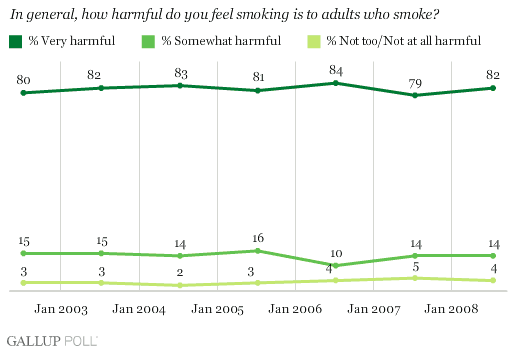 A smaller percentage, but still a majority of Americans (56%), also believe smoking is very harmful to secondhand smokers, a number that has remained at a Gallup high for three consecutive years.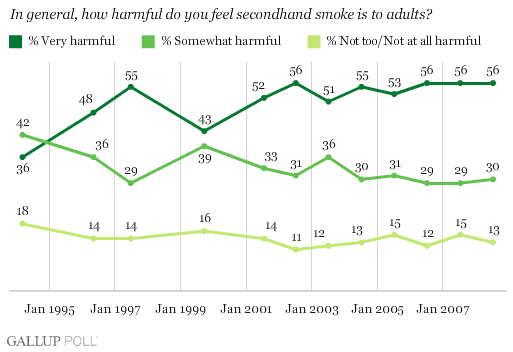 Microsoft's founder and New York City's mayor last week pledged a total of $500 million to reduce smoking around the world. In the United States, smoking has been trending downward over the last half century -- this year, 21% of Americans tell Gallup they smoke, down from 28% as recently as 2001. Around the world, a median of 22% surveyed by Gallup say the same, ranging by country from 6% in Nigeria to 40% in Cuba, with no clear relationship between GDP and likelihood of smoking.
To achieve what two hugely successful multibillionaires themselves admit is a difficult and ambitious goal, Gates and Bloomberg say they plan to target governments, companies, and individuals alike. Over four years, they hope to encourage higher tobacco taxes, outlaw smoking in public places, ban advertising targeted toward children, and to help people avoid or quit the habit.
Gallup Polls in the United States suggest that while raising individuals' awareness of the harmful effects of smoking in other countries is an essential first step in helping to lower smoking rates, the kinds of policies Gates and Bloomberg are pursuing to make smoking more difficult for people are also an important part of any winning strategy. When in the 1960s, the U.S. surgeon general first warned about the dangers of smoking and the U.S. Congress began to require warning labels on cigarette packs, Gallup found a sharp increase in public perceptions of smoking risks, but no immediate decline in the smoking rate. It was not until the 1970s that the rate of smoking dropped below 40% (possibly reflecting a lag in full public acceptance of the risks) and not until 1989 (well into the period of government regulation of smoking in public) that it fell below 30%.
When Americans today are asked whether the blame for smokers' health problems lies with tobacco companies or smokers themselves, a near-record-high 66% say smokers are responsible.
These data suggest at least some support for an awareness campaign emphasizing the role of individual choice and personal responsibility in efforts to stop smoking.
Bottom Line
Most Americans recognize the harmful effects of smoking, and tend to blame smokers, rather than tobacco companies, for the health problems associated with the habit. While raising awareness of the harmful effects of smoking is part of the battle, Gallup Polls conducted in the United States, where such awareness is already high, suggest that Gates and Bloomberg will also need to depend on both policies and patience to achieve their goals.
Survey Methods
Results are based on telephone interviews with 1,016 national adults, aged 18 and older, conducted July 10-13, 2008. For results based on the total sample of national adults, one can say with 95% confidence that the maximum margin of sampling error is ±3 percentage points.
Interviews are conducted with respondents on land-line telephones (for respondents with a land-line telephone) and cellular phones (for respondents who are cell-phone only).
In addition to sampling error, question wording and practical difficulties in conducting surveys can introduce error or bias into the findings of public opinion polls.
To provide feedback or suggestions about how to improve Gallup.com, please e-mail feedback@gallup.com.