WASHINGTON, D.C. -- Gallup Poll findings underscore the dire economic conditions in Zimbabwe as residents' assessments of their personal well-being declined from a mean score of 3.8 to 3.2 between 2006 and 2008, which represents a meaningful change.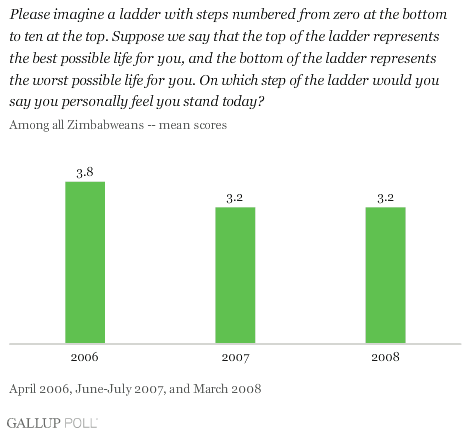 In light of the hardships Zimbabweans experience every day, it is difficult to believe that they would predict their well-being to improve in the future. However, when Gallup asked Zimbabweans in March 2008 where they would stand five years from now, they reported a mean score of 4.6, up from 3.8 in 2007 and 4.0 in 2006. Such self-assessments of a better life may be attributable to the fact that Gallup conducted the poll in the weeks leading to the national elections, suggesting, perhaps, some cautious hope for change.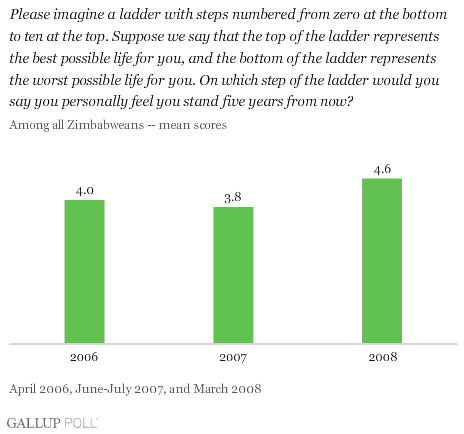 As economic conditions have greatly deteriorated in the past few years and with severe food, gas, and cash shortages defining Zimbabweans' daily experiences, it comes as no surprise that their dissatisfaction with their standard of living has increased dramatically since 2006. In 2006, 77% expressed dissatisfaction with all the things they could buy and do, compared with 88% who said the same about a year later. In 2008, more than 9 in 10 Zimbabweans (91%) said they were dissatisfied with their standard of living.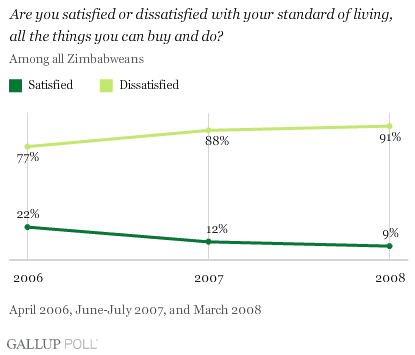 In mid-July, a loaf of bread cost about 100 billion Zimbabwean dollars, up from about 750,000 Zimbabwean dollars just six months ago. Recently the central bank of Zimbabwe said the inflation rate had topped 2 million percent, but experts point out it is probably closer to 12 million percent. In the past year, prices of basic goods on the black market have increased by as much as 70 million percent.
In addition, almost 7 in 10 adults (68%), aged 15 and older, currently tell Gallup they do not have a job, either paid or unpaid. Against such an economic backdrop, it is not surprising to observe that today 86% of Zimbabweans say their standard of living is getting worse, up from 75% two years earlier.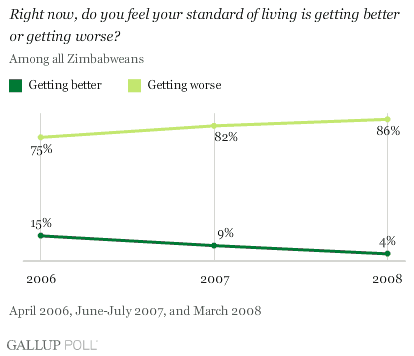 Zimbabweans' assessment of their country has declined for three consecutive years, from a mean of 3.1 in 2006 to 2.4 in 2007 to 2.1 this year. They also rate their country's situation below that of their own (mean score of 3.2). This finding suggests that Zimbabweans' perceptions regarding their own ability to cope are slightly more positive than their perceptions of how the country, as a whole, is handling the crisis. But when asked about the future, they express similar levels of hope for their country as they do for themselves (mean scores of 4.5 and 4.6, respectively), which may suggest some tempered optimism for the direction of the country during the weeks leading to the national elections.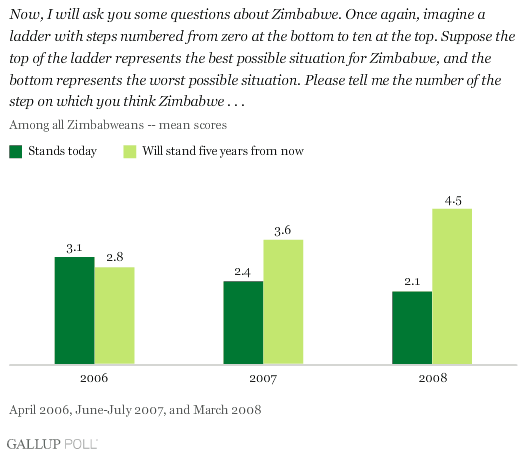 Zimbabweans are virtually unanimous in their negative assessments of their country's economy. Ninety-nine percent of those surveyed believe current economic conditions are not good and 97% think they are getting worse. In fact, a majority of Zimbabweans were already telling Gallup last year that their country needed a change in leadership to solve the economic crisis. And while the central bank recently dropped 10 zeros off the currency, turning 10 billion Zimbabwean dollars into one, the move is unlikely to stave off the country's deep economic crisis.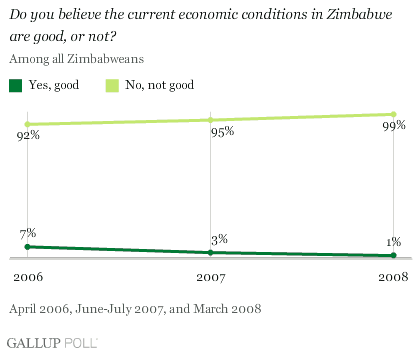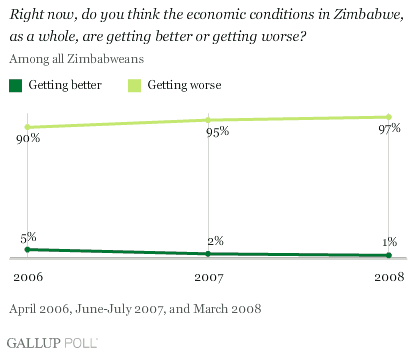 The poll findings clearly show the economic crisis is affecting an overwhelming majority of residents. The decline in Zimbabweans' perceptions of their personal situations and their bleak assessments of the current state of their country are grounded in the harsh realities of their daily experiences. In late June, the Zimbabwe Electoral Commission declared Robert Mugabe, the incumbent from the ZANU-PF party who has been ruling the country for almost 30 years, the winner. Despite the dire conditions, Zimbabweans still express a glimmer of hope that the current situation will improve in the future.
Survey Methods
Results are based on face-to-face interviews with 1,000 adults, aged 15 and older, in Zimbabwe in March 2008. The 2007 results are based on face-to-face interviews with 1,000 adults, aged 15 and older, in Zimbabwe in June-July 2007. The 2006 results are based on face-to-face interviews with 1,000 adults, aged 15 and older, in Zimbabwe in April 2006. For results based on the total sample of national adults, one can say with 95% confidence that the maximum margin of sampling error is ±5 percentage points. In addition to sampling error, question wording and practical difficulties in conducting surveys can introduce error or bias into the findings of public opinion polls.