PRINCETON, NJ -- A recent USA Today/Gallup poll finds 27% of Americans naming swimming as their favorite summer Olympic event, making it the clear leader after vying with track and field for the top spot in 2000 and 2004.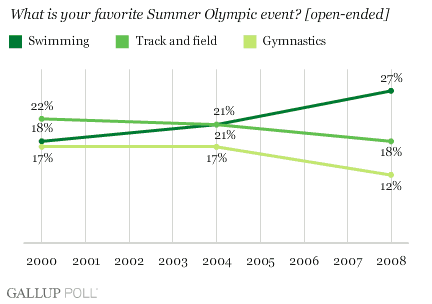 The percentage of Americans naming gymnastics as their favorite sport tumbled from 17% in the last two Summer Olympic years to 12% today. Basketball (5%) and diving (4%) round out the top five.
Women have propelled swimming to its status as the favored Olympic event in 2008. Thirty-five percent of women name swimming as their favorite sport, well ahead of gymnastics (19%) and track and field (8%). When Gallup asked the same question in 2004, women were equally likely to mention swimming (25%) and gymnastics (25%) as their favorite event. It is unclear why the shift has occurred -- one explanation could be that swimming has received more media attention leading up to the games, most notably 41-year old swimmer Dara Torres' improbable victory at the U.S. Olympic Trials.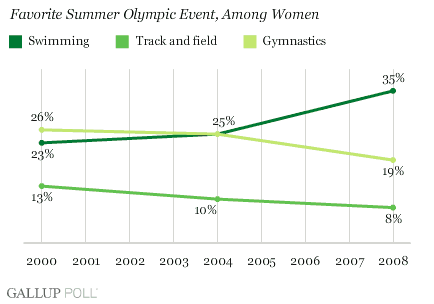 Men slightly prefer track and field (24%) to swimming (18%), with basketball third (9%). Their preferences are similar to what they were in 2004, though men have become more likely to mention swimming than they were eight years ago.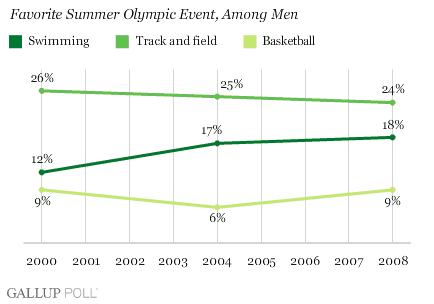 Interest in the Games
Americans' interest in this year's games is similar to interest levels measured at similar points prior to the beginning of previous Olympics. Fifty-six percent say they plan to watch a "great deal" or "fair amount" of the Olympics, compared with 59% readings in both 2000 and 2004.
Plans for watching the Olympics do not vary much among different subgroups of Americans. For example, men (56%) and women (56%) are equally likely to say they plan to watch a great deal or fair amount of the Olympics. There are modest differences by age, with younger adults between the ages of 18 and 29 (49%) somewhat less likely to say they will watch at least a fair amount of the Olympics than are those aged 30 and older (57%).
For the first time, fans of the Olympics can watch almost any event they choose live via streaming video over the Internet. Given the time difference between the United States and China, this might seem an attractive option for the most fervent Olympics fans who prefer to see the events unfold live. According to the poll, about half of Americans who plan to watch the Olympics will watch some of the coverage on the Internet -- just 48% say they will watch only the TV coverage. However, in addition to the 48% who will watch the games only on television, another 41% say they will watch the Olympics mostly on television, so clearly, television will be the dominant medium by which Americans view the Olympics. Just 9% say they will watch both TV and Internet about equally, and only 2% will do all or most of their viewing online.
While Americans' interest in this year's games is no higher than in the past, Americans' knowledge of where the Olympics are taking place compares favorably to past Summer Olympics games. In the summer of five past Olympic years, Gallup has asked Americans if they knew where that year's summer games were being held. This year, 79% of Americans correctly identify Beijing or China as the 2008 location, the highest Gallup has measured for an Olympiad thus far (notably, this excludes any Olympics held on U.S. soil).
The greater awareness of Beijing and China as the host city and nation may result from the media spotlight focused on China leading up to the games, first by the worldwide protests against China during the Olympic torch relay earlier this year, by controversy over world leaders' decisions to attend the games, and by some of the problems China has had in its preparation for the games, especially in trying to deal with air pollution in Beijing.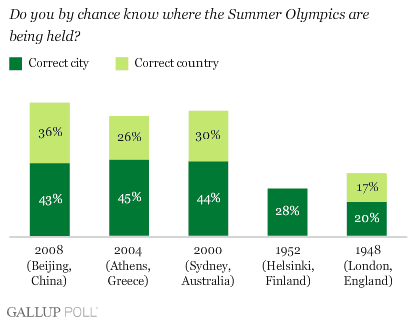 Clearly, Americans are much more aware of where Olympics are being held than they were in the 1940s and 1950s. This could reflect the fact that the Olympics were not televised until 1960, and thus Americans may not have had the immediate connection to the games that they have had in recent years.
Survey Methods
Results are based on telephone interviews with 1,007 national adults, aged 18 and older, conducted July 25-27, 2008. For results based on the total sample of national adults, one can say with 95% confidence that the maximum margin of sampling error is ±3 percentage points.
Interviews are conducted with respondents on land-line telephones (for respondents with a land-line telephone) and cellular phones (for respondents who are cell-phone only).
In addition to sampling error, question wording and practical difficulties in conducting surveys can introduce error or bias into the findings of public opinion polls.
To provide feedback or suggestions about how to improve Gallup.com, please e-mail feedback@gallup.com.