PRINCETON, NJ -- As the Olympic games get under way in Beijing, most sports fans say they are not suspicious about the use of performance-enhancing drugs when they see or hear about an athlete breaking a world record. Just 35% say they are suspicious about record-setters in track and field, and even fewer, 22%, are suspicious about swimmers who set new world bests.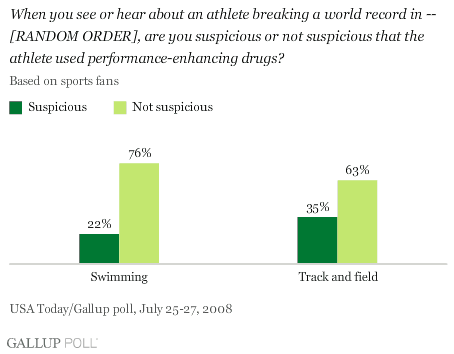 Performance-enhancing drugs are not a new concern in Olympic sports, and swimming and track and field are no exception. But their use has become a bigger issue since the last Olympics, as several high-profile former American Olympic champions have been exposed as steroid users, including 2000 Olympic heroine Marion Jones and former 100-meter dash record-holders Justin Gatlin and Tim Montgomery.
Additionally, one of this year's most high-profile U.S. athletes -- 41-year-old swimmer Dara Torres -- has been dogged by rumors that her recent career-best times have been aided by the use of banned substances.
Despite this, the July 25-27 USA Today/Gallup poll shows most U.S. sports fans tend to believe that world record-breakers achieve their feats legitimately, with more confidence shown in swimmers than in track-and-field athletes.
How Widespread?
The poll asked sports fans to say how widespread they think the use of performance-enhancing drugs is in each of five popular Olympic sports. In general, fans believe athletes' use of such drugs is not that common. Majorities or near-majorities of sports fans say "only a few" or "no" athletes in track and field, cycling, swimming, and gymnastics use performance-enhancing drugs. Fans are more likely to believe that use of these drugs is common in weightlifting, a sport that has long been plagued by steroid abuse.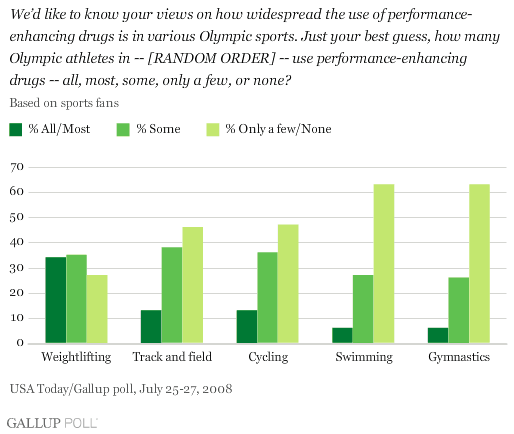 The International Olympic Committee began drug testing of athletes in 1968, banned the use of steroids by athletes in 1976, and has regularly tested athletes since, adding tests for new performance-enhancing drugs as they become available. Those who have been found to use banned substances are stripped of their medals. However, the testing is far from sufficient to catch all cheaters, because it takes time to develop tests to identify newer steroids, and some of these are designed to be invisible to the tests available at the time.
Sports fans are generally divided as to whether the IOC is doing enough to deal with the use of performance-enhancing drugs by Olympic athletes, with 50% saying it is doing enough and 44% saying it is not.
Survey Methods
Results are based on telephone interviews with 1,007 national adults, aged 18 and older, conducted July 25-27, 2008. For results based on the total sample of national adults, one can say with 95% confidence that the maximum margin of sampling error is ±3 percentage points.
For results based on the sample of 626 sports fans, the maximum margin of sampling error is ±4 percentage points.
Interviews are conducted with respondents on land-line telephones (for respondents with a land-line telephone) and cellular phones (for respondents who are cell-phone only).
In addition to sampling error, question wording and practical difficulties in conducting surveys can introduce error or bias into the findings of public opinion polls.
To provide feedback or suggestions about how to improve Gallup.com, please e-mail feedback@gallup.com.