PRINCETON, NJ -- While George W. Bush's 33% job approval rating is still low from a historical perspective, it is an improvement from the 28% readings he received in April, May, and June, and is his best rating since February.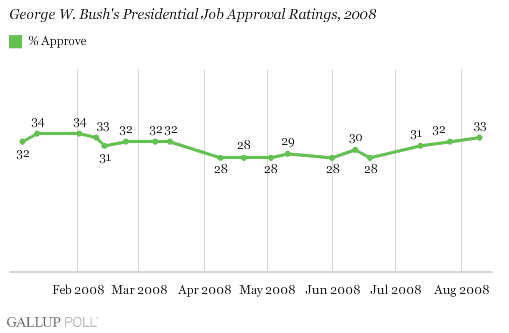 Bush's already-low job approval ratings dipped below 30% through much of the spring and early summer amid rising gas prices. But Gallup's last three measurements have all been above the 30% mark.
Most of the recent improvement in his ratings has come among Republicans. In the current poll, 71% of Republicans approve of Bush, compared with an average of 64% in April through June. Twenty-five percent of independents now give Bush a positive review (compared with 23% between April and June) as do just 7% of Democrats (compared with 6% in the April-June period).
Overall approval ratings in the 30s are well below average. The historical average job approval rating for all presidents in Gallup Polls is 55%. Bush has not had an approval rating in the 50s since May 2005, and it's been nearly two years since he registered an approval rating of 40% or above.
In the near future, there may be some movement in Bush's job approval rating. It is not uncommon for incumbent presidents' approval ratings to decline after the opposing party holds its presidential nominating convention.
In all but one case (of the six years for which Gallup has approval ratings before and shortly after the opposing party's convention), the president's approval rating declined, showing a statistically significant drop in three of these. That includes 5-point drops for Lyndon Johnson in 1968 and Bill Clinton in 1996, and a 6-point drop for George H.W. Bush in 1992.
But usually, any losses after the opposition's convention are made up after the party of the president holds its convention. In fact, each sitting president has received an increase in support after his own party's convention, and in all but two cases, the increase has been statistically significant.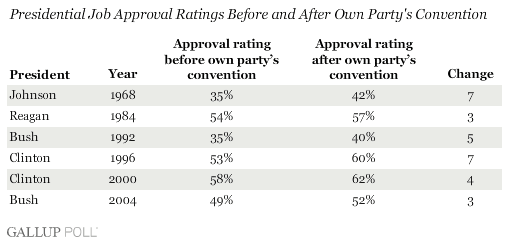 Thus, Americans will likely more critically evaluate Bush during the week of the Democratic convention, Aug. 25-28, as the Democrats seek to make their case for electing Barack Obama for president in part by emphasizing the shortcomings of the Bush administration and its approach to governing. But Bush will probably get a more favorable review from the public the following week, when it's the Republicans' turn to tout John McCain as the next president. Given the short time between the conventions this year, the polls may not pick up any short-term movement in Bush's approval rating tied to the conventions.
Survey Methods
Results are based on telephone interviews with 1,009 national adults, aged 18 and older, conducted Aug. 7-10, 2008. For results based on the total sample of national adults, one can say with 95% confidence that the maximum margin of sampling error is ±3 percentage points.
Interviews are conducted with respondents on land-line telephones (for respondents with a land-line telephone) and cellular phones (for respondents who are cell-phone only).
In addition to sampling error, question wording and practical difficulties in conducting surveys can introduce error or bias into the findings of public opinion polls.
To provide feedback or suggestions about how to improve Gallup.com, please e-mail feedback@gallup.com.