PRINCETON, NJ -- Over the first eight months of 2008, Democrats have consistently rated the U.S. economy more poorly than Republicans have, while independents have tended to align more closely with the Democrats rather than the Republicans on this issue.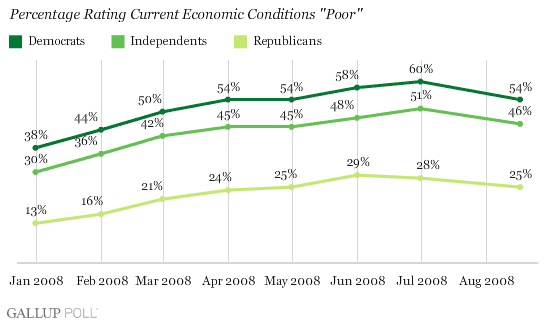 Democrats Much More Pessimistic Than Republicans
Although respondents from all three political groups have become somewhat less pessimistic about the U.S. economy during the first half of August, Democrats remain highly negative about current conditions, with 54% rating the economy "poor" -- more than twice the 25% "poor" rating of Republicans. Independents' views of the economy (46% "poor") align more closely with Democrats' views, rather than those of Republicans.
Democrats are also highly pessimistic about the future direction of the economy, with 86% saying things are getting worse in early August. This is far higher than the 64% of Republicans but aligns fairly well with the 81% of independents who hold a similar view.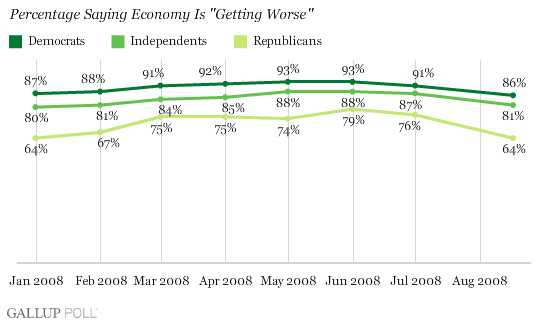 But all party groups' assessments of current economic conditions and the economic outlook have become more positive in the first part of August compared with July. Poor ratings of the economy are down 6 points among Democrats, 5 points among independents, and 3 points among Republicans. During the same period, there have been declines of between 5 and 12 points among the three groups in the percentage saying the economy is getting worse.
Commentary
Gallup polling over the first eight months of 2008 has shown Democrats and independents to be consistently more negative than their Republican counterparts about the condition of the economy and its prospects. This has continued over the past several weeks, even as overall consumer perceptions have become somewhat less negative in response to falling gas prices, and clearly indicate that one's views of the economy are heavily influenced by partisanship.
Of course, the recent bounce in global oil prices means that Democrats will enter their convention next week with a cloud over even this modest ray of hope that moderating gas prices will continue to lessen current consumer pessimism. Add in the potential bailout of Fannie Mae and Freddie Mac as soon as this weekend and the nation's economic distress is likely to be the top issue at the Democratic Convention.
In this regard, it would appear Democrats are well-positioned to pick up independent support after their convention since both groups seem to share a great deal of pessimism about the future direction of the economy. However, this does not necessarily mean the majority of Americans will share the Democrats' enthusiasm about their proposals for reinvigorating the economy.
For example, Americans generally share the Democrats' view that the "wealthy" do not pay enough in taxes. On the other hand, when given a choice about how government should address the numerous economic difficulties facing consumers today, 84% of Americans prefer that the government focus on improving overall economic conditions and jobs while only 13% prefer that the government respond by taking steps to distribute wealth more evenly. How Democrats end up balancing these two seemingly contradictory notions may play a significant role in how they fare this November.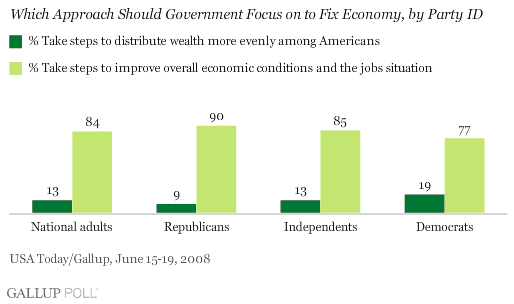 Survey Methods
Gallup is interviewing no fewer than 1,000 U.S. adults nationwide each day during 2008. The economic questions analyzed in this report are asked of a random half-sample of respondents each day. The results reported here are based on combined data of more than 8,000 interviews in January, February, March, April, May, June, and July. For results based on this sample, the maximum margin of sampling error is ±1 percentage point.
The questions for August are based on combined data of more than 8,000 interviews conducted Aug. 1-17, 2008. For results based on this sample, the maximum margin of sampling error is ±2 percentage points.
Interviews are conducted with respondents on land-line telephones (for respondents with a land-line telephone) and cellular phones (for respondents who are cell-phone only).
In addition to sampling error, question wording and practical difficulties in conducting surveys can introduce error or bias into the findings of public opinion polls.
To provide feedback or suggestions about how to improve Gallup.com, please e-mail feedback@gallup.com.