PRINCETON, NJ -- Gallup's first tracking report based entirely on post-Democratic convention attitudes shows Barack Obama maintaining a six percentage point lead over John McCain, the same as Sunday's report. According to interviews conducted Aug. 29-31, national registered voters prefer Obama 49% to 43%.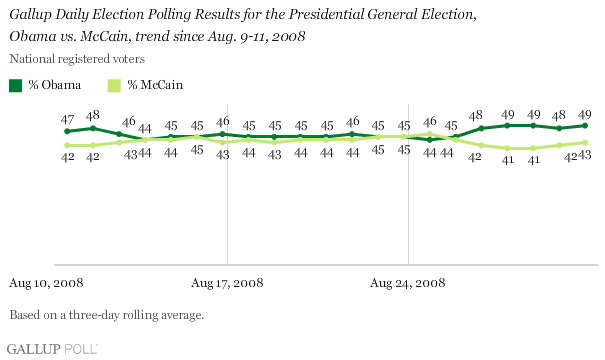 Comparing Obama's current 49% support with the 45% he received immediately before the start of the Democratic National Convention in Denver last week suggests he received a 4-point bounce out of the convention, fairly typical of past convention bounces. Aside from the past few days, Obama has only once previously attained 49% support from national voters, and that was in late July. (To view the complete trend since March 7, 2008, click here.)
The determination of this year's Democratic convention bounce is complicated by the fact that McCain announced his pick for vice president -- Alaska Gov. Sarah Palin -- on the first morning after the convention, thus diverting considerable media attention to the McCain campaign that otherwise would have been focused on recapping the Democratic convention and Obama's Thursday night acceptance speech. However, even using Friday's Gallup Poll Daily tracking report as the indicator of Obama's convention bounce produces the same result. Obama was preferred by 49% of registered voters in Gallup Poll Daily tracking from Aug. 26-28, after the Democratic National Convention was underway, but before the Palin choice was made public.
Slight Vice-Presidential Bounce for McCain
Given this year's unusually condensed convention and vice presidential selection calendar, today's tracking report also represents the first three days following McCain's vice presidential announcement. McCain's 43% level of support in today's report contrasts with 41% supporting McCain right before the Palin choice was revealed, giving McCain a 2-point vice presidential selection bounce.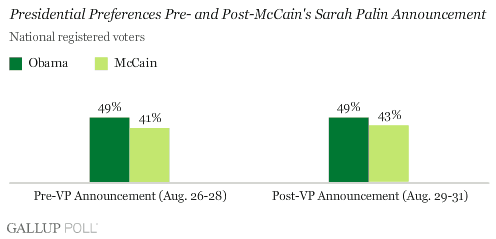 While lower than typical vice presidential selection bounces, McCain's 2-point vice-presidential bounce is technically better than the complete lack of a vice presidential bounce seen for Obama with his selection of Delaware Sen. Joe Biden on Aug. 23. However, from a statistical standpoint, both shifts are within the margin of sampling error, and thus not significant.
Any hope the Republicans had of shifting into convention high gear and nullifying Obama's convention gains have been thrown to the wind with Hurricane Gustav making landfall on the Gulf Coast today. Republican convention planners are now forced to improvise their way through what otherwise promised to be a highly scripted week in St. Paul. Ongoing Gallup Poll Daily tracking will help to determine whether they are successful or not in focusing Americans on their efforts, and striking the right chords with voters. -- Lydia Saad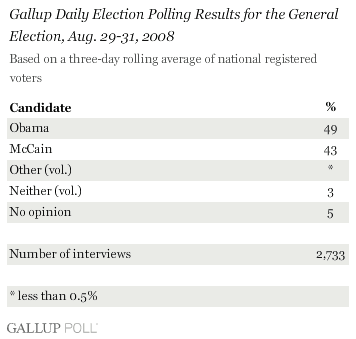 (Click here to see how the race currently breaks down by demographic subgroup.)
Survey Methods
For the Gallup Poll Daily tracking survey, Gallup is interviewing no fewer than 1,000 U.S. adults nationwide each day during 2008.
The general-election results are based on combined data from Aug. 29-31, 2008. For results based on this sample of 2,733 registered voters, the maximum margin of sampling error is ±2 percentage points.
Interviews are conducted with respondents on land-line telephones (for respondents with a land-line telephone) and cellular phones (for respondents who are cell-phone only).
In addition to sampling error, question wording and practical difficulties in conducting surveys can introduce error or bias into the findings of public opinion polls.
To provide feedback or suggestions about how to improve Gallup.com, please e-mail feedback@gallup.com.