PRINCETON, NJ -- The latest Gallup Poll Daily tracking update finds John McCain maintaining his five-point lead versus Barack Obama among registered voters, 49% to 44%.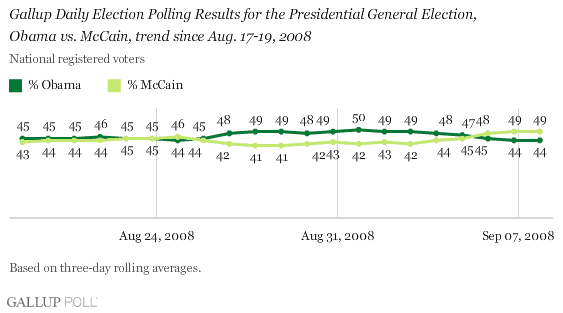 McCain led Obama by five percentage points in Monday's report on the strength of a six-point increase in the percentage of voters choosing him on the presidential trial heat following the Republican National Convention. McCain's 49% support in today's three-day rolling average, based on Sept. 6-8 interviewing, is unchanged from Monday's report and matches McCain's high mark in Gallup tracking to date.
Gallup polling in recent days has been quite stable, showing McCain ahead of Obama by similar margins in each of the last four individual days of nightly tracking. McCain also had a 4-point lead over Obama among registered voters in the separate USA Today/Gallup Poll conducted this past weekend.
The GOP convention has clearly altered the structure of the race for now, which had shown Obama consistently ahead in the Gallup Poll Daily tracking updates for all but a few days from the time he clinched the nomination in early June until the end of last week. (To view the complete trend since March 7, 2008, click here.)
While the increased vote share a candidate receives following his convention usually diminishes, candidates who lead after the second convention usually remain the leader a month after the convention. This is based on a review of historical Gallup data since 1964 -- the first year for which Gallup could reliably measure convention bounces. The only possible exception to this general pattern occurred in 1980, when Jimmy Carter had a slim one-point advantage after the Democratic National Convention but he and Ronald Reagan were exactly tied one month after Carter was nominated for a second term.
Thus, if Obama regains the lead over the next month, he will be bucking the historical trend. Admittedly, most of the elections since 1964 were not as competitive as this year's election has been, but even in closely contested election years of 1988 (George H.W. Bush led by just four points after the GOP convention that year), 2000, and 2004 the post-conventions leader usually held that position one month later. However, for the most part past conventions were completed much earlier than this year's late August and early September conventions, and this year the first debate between the presidential candidates will take place just three weeks after the last convention. That could give Obama an opportunity to change the race in his favor if he hasn't done so before then. -- Jeff Jones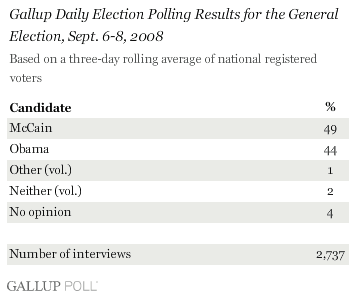 (Click here to see how the race currently breaks down by demographic subgroup.)
Survey Methods
For the Gallup Poll Daily tracking survey, Gallup is interviewing no fewer than 1,000 U.S. adults nationwide each day during 2008.
The general-election results are based on combined data from Sept. 6-8, 2008. For results based on this sample of 2,737 registered voters, the maximum margin of sampling error is ±2 percentage points.
Interviews are conducted with respondents on land-line telephones (for respondents with a land-line telephone) and cellular phones (for respondents who are cell-phone only).
In addition to sampling error, question wording and practical difficulties in conducting surveys can introduce error or bias into the findings of public opinion polls.
To provide feedback or suggestions about how to improve Gallup.com, please e-mail feedback@gallup.com.