PRINCETON, NJ -- U.S. employees' perceptions of the job situation at their companies continued to worsen last week, with Gallup's hiring measure falling to -6 during the week ending Jan. 17 from -2 the prior week. In turn, this suggests that the Labor Department will likely report Thursday that seasonally adjusted weekly jobless claims surged once more, far exceeding the 524,000 reported last Thursday.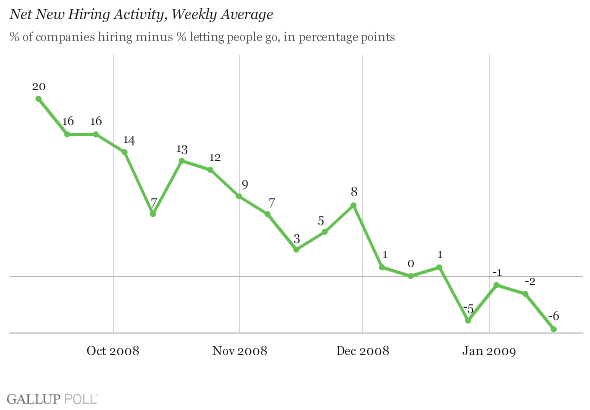 Predicting Jobless Claims
While a number of variables make it hard to predict the exact number of weekly jobless claims that will be reported by the Labor Department, the holidays and the related seasonal adjustments of recent weeks have added more uncertainty. But now that those factors have had time to work their way through the system, the accuracy of Gallup's hiring measure as a predictor of weekly jobless claims should return to its pre-holiday levels.
However, the artificially low weekly jobless claims of the holiday period continue to affect seasonally adjusted four-week average jobless claims. While the government's numbers may not agree, Gallup's four-week average jobless claims measure shows continued deterioration during the week of Jan. 17.
Unfolding Jobs Crisis
Once America's inauguration euphoria of this week begins to dissipate, Americans' attention is likely to return to the growing job crisis. Gallup's hiring measure suggests that the rate of job loss in the economy is accelerating and job losses are consistently surpassing 100,000 a week. While a job-loss-driven recession is more traditional than the credit-crisis-driven downturn of the fourth quarter, the combination is not something economic policy-makers have had to deal with since the Great Depression.
During the days and weeks ahead, it seems likely that all kinds of new federal spending will be covered with the mantle of saving and/or creating new jobs. Some of these spending efforts will encompass needed expansions of the social safety net given the unfolding job crisis. Others will be aimed at achieving the new president's spending priorities.
However, real and maintainable job creation takes place in the private sector, not in government programs or with expansions of the social safety net. This means rebuilding business confidence -- particularly among the nation's small-business owners -- is essential.
As the new fiscal stimulus plan is debated, real job creation should determine what spending is ultimately included in this unprecedented fiscal package. While whatever is done is going to take time to have an impact on the real economy, its impact on business, investor, and consumer confidence should be apparent relatively quickly in Gallup's attitudinal economic measures, including Gallup's hiring measure.
Gallup.Com reports on its hiring measure every Tuesday and its consumer confidence measure every Thursday. Both measures are updated daily on Gallup.Com.
Survey Methods
Using weekly results for 2008, Gallup's analysis suggests that its hiring measure has a better than 7-in-10 probability of correctly projecting the direction of weekly jobless claims and a better than 8-in-10 probability of predicting the direction of the four-week average of jobless claims.
Gallup's hiring measure is based on aggregated interviews with a nationally representative sample of more than 2,000 U.S. workers each week. Gallup asks current full- and part-time employees whether their employers are hiring new people and expanding the size of their workforces, not changing the size of their workforces, or letting people go and reducing the size of their workforces. Gallup's hiring measure is computed by subtracting the "letting go and reducing" percentage from the "hiring and expanding" percentage. The assumption is that employees across the country have a good feel for what's happening in their companies, and that these insider perceptions can yield a meaningful indication of the nation's job situation.
Gallup's Net New Hiring Activity measure was initiated in January 2008. It is an effort to assess U.S. job creation or elimination based on the self-reports of more than 2,000 individual employees aggregated each week about hiring and firing activity at their workplaces. For results based on these samples, the maximum margin of sampling error is ±3 percentage point.
Interviews are conducted with respondents on land-line telephones (for respondents with a land-line telephone) and cellular phones (for respondents who are cell-phone only).
In addition to sampling error, question wording and practical difficulties in conducting surveys can introduce error or bias into the findings of public opinion polls.