WASHINGTON, D.C. -- While lawmakers on Capitol Hill battle back and forth over President Barack Obama's proposed budget plan, Americans' views are holding steady. Four in 10 have a positive impression of the plan and just over a quarter have a negative impression -- hardly changed from views expressed a month ago. A third still don't know enough about the budget to have formed an opinion either way.
The new Gallup Poll results come from a one-night poll conducted March 25, 2009 -- the same day Obama met with Democrats in Congress to shore up support for his $3.55 trillion budget for fiscal 2010 and for his 10-year plan, and the day after his nationally televised press conference, which focused to a large degree on his budget plan. Republicans and some Democrats in Congress are seeking to reduce the overall size of the budget request, voicing concerns about the growing national deficit and debt that future generations will have to repay.
The emerging debate in Washington, however, doesn't appear to be significantly affecting Americans' views on the issue. Examining views by party and ideology, more than 6 in 10 Republicans remain negative about the budget while more than 6 in 10 Democrats remain positive about it. Interestingly, only the views of moderates and liberals have shifted to a noteworthy degree -- with both groups becoming somewhat less positive over the past month.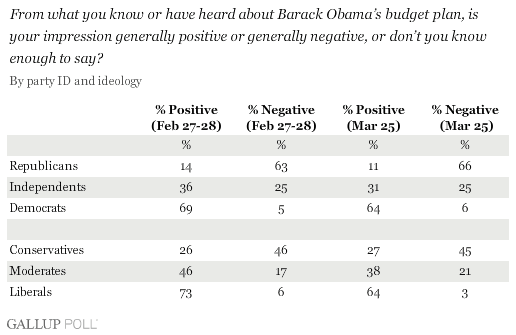 Overall, Americans do not seem to show more interest in news about the budget than they did when Obama's proposal was first announced. About 7 in 10 Americans (71%) now say they are following news about the budget at least somewhat closely, only slightly higher than a month ago.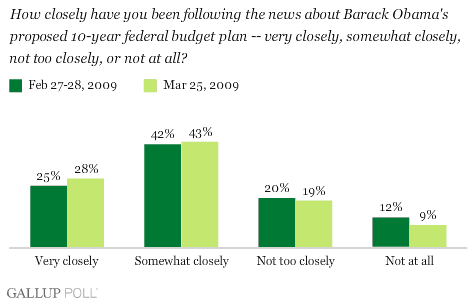 Among those who are following the news very closely, 50% say their view of the budget is generally positive, and 40% generally negative. These views of this highly attentive group are essentially the same as they were last month.
Bottom Line
New Gallup Poll results on President Obama's proposed 10-year budget plan have hardly changed from those expressed when it was first unveiled a month ago. Americans overall remain more positive than negative about the plan, and these views remain highly partisan. Despite significant news coverage of the debate in Washington over the plan, Americans are no more likely now than they were a month ago to be closely following news on this issue.
With the House and Senate now working on translating Obama's budget outline to a formal legislative proposal to be voted on, it is possible Americans will begin paying more attention to news and debate about the budget and will shift their views or take a position, particularly as they become more familiar with the plan's specifics.
Survey Methods
Results are based on telephone interviews with 1,014 national adults, aged 18 and older, conducted March 25, 2009. For results based on the total sample of national adults, one can say with 95% confidence that the maximum margin of sampling error is ±3 percentage points.
Polls conducted entirely in one day, such as this one, are subject to additional error or bias not found in polls conducted over several days.
Interviews are conducted with respondents on land-line telephones (for respondents with a land-line telephone) and cellular phones (for respondents who are cell-phone only).
In addition to sampling error, question wording and practical difficulties in conducting surveys can introduce error or bias into the findings of public opinion polls.