PRINCETON, NJ -- So far in May, Barack Obama has averaged 65% job approval. Since World War II, only three of the previous eight presidents elected to their first terms -- Dwight Eisenhower, John Kennedy, and Ronald Reagan -- have had a higher average approval rating in May of their first year. Obama's average exceeds those of the three most recent presidents -- George H.W. Bush, Bill Clinton, and George W. Bush.

Since he became president, the trend line on Obama's job approval rating in Gallup Poll Daily tracking has been fairly flat. However, his May average to date of 65% does represent a slight improvement over his ratings from the prior three months, which ranged from 62% to 64%.
Historically, there has been no clear pattern in the trends for presidential approval ratings through May of a president's first year in office -- four of the previous eight post-World War II presidents showed increases in their approval ratings from February (Gallup does not have January readings for all presidents) to May, and four showed decreases.
The four presidents whose approval ratings increased were Eisenhower (+6 points), Kennedy (+5), Richard Nixon (+3), and Reagan (+15). Reagan's sharp increase was the product of a fairly low initial average of 53% combined with a spike in his approval rating associated with a rally in support after John Hinckley's attempted assassination of him in late March 1981.
Obama would fall into the group of presidents who have increased their approval averages from February to May, though his rating has improved by just a single percentage point during this time, from 64% to 65%.
Declining approval ratings in the first four months of a president's term have been the norm recently. Of the last five presidents before Obama, only Reagan enjoyed an increase in his approval rating during this time. Jimmy Carter (-4 points), George H.W. Bush (-3), Clinton (-10), and George W. Bush (-4) all saw drops in public support.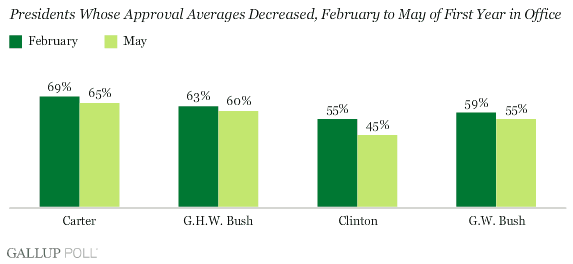 A number of factors probably contributed to Clinton's rather large decline in support. In terms of policy, he faced a backlash from the military and the public over his attempts to change policy to allow openly gay men and women to serve in the military, and he was unable to pass his proposed economic stimulus plan. Clinton had problems filling the attorney general position, and there was controversy over the siege of the Branch Davidians' Waco, Texas, compound. Also not to be dismissed was the public relations disaster created when Los Angeles International Airport runways were closed to allow the president to get a high-priced haircut.
Honeymoon Still Going On for Obama
Obama's consistent monthly averages above 60% clearly indicate he is still enjoying the honeymoon phase of his presidency. That level of support has been typical for presidents at this point in their terms; even though many presidents experienced declines in their approval ratings by May of their first year in office, all managed to stay at or above the 60% level except George W. Bush and Clinton.
Obama has had a few individual ratings of 59% in Gallup Poll Daily tracking, but not enough to push his average for any given week or month below 60%.
His popular support will certainly be tested in the coming months, though, as Congress begins work on some of his more ambitious initiatives, including his 2010 budget and healthcare reform. In addition to the ongoing wars in Iraq and Afghanistan, he is also attempting to advance the Middle East peace process and deal with the increasingly serious situation in North Korea.
However, to date, according to the American public, he seems to be performing better than most of his immediate predecessors, and not worse than most post-World War II presidents.
Survey Methods
Results are based on telephone interviews with 13,310 national adults, aged 18 and older, conducted May 1-27, 2009, as part of Gallup Poll Daily tracking. For results based on the total sample of national adults, one can say with 95% confidence that the maximum margin of sampling error is ±1 percentage point.
Interviews are conducted with respondents on land-line telephones (for respondents with a land-line telephone) and cellular phones (for respondents who are cell-phone only).
In addition to sampling error, question wording and practical difficulties in conducting surveys can introduce error or bias into the findings of public opinion polls.