WASHINGTON, D.C. -- Limited exposure to the global financial crisis and billions in government stimulus money has meant record growth for Chinese banks. Nevertheless, a Gallup survey conducted in 10 major Chinese cities found that despite the rise in commercial banking revenue, Chinese retail banking customers are less engaged -- rationally and emotionally connected to their banks -- than their counterparts in Asia and around the world. This is important because customer engagement is a powerful leading indicator of future economic and financial performance.
Before the global downturn, Reuters reported that growth in retail banking was key to the banking industry's financial health. And the World Bank recently warned that without extending more loans to Chinese households, even the substantive spending and GDP growth created by the country's economic stimulus will not save China from the economic slowdown worldwide.
While commercial banking is currently the major source of growth and primary focus of business development and services for many Chinese banks, increases in per capita income and improvements to the payment system give Chinese retail banks the potential for future growth. In this area, Gallup data from Chinese banks suggest there is still room for improvement when it comes to customer service. More than 4 in 10 Chinese banking customers surveyed (42%) are actively disengaged with their banks, meaning they are emotionally detached and often antagonistic toward their bank. This is significantly higher than the 29% of banking customers who are actively disengaged across Asia.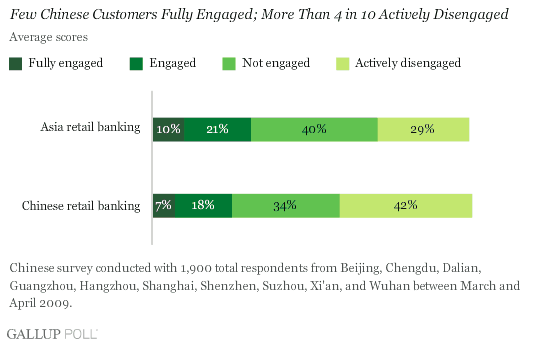 Gallup measures customer engagement by asking customers a series of 11 questions about their relationship with their bank. These include questions on their overall satisfaction with the bank, likelihood of continuing to use the bank, and likelihood of recommending the bank to a friend or associate. In addition, Gallup asks eight questions that assess the emotional connections between the customer and the bank. For each question, respondents answer on a scale from 1 to 5, with "1" reflecting the lowest rating and "5" reflecting the highest possible rating. The higher the combined score on the 11 items, the more engaged the customer is. In general, the more engaged a customer, the more loyal they are to the bank and thus more valuable to it. Gallup research on customer engagement shows that fully engaged customers can markedly increase profits. They represent a 23% premium over the average customer. Actively disengaged customers, on the other hand, can actually hurt a company's bottom line. They represent a 13% discount.
More Problems, Longer Wait Time
Gallup also asked banking consumers about problems they experienced at their banks, including wait time. Twenty percent of Chinese retail customers reported that they experienced a problem at their bank. For one large Asian retail bank, 10% of customers reported that experienced a problem. And Chinese banking customers reported waiting an average of 17 minutes for service. In the United States, wait time averages about 4 minutes.
Bottom Line
Chinese banking has come a long way from near financial insolvency a decade ago; China's three largest banks amassed more than $50 billion in combined profits for 2008. But most of this profit has come from commercial lending, not retail lending. Considering the Chinese economy (to date) has not suffered as much as other national economies during the slowdown, there is potential for growth. But to fully realize it, Chinese banks may start thinking as much about building strong relationships with their average customers as they do about revenue from government-sponsored corporate loans. Leaders in the Chinese banking industry seem to understand that challenge. Liu Mikang, chairman of the China Bank Regulatory Commission, said recently in reference to last year's record business performance, "The Chinese bankers and regulators are no smarter than the others . . . Our service is not good, and the service quality still needs to be improved."
Survey Methods
Results are based on computer-assisted telephone interviews with 1,900 adults in Beijing, Chengdu, Dalian, Guangzhou, Hangzhou, Shanghai, Shenzhen, Suzhou, Xi'an, and Wuhan, China, conducted between March 16 and April 17, 2009. For results based on the total sample of national adults, one can say with 95% confidence that the maximum margin of sampling error is ±3 percentage points. In addition to sampling error, question wording and practical difficulties in conducting surveys can introduce error or bias into the findings of public opinion polls.