WASHINGTON, D.C. -- Secretary of State Hillary Clinton this week begins a seven-nation trip through sub-Saharan Africa, stopping first in Kenya to attend the U.S.-Sub-Saharan Africa Trade and Economic Cooperation Forum. Gallup surveys conducted in March and April of this year suggest she should expect a receptive audience in Kenya. Ninety-three percent of Kenyan respondents approve of the job performance of U.S. leadership, up from 82% in 2008. Among the seven sub-Saharan African nations surveyed, approval ratings were up in each, except Djibouti.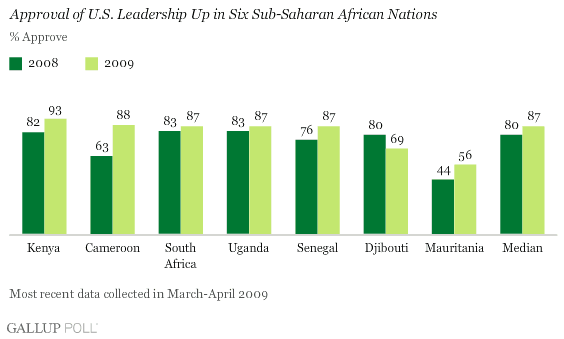 Changes in approval of U.S. leadership since Barack Obama became president ranged from a 25 percentage point increase in Cameroon to a 12-point jump in Mauritania to an 11-point drop in Djibouti. Median approval across the seven sub-Saharan nations increased to 87% in 2009 from 80% in 2008.
In addition, Gallup surveyed in Comoros and the Somaliland region for the first time in March 2009 and found that more than half of respondents in each said they approved of U.S. leadership.
Following Obama's visit to Ghana in early July, Clinton's visit marks the earliest in any administration that the president and secretary of state have visited Africa, making the continent a "priority in U.S. foreign policy." Yet it is worth underscoring that the Obama administration inherited relatively high approval ratings in sub-Saharan Africa from the Bush administration, compared with ratings around the rest of the world. Median approval of U.S. leadership in sub-Saharan Africa stood at 73% in 2008 (based on data from 33 sub-Saharan African nations), compared with the 34% world median.
The Obama Effect
Before the U.S. presidential election, Gallup asked respondents whom they would personally rather see elected president, Obama or Sen. John McCain, and whether who became the president of the U.S. would make a difference to their country. Majorities in all seven countries chose Obama (with percentages in Djibouti, Kenya, Mauritania, and Uganda topping 80%). And at least 3 in 10 respondents on each country said the U.S. president makes a difference to their country.
Considering the level of support for Obama during the U.S. presidential election, the boost in U.S. leadership approval ratings in these sub-Saharan African countries is perhaps not surprising. In Kenya, where approval of U.S. leadership jumped by 11 points, Obama's widely known Kenyan roots likely play a role. In Mauritania, where more than one in two respondents now approve of U.S. leadership, Obama made his voice heard just days after taking office by issuing a statement against the ruling junta and calling for constitutional order. Obama as a symbol of "change" even permeated the Mauritanian presidential elections in July: Some voters referred to the opposition candidate, Messaoud Ould Boulkheir, as the Mauritanian Obama.
Approval of U.S. leadership in sub-Saharan Africa will complement the existing development programs the Bush administration introduced. At the U.S.-Sub-Saharan Africa Trade and Economic Cooperation Forum in Kenya, Clinton will discuss the African Growth and Opportunity Act, first signed into law in 2000 to help reduce trade barriers across the region.Other notable Bush administration programs include the Millennium Challenge Corporation, aimed at promoting economic freedom, and U.S. President's Emergency Plan for AIDS Relief, the largest commitment by any country to combat HIV/AIDS in history. State Department spokesman Ian Kelly said that sub-Saharan Africa "is a source of creativity, dynamic development, and [Secretary Clinton] will call for even stronger links with global markets and knowledge networks." With Obama seemingly improving on the already strong U.S. image he inherited, the administration could develop even tighter U.S.-sub-Saharan African partnerships.
For complete data sets or custom research from the more than 150 countries Gallup continually surveys, please contact worldpollpartners@gallup.com or call 202.715.3030.
Survey Methods
Results are based on face-to-face interviews with at least 1,000 adults, aged 15 and older, conducted in March-April 2009 in Cameroon, Comoros, Djibouti, Kenya, Mauritania, Senegal, Somaliland, South Africa, and Uganda. For results based on the total sample of national adults, one can say with 95% confidence that the maximum margin of sampling error ranged from a low of ±3.4 percentage points in Djibouti to a high of ±4.0 percentage points in Cameroon. The margin of error reflects the influence of data weighting. In addition to sampling error, question wording and practical difficulties in conducting surveys can introduce error or bias into the findings of public opinion polls.