WASHINGTON, D.C. -- Georgian President Mikheil Saakashvili appears to have survived more than three months of daily street protests and calls for his resignation and new elections. A Gallup Poll conducted a month after demonstrations began in April showed many Georgians did not think Saakashvili would yield to these demands: Seventy-four percent said in May that he would not voluntarily step down and call a new presidential election.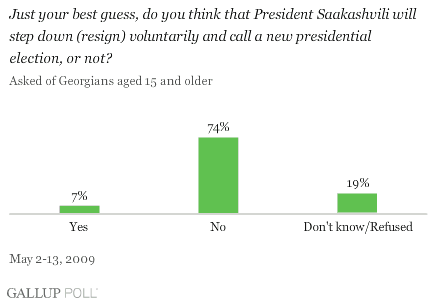 Thousands of Georgians turned out in April and May to rally against Saakashvili, who opponents say has been more authoritarian than democratic and has failed to achieve promised reforms. But the number of protesters that once blocked streets in the country's capital, Tbilisi, gradually dwindled. Opposition leaders suspended demonstrations in late July and reportedly may regroup this fall.
Amid the protests in May, Georgians overall were somewhat mixed on whether a new presidential election should be called. Residents were more likely to oppose (44%) than favor (35%) the idea. Twenty-one percent, notably, did not express an opinion.
The poll, however, revealed stark differences between Georgians at the epicenter of the demonstrations and those elsewhere around the country. Nearly half (47%) of Georgians in the capital region, which represents about 25% of the population, favored a new election. Three in 10 or more Georgians in the western region, where a majority opposed the election, and central and eastern regions favored a new election. Tbilisi residents' support for a new election continued unabated from the 42% a Gallup/IPM survey recorded in the first few days of the protests.
Presidential Approval
The political turmoil, in tandem with an economic crisis, fallout from Georgia's defeat in its brief war with Russia in South Ossetia, and perceived failures on reform, help explain the substantial drop in Georgians' support for Saakashvili across the board. Georgians' approval of their president dropped to 48% in May 2009 from 62% in June 2008.
The president lost major support across all regions over this period, most notably in Tbilisi where residents in previous polls have consistently rated the country's leadership more negatively. In the May survey, one in four (25%) Tbilisians approved of Saakashvili, down from 42% the previous year. Saakashvili held on to majority support in the central and eastern regions (52%) and the west (58%), but approval declined from 64% and 73%, respectively.
Georgians' Views of Current vs. Ideal Political System
Despite opponents' charges that Saakashvili has betrayed the democratic goals of the Rose Revolution that brought him to power in 2003, Georgians in May were more likely to say their current political system is a "Western-style democratic republic" than any other type of system tested. However, residents were most likely to say they don't know what type of political system their country has, which may reflect that Georgia is still in transition.
Above all other political systems, Georgians were most likely to say a Western-style democratic republic is the most suitable for their country. Nearly half (48%) of Georgians in May said this system is the most suitable, up from the 39% who said so in 2008. Last year, along with Moldovans and Azerbaijanis, Georgians were the most likely of all citizens in former Soviet countries to say this.
Interestingly, Georgians who said the existing system or most suitable system is a Western-style democracy were more likely to oppose new elections than favor them. Georgians who named other systems (with the exception of one that is similar to the Soviet one but more democratic and market-based) as the most suitable, or as their existing system, were more likely to favor than oppose new elections.
Looking Forward
Having weathered this round of calls for his resignation and early elections, observers expect Saakashvili to remain in office until his term ends in 2013. But Gallup Polls reveal an existing undercurrent of dissatisfaction with his leadership, especially in Tbilisi. Going forward, Saakashvili faces a significant challenge not only in building confidence in his leadership, but also in the future of the democracy that many Georgians desire.
For complete data sets or custom research from the more than 150 countries Gallup continually surveys, please contact worldpollpartners@gallup.com or call 202.715.3030.
Survey Methods
Results are based on face-to-face interviews with 1,000 Georgians, aged 15 and older, conducted in June 2008 and May 2009. For security reasons, Gallup did not poll in Abkhazia and South Ossetia. For results based on the sample, one can say with 95% confidence that the maximum margin of sampling error is ±4 percentage points.
Results for the Gallup/IPM survey are based on phone interviews with 410 adults in Tbilisi, Georgia, aged 15 and older, conducted on April 10-11, 2009. For results based on the total sample of city adults, one can say with 95% confidence that the maximum margin of sampling error is ±4 percentage points for percentages between 45% and 55%.
The margin of error reflects the influence of data weighting. In addition to sampling error, question wording and practical difficulties in conducting surveys can introduce error or bias into the findings of public opinion polls.