PRINCETON, NJ -- Gallup's annual Crime poll finds 74% of Americans saying there is more crime in the United States than there was a year ago, the highest measured since the early 1990s.
"In addition to perceiving more crime this year in the United States as a whole, Americans also report an increase in local crime."
Gallup typically finds Americans perceiving increased crime in the United States, compared to the prior year. Only once -- in October 2001 -- has this not been the case. Since 2005, however, the percentage saying there is more crime has been at or above the two-thirds level, something it had not been since 1996. In the late 1980s through the early 1990s, more than 8 in 10 Americans perceived crime to be increasing.
Whether there actually has been an increase in crime this year is hard to substantiate at this point, since official crime statistics for 2009 will not be released until next year. The most recent statistics, for the year 2008, show that crime in the U.S. decreased last year from 2007. Consistent with that change, Gallup's 2008 measurement also showed a decline in the percentage of Americans perceiving more crime in the United States, from 71% in 2007 to 67% in 2008.
In addition to perceiving more crime this year in the United States as a whole, Americans also report an increase in local crime. The poll finds 51% of Americans saying there is more crime in their areas now than a year ago, up from 44% in 2008 but the same as the 2006-2007 results. The current data reflect the highest percentage Gallup has measured this decade and are just slightly lower than the record high of 54% in 1981 and 1992.
Since 2005, more Americans have indicated that there is increased rather than decreased crime in their local areas, but around the turn of the century, the opposite was true.
Residents of the South are most likely to perceive an increase in local crime (59%), compared with 50% of those living in the Midwest, 46% in the East, and 45% in the West.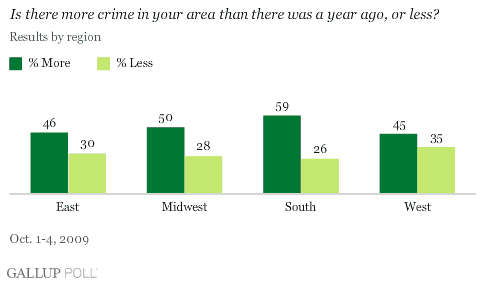 Perceptions of greater local crime, however, have not led Americans to believe the crime problem is much more serious now than in the past. Twelve percent describe the problem of crime in their areas as either "extremely serious" or "very serious," essentially unchanged from last year (11%), and little different from what Gallup has measured since 2000. A majority of Americans have consistently described the crime problem in their local areas as "not too serious" or "not serious at all."
As has been the case, many more Americans view the crime problem in the United States as very serious, now 55% after dipping to 51% last year. Forty percent say the U.S. crime problem is "moderately serious" while 3% say it is not serious.
Bottom Line
Americans believe crime is on the rise both in the United States and in their local areas this year. The 2009 official government crime statistics reported next year will indicate whether that is in fact true. The perceived increase does not appear, however, to be a largely political phenomenon, as at least 7 in 10 Democrats, Republicans, and independents all believe there is increased crime in the United States.
Even though the percentages seeing increases in crime at both local and national levels are the highest Gallup has seen in more than a decade, crime does not appear to be turning into a major issue at this point. The ratings of the seriousness of the crime problem are not much higher now than in the recent past, and crime continues to rank fairly low when Americans are asked to name the most important problem facing the country.
Get Gallup news on Facebook and Twitter
Survey Methods
Results are based on telephone interviews with 1,013 national adults, aged 18 and older, conducted Oct. 1-4, 2009. For results based on the total sample of national adults, one can say with 95% confidence that the maximum margin of sampling error is ±4 percentage points.
Interviews are conducted with respondents on land-line telephones (for respondents with a land-line telephone) and cellular phones (for respondents who are cell-phone only).
In addition to sampling error, question wording and practical difficulties in conducting surveys can introduce error or bias into the findings of public opinion polls.