PRINCETON, NJ -- As Congress debates a possible major expansion of health insurance in the United States, Gallup finds 38% of Americans rating healthcare coverage in this country as excellent or good, the highest (by eight percentage points) in the nine-year history of this question, and 12 points above last year's level.
Most of the change since last year involves a shift in Americans' ratings of healthcare coverage from "only fair" to "excellent" or "good." Since last year, the percentage rating healthcare coverage as only fair has declined by 10 points, while the percentage rating it poor has changed little.
"Even with their improved assessments of certain aspects of the U.S. healthcare system, Americans continue to give much more positive reviews of their own healthcare in those same respects."
It is unclear based on the overall data whether this shift could be due to a greater appreciation for the current system among those who think it is threatened by the proposed changes, or perhaps an anticipation of better days ahead from those who support the changes. The results by party do not provide any clues as to which is the more plausible explanation, as all party groups rate U.S. health coverage more positively this year than last year.
Americans' more positive sentiments are not limited to health coverage in this country. Though there continues to be widespread dissatisfaction with the total costs of healthcare in the U.S., there has been an increase in satisfaction since last year, from 19% to 26%. This is the most positive rating since 28% said they were satisfied in 2001.
Again, the higher satisfaction scores are evident among the partisan groups -- with each showing a six- to eight-point increase -- but also among most demographic groups more generally.
One aspect of the healthcare system for which Americans' attitudes have not changed involves quality. The poll finds 58% rating the quality of healthcare in the U.S. as excellent or good, compared with 57% who did so last year. Gallup has always found a majority of Americans rating U.S. healthcare quality positively, but the current reading does rank on the high end of what Gallup has measured since 2001.
Ratings of Own Care Continue to Be Positive
Even with their improved assessments of certain aspects of the U.S. healthcare system, Americans continue to give much more positive reviews of their own healthcare in those same respects. For example, 81% rate the quality of their own care as excellent or good, and 69% rate their coverage this positively. These ratings are little changed from last year, and have not moved substantially since 2001.
These consistent, high ratings underscore the importance of allowing Americans to keep their current coverage even as the government attempts to provide health insurance to those who lack it.
Americans appear to be somewhat less positive about what they have to pay for their healthcare, but the latest poll shows these evaluations have improved somewhat in the last year. Currently, 62% of Americans say they are satisfied with the total cost they pay for healthcare, up slightly from last year's 58% and the highest level since the initial reading of 64% in 2001.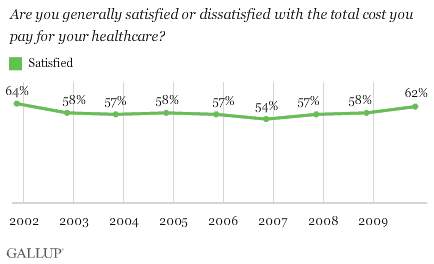 Americans who rely on Medicare or Medicaid for health coverage are somewhat more satisfied with their costs (73%) than are those who have private medical insurance (63%).
Bottom Line
As the intensity of the healthcare debate has increased over the past year, Americans' evaluations of healthcare coverage and the cost of healthcare in the U.S. have grown more positive. Still, even with the improved ratings, much less than a majority of Americans are positive in their overall evaluations of each. This fact would seem to provide sufficient justification to reform the system, though Gallup finds support for healthcare legislation lagging.
Americans continue to rate the overall quality of U.S. healthcare very highly, and give even higher marks to the quality of their own care as well as their own personal health coverage.
Survey Methods
Results are based on telephone interviews with 1,008 national adults, aged 18 and older, conducted Nov. 5-8, 2009. For results based on the total sample of national adults, one can say with 95% confidence that the maximum margin of sampling error is ±4 percentage points.
Interviews are conducted with respondents on land-line telephones (for respondents with a land-line telephone) and cellular phones (for respondents who are cell-phone only).
In addition to sampling error, question wording and practical difficulties in conducting surveys can introduce error or bias into the findings of public opinion polls.