PRINCETON, NJ -- Americans report spending an average of $106 each day on the Friday and Saturday after Thanksgiving this year, down 8.6% from the $116 average reported on those same days last year.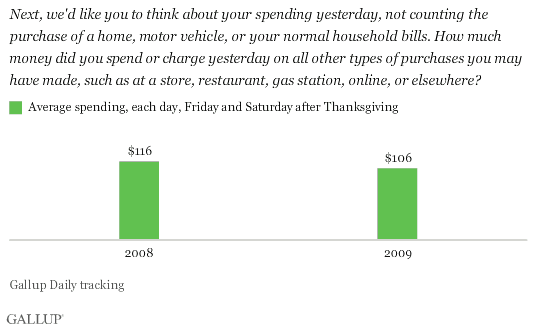 Gallup analysis has suggested that spending for Christmas gifts this year will be roughly the same as last year, a weak forecast given last year's dismal overall holiday spending. Gallup's current day-to-day assessment of overall spending on the critically important days after Thanksgiving appears consistent with this earlier forecast.
Gallup's Daily consumer spending measure is based on a question asking Americans to report how much money they spent "yesterday" on all types of purchases such as "at a store, restaurant, gas station, online, or elsewhere" (excluding the purchase of a home, motor vehicle, or normal household bills). All references in this report are to the day for which the respondent is asked to estimate spending.
Estimated daily spending for the two days after Thanksgiving this year is an average of $106, compared to a daily average of $116 last year. This is an 8.6% drop, similar to what the National Retail Federation has reported. Precise estimates for spending on specific days are based on smaller sample sizes, have larger margins of error, and Gallup does not usually report them. It can be said, however, that the estimate for Thanksgiving Day itself was very low in both 2008 and 2009 -- as would be expected. But the daily spending trends on Friday and Saturday after Thanksgiving this year appear to be reversed in comparison to 2008. Last year, Americans reported spending more on Black Friday than on Saturday; this year, Saturday was the bigger day.
The percentage of Americans who report spending any amount of money on these two days this year is comparable to the percentage for the same days last year. On Black Friday and on Saturday, Gallup estimated that about 70% of Americans spent at least some money on each day.
By way of comparison, about half of Americans spent nothing on Thanksgiving in both years -- much higher than usual, as would be expected.
Gallup's daily spending estimate is a general measure of overall spending, and is not specific to spending for holiday gifts. This spending measure has in general been lower this year compared to the same points in time last year.
Thus, everything else being equal, one would expect spending on any comparable day this year -- including the days after Thanksgiving -- to be lower than it was last year.
It is not possible to determine the degree to which the slightly depressed spending level on Friday and Saturday this year is a result of the overall "new normal" of a more frugal lifestyle, or a specific decision to spend less on holiday presents. It is possible, although not likely, that the holiday spending component of overall spending could be increasing this year at the same time that the non-holiday portion is decreasing.
Gallup analysis last year suggested that the sharp drop-off in spending from Black Friday to Saturday could mean a lack of momentum in retail spending, which certainly turned out to the be the case. (Note that spending estimates as reported in November 2008 were calculated using a different procedure for handling high-dollar estimates; all comparisons in this report are based on standardized mean values in use since January 2009 that are retrospectively comparable across both 2008 and 2009.) It is possible that the increase from Friday to Saturday this year could suggest a building momentum, which would be good news for retailers.
Some analysts point to the Monday after Thanksgiving as a critical day for online sales and/or that spending this year may be more spread out in the weeks leading to Christmas Day. Thus, it will be important to monitor Gallup's Daily spending measure in the days to come for a better read on the developing pattern of consumer spending at this crucial time for the nation's economy.
Survey Methods
Results are based on telephone interviews with 984 national adults, aged 18 and older, conducted Nov. 28-29, 2009, as part of Gallup Daily tracking. For results based on this sample of national adults, one can say with 95% confidence that the maximum margin of sampling error is ±4 percentage points.
Interviews are conducted with respondents on land-line telephones and cellular phones.
In addition to sampling error, question wording and practical difficulties in conducting surveys can introduce error or bias into the findings of public opinion polls.