Editor's Note: This story has been updated to reflect Gallup's re-estimate of its Gallup-Healthways Well-Being Index and Life Evaluation Index data from January 2008 to April 2009. Learn more about what Gallup discovered.
WASHINGTON, D.C. -- Hawaii's residents had the highest wellbeing in the nation in 2009, pulling ahead of 2008 leader Utah, and coming in with a new high state Well-Being Index score of 70.6. Utah and Montana are also among the top wellbeing states in the country, sharing the same score of 68.6. Kentucky (60.8) and West Virginia (62.8) have the two lowest wellbeing scores, as they did in 2008.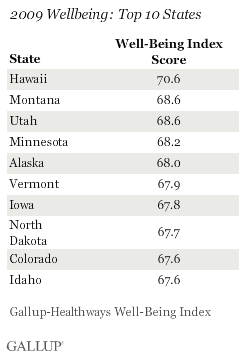 Gallup-Healthways Well-Being Index 2009 state-level data encompass more than 350,000 interviews conducted among national adults aged 18 older across all 50 states. Gallup and Healthways started tracking state-level wellbeing in 2008. The Well-Being Index score for the nation and for each state is an average of six sub-indexes, which individually examine life evaluation, emotional health, work environment, physical health, healthy behaviors, and access to basic necessities.
The Well-Being Index is calculated on a scale of 0 to 100, where a score of 100 would represent ideal wellbeing. Well-Being Index scores among states vary by a narrow range of 9.8 points. The 2009 Well-Being Index score for the country is 66.3, unchanged from 2008.
Nine of the top 10 wellbeing states -- Hawaii, Minnesota, Iowa, North Dakota, Montana, Colorado, Utah, Idaho, and Alaska -- are in the Midwest and the West. Seven of the 10 lowest wellbeing states are in the South. The general geography of wellbeing in 2009 remained similar to 2008.
In addition to having the highest overall Well-Being Index score, Hawaii was best in the nation on two of the six wellbeing sub-indexes, Emotional Health and Physical Health. At the opposite end of the spectrum is West Virginia, which performed the worst on three sub-indexes. Utah does the best on the Work Environment Index, with a score more than 10 points higher than that of the worst state on this measure, Delaware. As in 2008, Mississippi is at the bottom on the Basic Access Index, and Kentucky scores the worst on the Healthy Behavior Index.
Each state's sub-index score reflects the average of the positive percentages found for each of items detailed in the chart above. For example, Mississippi's Basic Access Index score of 77.3 means that, on average, more than three-quarters of its residents do have access across each of the basic necessities asked about in the sub-index, but that still leaves a large number who are in need, representing millions of people.
Change in Wellbeing From 2008 to 2009
Generally speaking, wellbeing has been fairly stable over time; most states exhibited little change from 2008 to 2009. Only two states -- Mississippi and Hawaii -- saw an increase of two or more points in their Well-Being Index scores from 2008 to 2009. New Mexico saw the largest decrease at 2.2 points. Overall, 23 states moved in a negative direction, 23 in a positive direction, and 4 remained unchanged.
Some of the six sub-indexes scores are more likely to move because of several factors including the number of questions included in the sub-index and the content of the questions. For example, the Life Evaluation Index, which is calculated using two questions asking respondents to rate their lives now and in the future, score changes a good deal throughout the course of the year. Across states, 2008 to 2009 change in Life Evaluation Index scores ranged from 8.0 in Maine to -0.8 in Montana and New Mexico. After Maine, two of the biggest gains in Life Evaluation scores from 2008 to 2009 were in Vermont and Kentucky, 7.3 and 6.8 points, respectively.
Basic Access Index scores, on the other hand, are less likely to change over time. This sub-index is made up of 13 individual questions, many of which are items that require community, business, or governmental intervention to change such as if the city where the respondent lives in is getting better or worse as a place to live and if it is easy to get affordable fruits and vegetables where the respondent lives. The year-over-year range of change on this measure is from 0.8 points to -2.1 points and most of the change is not statistically significant, meaning that access to the basic necessities a person needs to have high wellbeing is essentially stagnant across the United States. However, cities and communities potentially have the opportunity to move the needle on the Basic Access metric by taking significant steps to improve the health and wellbeing of their residents.
While certain metrics are in the control of the individual and others fall upon businesses and the government to change, what is clear is that a much bigger society-wide effort is needed for more Americans to move their Well-Being Index score closer to the optimal level of 100 points.
Gallup's "State of the States" series reveals state-by-state differences on political, economic, and wellbeing measures Gallup tracks each day. New stories will be released throughout the month of February.
Survey Methods
Results are based on telephone interviews with more than 353,849 national adults, aged 18 and older, conducted Jan. 1-Dec. 31, 2009, as part of the Gallup-Healthways Well-Being Index. For results based on the total sample of national adults, one can say with 95% confidence that the maximum margin of sampling error is ±0.2 percentage points.
The margin of sampling error for most states is ±1 to ±2 percentage points, but is as high as ±4 points for smaller states such as Wyoming, North Dakota, South Dakota, Delaware, and Hawaii.
The Gallup-Healthways Wellbeing categorizes the District of Columbia as a congressional district.
Interviews are conducted with respondents on landline telephones (for respondents with a landline telephone) and cellular phones (for respondents who are cell phone only).
In addition to sampling error, question wording and practical difficulties in conducting surveys can introduce error or bias into the findings of public opinion polls.
About the Gallup-Healthways Well-Being Index™
The Gallup-Healthways Well-Being Index measures the daily pulse of U.S. wellbeing and provides best-in-class solutions for a healthier world. To learn more, please visit well-beingindex.com.