PRINCETON, NJ -- President Barack Obama averaged 49% job approval from Americans for the week of Feb. 15-21. His recent approval ratings, based on Gallup Daily tracking, have shown a high degree of stability, with the weekly averages ranging between 48% and 51% since mid-November.
At the beginning of an important week in his presidency, highlighted by the bipartisan healthcare summit on Thursday, the latest three-day rolling average of Obama's job approval rating (based on Feb. 19-21 polling) is also 49%. Since mid-November, Obama's daily approval ratings have ranged from a low of 47% (several times, most recently Jan. 27-29) to a high of 53% (three times, most recently Feb. 12-14).
"Democratic approval of Obama has shown a small but noticeable decline since mid-November."
Obama hopes to jump-start momentum for healthcare reform after it stalled following Republican Scott Brown's victory in the Jan. 19 special election for U.S. senator from Massachusetts. Obama has for the first time submitted his own version of healthcare legislation, after previously deferring to House and Senate Democrats to put forth a plan.
The most recent weekly approval averages by party nearly match those that Gallup has measured since mid-November -- 83% approval among Democrats, 45% among independents, and 17% among Republicans.
Democratic approval of Obama has shown a small but noticeable decline since mid-November. Obama averaged 86% approval from Democrats the first two weeks of November, but his approval rating from his fellow partisans has since averaged 83%.
Independents' weekly approval averages of Obama have exceeded 50% just once since early August, about the time the debate over healthcare reform intensified. Republican approval of Obama has not exceeded 20% since that time.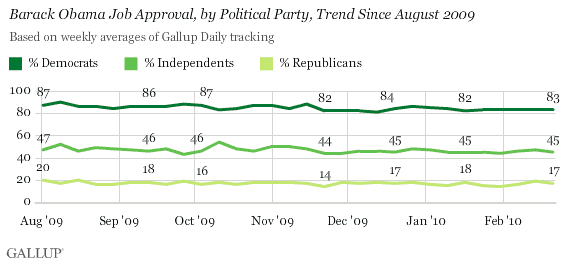 Bottom Line
There has been a lot of inertia in President Obama's job approval ratings, which have been right around the 50% mark since mid-November. His recent ratings rank on the low end compared with other presidents at this time in their presidencies. Generally speaking, those near the bottom -- including Bill Clinton, Ronald Reagan, and Jimmy Carter -- were dealing with struggling economies. That certainly applies to Obama, though healthcare also seems to be holding his approval rating down, given that his support dropped as the healthcare debate intensified in August. Obama is taking a major step to turn the tide on healthcare reform this week, and has also said jobs are his top priority this year.
Survey Methods
Results are based on telephone interviews with a random sample of 3,596 national adults, aged 18 and older, conducted Feb. 15-21, 2010, as part of Gallup Daily tracking. For results based on the total sample of national adults, one can say with 95% confidence that the maximum margin of sampling error is ±2 percentage points.
Interviews are conducted with respondents on land-line telephones and cellular phones.
In addition to sampling error, question wording and practical difficulties in conducting surveys can introduce error or bias into the findings of public opinion polls.