PRINCETON, NJ -- Gallup's weekly read on the race for Congress shows Democrats with a 47% to 44% edge over Republicans among registered voters, unchanged from last week. However, this represents a significantly smaller margin for the Democrats than the final Gallup estimate before the last midterm elections, in 2006.
Gallup polls since October 2009 have consistently found the two major parties closely matched in voter preferences for the 2010 midterm congressional elections. This is a significant departure from 2006 -- the year the Democratic Party regained majority control of the U.S. House of Representatives. In the two prior midterm elections (1998 and 2002), while Democrats also held the upper hand among registered voters, they trailed among likely voters -- and ultimately failed to win control of the House.
Essentially, not since 1994 (when Republicans won control of the House for the first time in 40 years) have the two major parties been as competitive in Gallup's final pre-election polling among registered voters as they are in the early 2010 polling.
Historically, Gallup has found Republicans more likely than Democrats to vote in midterm elections, meaning their electoral strength is typically underestimated in survey results based on all registered voters. Gallup will institute its traditional "likely voter" model closer to Election Day (narrowing the sample of voters to the subset deemed most likely to vote). Until then, historical trends would indicate that the Democrats need to hold a better-than four percentage-point advantage among registered voters nationally in order to have a reasonable chance of leading among likely voters and, ultimately, in House seats.
Democratic Support Sagging in the South
The Democratic Party currently leads the Republican Party in voter preferences for Congress only in the East. Elsewhere, the party-preference differences are too small to be significant. (Regional data are based on March 1-14 Gallup Daily tracking, spanning weeks when the overall vote for Congress was identical.)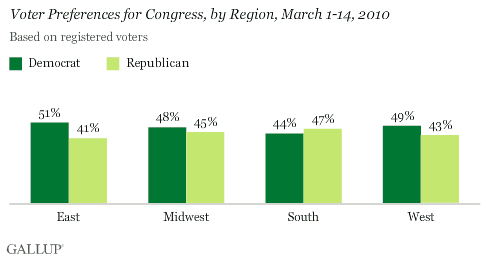 Across most regions, Democrats are weaker today than they were in the final days of the 2008 elections -- the elections that determined the composition of the current 111th Congress. Only the slight, four percentage-point drop in the West is not significant.
Bottom Line
Gallup trends suggest that the Democrats' current three-point advantage among registered voters would probably translate into a Republican lead among likely voters, pointing to a highly competitive election this fall for majority control of Congress. Support for Democratic candidates is down moderately from 2008 in all regions but the West.
Gallup tracks congressional election preferences daily as part of its Gallup Daily tracking, and reports results every Tuesday on its politics page.
Survey Methods
Results are based on telephone interviews with a random sample of 1,621 national adults, aged 18 and older, conducted March 8-15, 2010, as part of Gallup Daily tracking. For results based on the total sample of national adults, one can say with 95% confidence that the maximum margin of sampling error is ±3 percentage points.
Interviews are conducted with respondents on land-line telephones and cellular phones.
In addition to sampling error, question wording and practical difficulties in conducting surveys can introduce error or bias into the findings of public opinion polls.