PRINCETON, NJ -- Americans are now about evenly split in their reactions to the healthcare bill's passage: 47% consider it a good thing and 50% a bad thing. The divided, but slightly negative, assessment is similar to what Gallup found in recent months prior to the final House vote, though a USA Today/Gallup one-night reaction poll conducted the night after it passed showed a more positive than negative evaluation.
Democrats broadly hail passage of the new healthcare bill and Republicans mostly oppose it. Political independents also lean against the bill -- by 11 points, with the majority opposed. This contrasts with the finding in USA Today/Gallup's immediate reaction polling, from March 22, in which independents were closely divided.
Support for the bill across population segments in the latest poll reinforces Gallup's earlier finding that the bill's greatest champions are those it is most designed to benefit.
Those without insurance are significantly more likely than those with insurance to say it is a good thing. There is a sharp divide in views between the lowest income earners and everyone else. And support for the bill continues to be higher among young adults -- who are least likely to have insurance -- than among middle-aged adults and seniors.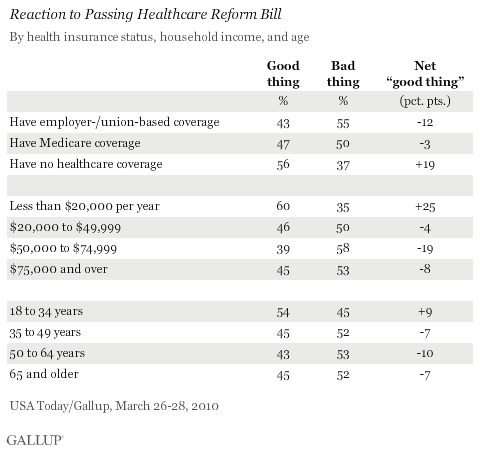 Bottom Line
The flurry of political activity and excitement surrounding the House of Representatives' passage of healthcare reform last Sunday may have temporarily eased public opposition to the bill. Nearly a week after that vote, however, public opinion has settled back to a pattern that looks similar to Gallup's final pre-vote reading in early March. At that time, 45% said they would advise their member of Congress to support the bill and 48% said they would advise voting against it. Americans' views on passing the legislation were similarly divided in January and mid-December.
Survey Methods
Results are based on telephone interviews with 1,033 national adults, aged 18 and older, conducted March 26-28, 2010. For results based on the total sample of national adults, one can say with 95% confidence that the maximum margin of sampling error is ±4 percentage points.
Interviews are conducted with respondents on land-line telephones (for respondents with a land-line telephone) and cellular phones (for respondents who are cell-phone only).
In addition to sampling error, question wording and practical difficulties in conducting surveys can introduce error or bias into the findings of public opinion polls.