PRINCETON, NJ -- Younger voters remain less enthusiastic about voting in this year's midterm elections than those who are older, underscoring the challenge facing the Democratic Party in its efforts to re-energize these voters, who helped President Obama win the presidency in 2008.
The fact that voters under age 50 -- and particularly those under 30 -- are less enthusiastic about voting this year is not a new phenomenon; voter turnout typically skews older. The current data, based on Gallup Daily tracking conducted April 1-25, confirm that so far, 2010 provides no exception to this traditional pattern.
It thus is not surprising that President Obama and Democratic Party leaders on Monday launched an effort to stoke enthusiasm among young people and other voting groups that helped support Obama in the 2008 presidential election. Obama issued a new online video that includes this exhortation to his supporters: "It will be up to each of you to make sure that the young people, African Americans, Latinos, and women who powered our victory in 2008 stand together once again."
Gallup Daily tracking data reinforce the value of younger voters for the Democrats, showing that 18- to 29-year-olds favor the Democratic candidate over the Republican candidate in their local districts by a 12-point margin. In contrast, the Republican candidate is on top among all groups of voters aged 30 and older.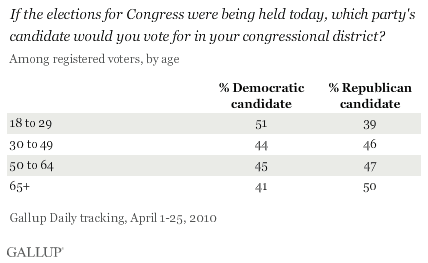 Bottom Line
Younger voters have presented a good news-bad news scenario for Democratic candidates and campaign managers in recent elections. The good news is that younger voters disproportionately lean to Democratic candidates. The bad news is that younger voters have a historically bad track record in terms of turning out in big numbers on Election Day.
The current data confirm that at this juncture, both of these patterns continue to play out in this year's midterm elections. Democratic leaders have apparently recognized these realities, and are attempting to re-create the enthusiasm for Democrats among younger voters that was apparent in 2008. Gallup's continuous monitoring of voting enthusiasm across the age spectrum in the months ahead will help document whether these efforts are successful.
Survey Methods
Results are based on telephone interviews with a random sample of 5,490 national adults, aged 18 and older, conducted April 1-25, 2010, as part of Gallup Daily tracking. For results based on the total sample of national adults, one can say with 95% confidence that the maximum margin of sampling error is ±1 percentage point.

Interviews are conducted with respondents on landline telephones (for respondents with a landline telephone) and cellular phones (for respondents who are cell phone only).

In addition to sampling error, question wording and practical difficulties in conducting surveys can introduce error or bias into the findings of public opinion polls.