PRINCETON, NJ -- The majority of Americans (59%) say BP should pay for all financial losses resulting from the Gulf Coast oil spill, including wages of workers put out of work, even if those payments ultimately drive the company out of business. Seven out of 10 Americans (71%) say Obama has not been tough enough in his dealings with BP.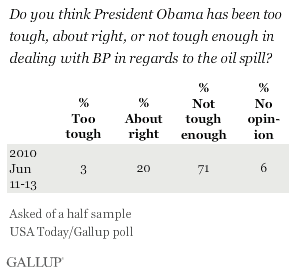 The results are from a USA Today/Gallup poll conducted June 11-13 as President Obama made a two-day trip to the Gulf area and prepared to speak to the nation on the oil spill situation Tuesday.
Obama on Monday talked to oil spill cleanup workers, political leaders, and average citizens in the Gulf area, expressing concern and pressing those involved to step up efforts to control the effects of the spill. Obama will meet in person with BP executives on Wednesday to discuss the spill.
These efforts come at a time when neither Obama nor BP gets stellar ratings for their handling of the oil spill, although Obama's ratings are clearly less negative than BP's.
The majority of Americans (53%) rate Obama's handling of the spill as "poor" or "very poor," compared with 81% who give BP the same rating. Obama's ratings have not changed significantly over the past two and a half weeks, although slightly more Americans now rate the job he is doing as "very poor." At the same time, more Americans (49%) now say BP is doing a very poor job of handling the spill, up from 39%. A separate Gallup poll conducted June 5-6 found that Obama's job approval rating on handling the oil spill was 40%.
Democrats More Positive About Obama's Handling of Spill
Partisanship is very much evident in Americans' views about Obama's response to the oil spill, with 79% of Republicans, compared with 59% of independents and 27% of Democrats, rating his efforts as poor or very poor.
Americans regardless of political identification for the most part agree that BP has done a poor job. Remarkably, there is little difference across Democrats, independents, and Republicans in their feelings about Obama's "toughness" in his dealings with BP. In fact, an identical 73% of Democrats and Republicans say Obama is not being tough enough with BP (while 68% of independents agree). This unanimity of opinion among those who identify with the two major parties is highly unusual in the generally very partisan environment in which a president operates in contemporary America.
Republicans are more lenient in their views on the liability BP should be expected to sustain as a result of the spill. Forty-nine percent say BP should pay for as much of the financial losses as it can afford while still remaining viable -- compared with 32% of Democrats and 36% of independents. Democrats and independents are more likely to say BP should pay for damages even if it forces the company out of business.
Bottom Line
President Obama's very public efforts this week to show his concern about the oil spill and to be harsher with BP appear to be generally responsive to Americans' concerns evident in recent polling on the issue. Most Americans say the president to date has not been tough enough with the oil company, and a majority say he has done a poor job of responding to the spill. A majority also want BP to pay for the damages and lost wages caused by the spill, even if the company is forced to go out of business.
Trends in Obama's overall job approval rating in recent weeks suggest that he has yet to suffer politically concomitant with the period after the spill. At the same time, the president's ratings on handling the spill are below his overall approval rating. Obama and his advisers' decisions to have the president focus directly on the spill for much of this week -- even canceling a planned trip to Australia and Indonesia -- would appear to be at least partially designed to bolster his standing with the public. Gallup Daily tracking of Obama's job approval rating over the weeks and months ahead will document the extent to which this strategy succeeds.
Survey Methods
Results for this USA Today/Gallup poll are based on telephone interviews conducted June 11-13, 2010, with a random sample of 1,014 adults, aged 18 and older, living in the continental U.S., selected using random-digit-dial sampling.
For results based on the total sample of national adults, one can say with 95% confidence that the maximum margin of sampling error is ±4 percentage points.
For results based on the sample of 515 national adults in Form A and 499 national adults in Form B, the maximum margins of sampling error are ±5 percentage points.
Interviews are conducted with respondents on landline telephones (for respondents with a landline telephone) and cellular phones (for respondents who are cell phone-only). Each sample includes a minimum quota of 150 cell phone-only respondents and 850 landline respondents, with additional minimum quotas among landline respondents for gender within region. Landline respondents are chosen at random within each household on the basis of which member had the most recent birthday.
Samples are weighted by gender, age, race, education, region, and phone lines. Demographic weighting targets are based on the March 2009 Current Population Survey figures for the aged 18 and older non-institutionalized population living in continental U.S. telephone households. All reported margins of sampling error include the computed design effects for weighting and sample design.
In addition to sampling error, question wording and practical difficulties in conducting surveys can introduce error or bias into the findings of public opinion polls.
View methodology, full question results, and trend data.
For more details on Gallup's polling methodology, visit https://www.gallup.com/.