PRINCETON, N.J. -- As President Barack Obama renews his call for a comprehensive approach to addressing illegal immigration, Americans are about equally divided -- 50% to 45% -- over whether the government's main focus should be on halting the flow of illegal immigrants coming into the U.S., or on developing a plan to deal with those already here.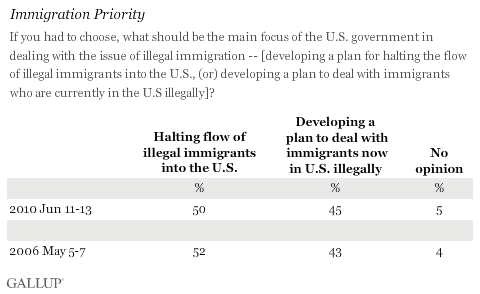 The latest results come from a June 11-13 USA Today/Gallup poll following several months of public discourse over Arizona's new immigration law. In the same poll, by 62% to 32%, Americans are more likely to believe illegal immigrants are a burden on taxpayers by virtue of the social services they receive, rather than people who become productive citizens and eventually contribute their fair share of taxes.
Americans' current attitudes on both questions are similar to June 2006, a month after President George W. Bush delivered an Oval Office address calling on Congress to pass a comprehensive immigration reform bill.
Currently rank-and-file Republicans and Democrats differ significantly in their opinions about which aspect of immigration reform should be the priority. More than two-thirds of Republicans want the government's main focus to be on halting the flow of illegal immigrants, while 55% of Democrats want it to be on dealing with illegal immigrants already in the country. Still, this partisan divide is not quite as strong as has been seen over the past year for other issues such as healthcare reform, labor organizing, and oil drilling.
At the same time, the plurality, if not majority, of all three political parties believe illegal immigrants cost taxpayers more than they contribute to the tax rolls.
Illegal Immigration a Mid-Ranking Concern
Illegal immigration is positioned fairly high as a public concern on two additional Gallup questions included in the latest poll. At 5%, it receives fewer spontaneous mentions from Americans as the nation's "most important problem" than the economy, unemployment, Gulf oil disaster, poor leadership, healthcare, and the federal budget deficit. However, it scores higher than the environment, education, crime, and a host of other issues.
Similarly, in a separate question, the 64% of Americans rating illegal immigration as an "extremely serious" or "very serious" problem is less than the serious ratings for the federal debt, terrorism, healthcare costs, and unemployment. However, it essentially ties U.S. military involvement in Afghanistan and Iraq and leads the environment, government power, corporate power, and discrimination against minorities issues.
Eight in ten Republicans (79%) compared with half of independents (51%) consider illegal immigration an extremely or very serious threat.
Bottom Line
Americans are clearly concerned about the illegal immigration problem. To succeed in addressing the issue, however, policy-makers may need to be aware that Americans want to see at least as much emphasis on sealing the border as on addressing the status of current illegal residents. Any bill that is perceived as leaning too far in either direction is bound to produce a political backlash.
Survey Methods
Results for this USA Today/Gallup poll are based on telephone interviews conducted June 11-13, 2010, with a random sample of 1,014 adults, aged 18 and older, living in the continental U.S., selected using random-digit-dial sampling.
For results based on the total sample of national adults, one can say with 95% confidence that the maximum margin of sampling error is ±4 percentage points.
Interviews are conducted with respondents on landline telephones (for respondents with a landline telephone) and cellular phones (for respondents who are cell phone-only). Each sample includes a minimum quota of 150 cell phone-only respondents and 850 landline respondents, with additional minimum quotas among landline respondents for gender within region. Landline respondents are chosen at random within each household on the basis of which member had the most recent birthday.
Samples are weighted by gender, age, race, education, region, and phone lines. Demographic weighting targets are based on the March 2009 Current Population Survey figures for the aged 18 and older non-institutionalized population living in continental U.S. telephone households. All reported margins of sampling error include the computed design effects for weighting and sample design.
In addition to sampling error, question wording and practical difficulties in conducting surveys can introduce error or bias into the findings of public opinion polls.
View methodology, full question results, and trend data.
For more details on Gallup's polling methodology, visit www.gallup.com.