PRINCETON, NJ -- Americans' satisfaction with the direction of the country continues to be meager in July: 21% are satisfied and 76% are dissatisfied. The nation's mood is comparable to last month, when 23% were satisfied.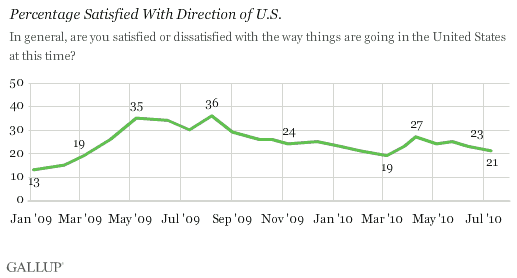 Current satisfaction with the way things are going in the country is close to the 23% average seen thus far in 2010. While the 2010 average exceeds the record-low annual average of 15% for 2008, it lags behind the 27% recorded in 2009 and is the lowest Gallup has measured in a midterm election year.
Democrats' Satisfaction Sinks in July
Although satisfaction among all Americans, according to Gallup's July 8-11 poll, is statistically unchanged from June, there has been significant movement beneath the surface among partisan groups. In particular, Democrats' satisfaction plunged from 41% to 30% over the past month. Slight increases among independents (from 17% in June to 20% in July) and Republicans (from 7% to 11%) partially offset the Democratic drop, helping to keep overall satisfaction just below June's level.
Democrats' satisfaction with the way things are going in the country has been declining since April, when it surged to 49% after congressional passage of healthcare reform. The precise cause of the slide is unclear, but it could be the result of Democrats' decreasing confidence in the U.S. economy. Democrats' score on Gallup's Economic Confidence Index fell to -14 in July from -3 at the beginning of June and +3 in early April. There has, however, been no meaningful change in Democrats' approval of President Obama. Additionally, over the past month, Democrats' approval of Congress has been flat in the low 30s (33% in July vs. 32% in June).
Bottom Line
Thus far during President Obama's administration, Republicans' satisfaction with the country has not exceeded 15%, and independents' satisfaction has been consistently at or below 30%. Only Democrats have exhibited any exuberance on this measure, with 50% or more satisfied at points last year. However, thus far in 2010, their highest satisfaction level is 49%, and their current 30% reading is far from exuberant.
Survey Methods
Results for this Gallup poll are based on telephone interviews conducted July 8-11, 2010, with a random sample of 1,020 adults, aged 18 and older, living in the continental U.S., selected using random-digit-dial sampling.
For results based on the total sample of national adults, one can say with 95% confidence that the maximum margin of sampling error is ±4 percentage points.
Interviews are conducted with respondents on landline telephones (for respondents with a landline telephone) and cellular phones (for respondents who are cell phone-only). Each sample includes a minimum quota of 150 cell phone-only respondents and 850 landline respondents, with additional minimum quotas among landline respondents for gender within region. Landline respondents are chosen at random within each household on the basis of which member had the most recent birthday.
Samples are weighted by gender, age, race, education, region, and phone lines. Demographic weighting targets are based on the March 2009 Current Population Survey figures for the aged 18 and older non-institutionalized population living in continental U.S. telephone households. All reported margins of sampling error include the computed design effects for weighting and sample design.
In addition to sampling error, question wording and practical difficulties in conducting surveys can introduce error or bias into the findings of public opinion polls.
View methodology, full question results, and trend data.
For more details on Gallup's polling methodology, visit https://www.gallup.com/.