PRINCETON, NJ -- A slim majority of 52% of Americans say they approve of labor unions, the second lowest approval rating in Gallup's 70-year history of this trend, behind only last year's 48%.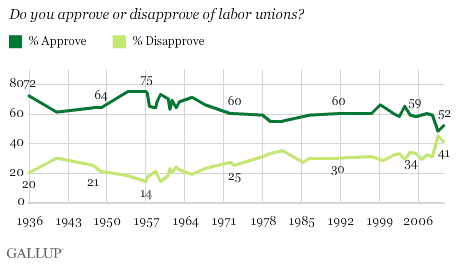 The update of one of Gallup's longest standing trend questions is based on results of Gallup's annual Work and Education poll, conducted Aug. 5-8.
Gallup first asked Americans to evaluate labor unions in 1936, at which time 72% approved. The all-time high of 75% approval came in 1953 and 1957 surveys. Support for unions declined in the late 1960s and early 1970s, but mostly hovered around the 60% mark until last year, when it dropped below the majority level for the first time.
In the poll, 10% of Americans identify themselves as union members, and an additional 6% say another member of their household belongs to a union. Seventy-two percent of Americans who are union members or live in a union household approve of unions, compared with 48% of those in non-union households.
Union approval varies widely by political party affiliation -- it is 71% among Democrats compared with 34% of Republicans and 49% among independents. All three party groups expressed their lowest approval of unions last year and, although views improved slightly, they remain less positive than before.
The Future of Union Power
Gallup finds significantly more Americans saying they want labor unions to have less (40%) rather than more (29%) influence than they have today. Twenty-seven percent say their influence should stay about the same.
Prior to last year, Americans were about equally divided in saying they wanted labor unions to have more versus less influence, or showed a tendency toward wanting unions to have more influence.
Regardless of their preference, Americans by a nearly 2-to-1 margin predict union influence will decline in the future. The poll finds 46% of Americans saying unions will become weaker in the future compared with 25% who say stronger. This general pattern has held each time Gallup has asked the question since 1999.
Implications
Labor unions are less popular now in the United States than they have been for most of the last 70 years. One reason for this could be the economic downturn. With many Americans out of work and struggling to find work, organized labor groups' missions may not seem appropriate or even fair as they might have when jobs are more plentiful. There is some precedence for an economic-related downturn in union approval, as Gallup found a mild drop in union approval during the late 1970s and early 1980s when the U.S. economy was in poor shape.
The more negative appraisal of unions the last two years could be due to the belief from union opponents that unions are likely to benefit or are benefitting from the policies of the Obama administration, including recent legislation providing aid to states that will preserve thousands of education and public sector jobs.
Survey Methods
Results for this Gallup poll are based on telephone interviews conducted Aug. 5-8, 2010, with a random sample of 1,013 adults, aged 18 and older, living in the continental U.S., selected using random-digit-dial sampling.
For results based on the total sample of national adults, one can say with 95% confidence that the maximum margin of sampling error is ±4 percentage points.
Interviews are conducted with respondents on landline telephones (for respondents with a landline telephone) and cellular phones (for respondents who are cell phone-only). Each sample includes a minimum quota of 150 cell phone-only respondents and 850 landline respondents, with additional minimum quotas among landline respondents for gender within region. Landline respondents are chosen at random within each household on the basis of which member had the most recent birthday.
Samples are weighted by gender, age, race, education, region, and phone lines. Demographic weighting targets are based on the March 2009 Current Population Survey figures for the aged 18 and older non-institutionalized population living in continental U.S. telephone households. All reported margins of sampling error include the computed design effects for weighting and sample design.
In addition to sampling error, question wording and practical difficulties in conducting surveys can introduce error or bias into the findings of public opinion polls.
View methodology, full question results, and trend data.
For more details on Gallup's polling methodology, visit https://www.gallup.com/.