PRINCETON, NJ -- Forty-eight percent of registered voters favor Republican congressional candidates and 43% favor Democratic candidates in Gallup's national generic ballot for the week of Sept. 6-12.
Registered-voter preferences for Congress since the beginning of August have averaged 48% for Republican candidates and 43% for Democratic candidates, identical to this week's results. While there have been a few instances in recent months when the Republicans were not ahead to at least some degree -- including in mid-July, when the Democrats were up by six percentage points, and last week, when the parties were tied at 46% -- the broad picture has generally been positive for the Republicans.
Currently, 90% of Democratic voters plan to vote for the Democratic congressional candidate in their district, while 96% of Republicans favor the Republican, matching the highest level of Republican loyalty Gallup has found all year. Independents continue to favor Republican over Democratic candidates, now by a 10-point margin, 44% to 34%.
Republicans show substantially more enthusiasm than Democrats about voting in this year's midterm elections, as they have all year. The gap was slightly smaller in the most recent week -- 18 points, versus at least 23 points in the prior three weeks -- owing to increased enthusiasm among Democrats.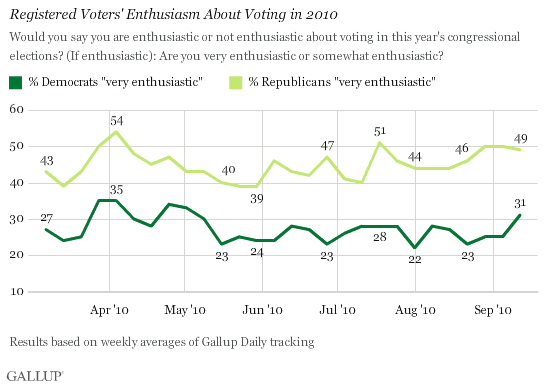 Bottom Line
The current five-point Republican edge on the generic ballot falls just short of statistical significance on the basis of one week's polling. However, if this Republican positioning holds through October, it would point to major seat gains for that party. Republicans can also expect to perform at least several points better on Election Day due to their party's usual midterm turnout advantage, meaning that even a tie among registered voters would be highly auspicious for the GOP. Gallup will begin reporting the preferences of likely voters in October.
Given the ongoing Republican lead over Democrats in voter enthusiasm, as well as in recent Gallup data showing Republicans giving more thought to the elections, the GOP seems on track to receive that turnout advantage this November.
Survey Methods
Results are based on telephone interviews conducted as part of Gallup Daily tracking Sept. 6-12, 2010, with a random sample of 1,527 registered voters, aged 18 and older, living in all 50 U.S. states and the District of Columbia, selected using random-digit-dial sampling.
For results based on the total sample of registered voters, one can say with 95% confidence that the maximum margin of sampling error is ±4 percentage points.
Interviews are conducted with respondents on landline telephones and cellular phones, with interviews conducted in Spanish for respondents who are primarily Spanish-speaking. Each daily sample includes a minimum quota of 150 cell phone respondents and 850 landline respondents, with additional minimum quotas among landline respondents for gender within region. Landline respondents are chosen at random within each household on the basis of which member had the most recent birthday.
Samples are weighted by gender, age, race, Hispanic ethnicity, education, region, adults in the household, cell phone-only status, cell phone-mostly status, and phone lines. Demographic weighting targets are based on the March 2009 Current Population Survey figures for the aged 18 and older non-institutionalized population living in U.S. telephone households. All reported margins of sampling error include the computed design effects for weighting and sample design.
In addition to sampling error, question wording and practical difficulties in conducting surveys can introduce error or bias into the findings of public opinion polls.
For more details on Gallup's polling methodology, visit www.gallup.com.