PRINCETON, NJ -- When President Obama delivers his State of the Union speech Tuesday, he will be addressing a nation that is less satisfied with a variety of aspects of U.S. life than it was in 2008. Americans' satisfaction with six of seven different economic, moral, or governmental aspects is down significantly compared with Gallup's prior measurement three years ago, as the economy was slowing down but before the financial crisis hit.
Currently, Americans are most likely to express satisfaction with the overall quality of life in the United States (77%). Majorities also remain satisfied with the influence of organized religion (58%) and the opportunity for a person to get ahead by working hard (55%), though the latter has shown the greatest decline since 2008. Americans are least satisfied with the size and influence of major corporations (29%), the moral and ethical climate (30%), and the size and power of the federal government (31%).
The latest data, from a Jan. 7-9 poll, represent new low points in satisfaction for the six items showing declines this year compared with the prior measurement. Gallup first asked this list of items in January 2001 and tracked it each January through 2008. Gallup did not ask the questions in either of the last two years, so it is unclear whether satisfaction levels would have been worse in 2009 or 2010 during the height of the economic downturn.
Largest Declines in Satisfaction With Government
Over the past decade, the two items measuring satisfaction with the government have declined the most. Satisfaction with the U.S. system of government and how it works is down 34 percentage points from its 2002 high, and satisfaction with the size and power of the federal government is down 29 points from its high the same year. Those 2002 figures were higher because of the rally in support of government after the Sept. 11 terror attacks, but since then, there has been a decline in satisfaction in those two areas that has accelerated over the last three years. The current satisfaction levels with government are also significantly lower than in January 2001, prior to the terrorist attacks.
The trend lines on these two items are similar; Americans have been more satisfied with how the government system works than with its size and power, and the gap has consistently been greater than 10 points.
The proper role of the federal government has come into sharper focus in recent years as both the Bush and Obama administrations attempted to avoid an economic collapse and the demise of several major U.S. corporations, largely through government aid and guarantees, many of which proved unpopular.
Satisfaction With Major Corporations at a New Low
Those actions affected not only Americans' views of the government for the worse but likely also their views of big business. Today, 29% are satisfied and 67% dissatisfied with the size and influence of major corporations in the United States, a new low, and a 21-point drop in satisfaction since 2002.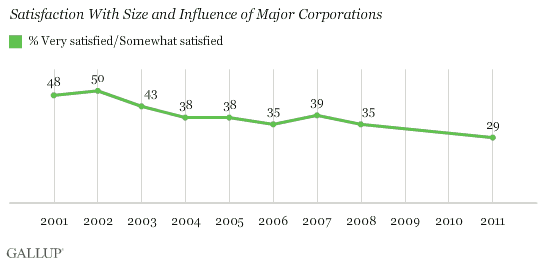 Americans Less Satisfied With U.S. Economic Opportunity
The sustained economic downturn has possibly affected Americans' views of opportunity in this country. Fifty-five percent are satisfied with the opportunity for a person to get ahead by working hard, down 13 points from early 2008, when the economic slowdown was becoming apparent. Americans' satisfaction with economic opportunity had been fairly stable from 2001-2008, ranging between 66% and 77%.
There has been less change in Americans' satisfaction with the quality of life in the U.S., which, although currently at a low of 77%, remains high on an absolute basis.
Satisfaction With Influence of Religion Unchanged, but Fewer Satisfied With Moral Climate
The one area in which Americans' satisfaction has not changed in recent years concerns the influence of organized religion. The fifty-eight percent who are satisfied today is in line with readings of 55% to 59% since 2003. Americans were a bit more satisfied with this in 2001 (64%) and 2002 (69%).
At the same time, Americans remain largely dissatisfied with the moral and ethical climate in the United States. This year's 30% marks a new low.
Implications
Given the sustained U.S. economic slump, it is perhaps not surprising that Americans are less satisfied with most aspects of U.S. life today compared with 2008 and earlier. The government's attempts to avoid a U.S. economic collapse, to prevent the demise of several major U.S. corporations specifically in the financial and automotive sectors, and to jump-start the economy through stimulus spending have not been popular with most Americans, and may have furthered the decline in Americans' satisfaction with the government and major corporations. Less than half of Americans are now satisfied with the state of these institutions, major pillars of U.S. society.
President Obama has an important opportunity to address Americans' concerns in his State of the Union address. And his ability to work with congressional Republicans to improve the economy over the next two years could also go a long way toward restoring Americans' satisfaction.
Survey Methods
Results for this Gallup poll are based on telephone interviews conducted Jan. 7-9, 2011, with a random sample of 1,018 adults, aged 18 and older, living in the continental U.S., selected using random-digit-dial sampling.
For results based on the total sample of national adults, one can say with 95% confidence that the maximum margin of sampling error is ±4 percentage points.
Interviews are conducted with respondents on landline telephones (for respondents with a landline telephone) and cellular phones (for respondents who are cell phone-only). Each sample includes a minimum quota of 150 cell phone-only respondents and 850 landline respondents, with additional minimum quotas among landline respondents for gender within region. Landline respondents are chosen at random within each household on the basis of which member had the most recent birthday.
Samples are weighted by gender, age, race, education, region, and phone lines. Demographic weighting targets are based on the March 2010 Current Population Survey figures for the aged 18 and older non-institutionalized population living in continental U.S. telephone households. All reported margins of sampling error include the computed design effects for weighting and sample design.
In addition to sampling error, question wording and practical difficulties in conducting surveys can introduce error or bias into the findings of public opinion polls.
View methodology, full question results, and trend data.

For more details on Gallup's polling methodology, visit www.gallup.com.