PRINCETON, NJ -- Americans have become much less confident in the U.S. economy over the past two weeks, with Gallup's Economic Confidence Index falling from -18 to -30 during that span. The -18 Index score from two weeks ago was the most positive Gallup had measured in the last three years.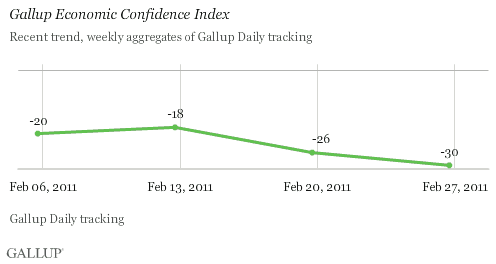 These results are based on weekly aggregates of Gallup Daily tracking data. They indicate the Thomson Reuters/University of Michigan Index of Consumer Sentiment, released Friday but based mostly on interviewing from early and mid-February, was essentially out of date when it was released. The Index of Consumer Sentiment showed consumer confidence to be the highest it has been since January 2008, similar to what Gallup showed two weeks ago. But Gallup's latest weekly update suggests consumer confidence has fallen back to where it was in early December.
The slump in confidence is likely tied to gas prices, which have risen sharply amid growing political instability in the Middle East, most notably in Libya. The U.S. Department of Energy reported an increase in gas prices from an average $3.14 per gallon nationwide during the week ending Feb. 14 to $3.38 this past week. In addition, news media focus on the challenges governments are having in passing budgets may also affect Americans' perceptions of the economy.
Gallup's Economic Confidence Index comprises two measures -- one assessing consumers' views of current economic conditions and another measuring their perceptions of whether the economy is getting better or worse. Both components are more negative than they were two weeks ago, but most of the change has come from increasingly pessimistic expectations about the economy's direction.
All key demographic and attitudinal subgroups are less confident now than in mid-February. The drop is slightly greater among Democrats, who were in positive territory two weeks ago, than among Republicans. Younger adults, Democrats, and higher socioeconomic status respondents remain relatively more confident than other subgroups.
Implications
The recent trend in Gallup's Economic Confidence Index shows that consumers' views of the economy can change fairly quickly in response to events. This means consumer confidence measures based on monthly reporting periods, such as those conducted by the Conference Board and Thomson Reuters/University of Michigan, may not reflect the current state of consumer attitudes when they are released, because they are based largely on surveys conducted during the first part of a month. Should the current trend continue, other measures of consumer confidence will show declines in their March reports -- which are released near the end of March -- though the decline appears to have begun in late February.
The short-term prospects for a turnaround in consumer confidence do not appear great, with gas prices likely to continue to rise, with state and federal governments facing increasingly difficult budget situations, and unemployment remaining high.
Gallup.com reports results from these indexes in daily, weekly, and monthly averages and in Gallup.com stories. Complete trend data are always available to view and export in the following charts:
Daily: Employment, Economic Confidence and Job Creation, Consumer Spending
Weekly: Employment, Economic Confidence, Job Creation, Consumer Spending
Read more about Gallup's economic measures.
View our economic release schedule.
Survey Methods
Results are based on telephone interviews conducted as part of Gallup Daily tracking Feb. 21-27, 2011, with a random sample of 3,410 adults, aged 18 and older, living in all 50 U.S. states and the District of Columbia, selected using random-digit-dial sampling.
For results based on the total sample of national adults, one can say with 95% confidence that the maximum margin of sampling error is ±2 percentage points.
The questions reported here are asked of a random half-sample of respondents each day on the Gallup Daily tracking survey.
Interviews are conducted with respondents on landline telephones and cellular phones, with interviews conducted in Spanish for respondents who are primarily Spanish-speaking. Each daily sample includes a minimum quota of 200 cell phone respondents and 800 landline respondents, with additional minimum quotas among landline respondents for gender within region. Landline respondents are chosen at random within each household on the basis of which member had the most recent birthday.
Samples are weighted by gender, age, race, Hispanic ethnicity, education, region, adults in the household, cell phone-only status, cell phone-mostly status, and phone lines. Demographic weighting targets are based on the March 2010 Current Population Survey figures for the aged 18 and older non-institutionalized population living in U.S. telephone households. All reported margins of sampling error include the computed design effects for weighting and sample design.
In addition to sampling error, question wording and practical difficulties in conducting surveys can introduce error or bias into the findings of public opinion polls.
For more details on Gallup's polling methodology, visit www.gallup.com.