PRINCETON, NJ -- When asked to evaluate the impact of 15 factors on the U.S. investment climate, investors are most likely to say the federal budget deficit (71%) and unemployment (71%) are "hurting it a lot." These are followed by energy prices (60%) and the financial condition of state and local governments (58%).
In the Feb. 1-8 Wells Fargo-Gallup Investor and Retirement Optimism Index survey, investors -- defined as those having $10,000 or more of investable assets -- represent the top third of Americans in terms of investable assets and include many retirees. Their placement of the federal budget deficit on par with unemployment on a list of economic concerns reveals that these two issues are of equal importance to them.
Energy prices rank third among investor worries, while concerns about the fragile financial condition of many state and local governments rank fourth. Both of these seem prescient, given the most recent spike in gas prices and the intensity of recent state budget battles.
It is also important to note that investors' concerns regarding "a politically divided federal government" came in sixth place, ahead of such factors as home values and new healthcare regulations. In the past, many on Wall Street have suggested that divided government is good for the markets. This finding, however, seems to suggest that the intense federal policy battles associated with today's divided government may be having a more negative than positive influence on investor psychology.
The comparatively low level of investor concern about inflation and the value of the dollar -- in 10th and 11th spots, respectively -- seems consistent with current Federal Reserve Board attitudes.
The relatively smaller percentage of investors (25%) who say new financial regulations are hurting the investment climate a lot implies that many investors may be less concerned about the fallout of the 2008 financial crisis. This -- in contrast with the level of inflation and dollar concerns -- doesn't seem consistent with banking regulators' sentiments or the feelings of many in Congress.
Investor Optimism Up in February
The Wells Fargo-Gallup Investor and Retirement Optimism Index -- a broad measure of investor perceptions -- rose to 42 in February. This is up sharply from the -64 of two years ago, just before the stock market bottomed out in March 2009.
The Index suggests a moderate degree of optimism among investors -- better than the 22 of February 2008, when the recession was just getting underway, but far below the 90 in February 2007, before the recession officially began. The Index, which Gallup began tracking in October 1996, peaked at 178 in January 2000 -- shortly before the dot-com bubble burst.
Investors' Portfolio Optimism Increases

American investors are optimistic about the prospects for their personal investment portfolios. February's 48 reading on the Personal Dimension of the Index is up sharply from a February 2009 low of 6, but still below the level seen through most of the decade, including the 62 of February 2008. Despite their concerns about the future course of the U.S. economy, investors have become more positive about the prospects for their personal investment portfolios.
Investors Remain Slightly Pessimistic About the Economic Outlook
Investors remain slightly pessimistic about the direction of the U.S. economy, as the Economic Dimension of the Index registered -7 in February (a negative score means investors as a whole remain pessimistic along this dimension). They are, however, far less pessimistic than they were in February 2009, when this dimension of the Index was at its low of -70. Investors have not been net positive about the economy's direction at any time measured since October 2007.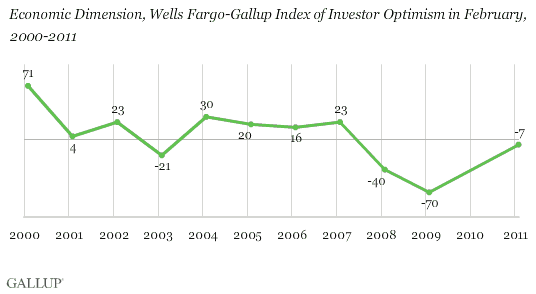 Investors' Top Concerns Reflect Realities of Current Political, Economic Environment
Investors' equating of the federal budget deficit and unemployment as the top challenges facing the U.S. economy may explain, at least in part, the intensity of the spending confrontation taking place in the nation's capital. Spending cuts, although necessary to start the process of addressing the federal budget deficit, may also involve job losses in the immediate term. On the other hand, continuing to spend freely, while possibly helpful to the unemployment situation, may make the federal budget deficit worse in the immediate term. As a result, any budgetary effort to aggressively address one of these two concerns not only lowers the relative priority of the other but actually makes things worse for the other.
A similar set of trade-offs exists at state and local governments in their battles over spending and future obligations. However, they do not have the option of printing money and running huge deficits as does the federal government.
Surging gas prices are likely to only intensify these political battles at the federal, state, and local government levels. The economic impact of higher gas prices is the same as a government tax increase -- and a regressive one at that. However, higher pump prices threaten not only to slow the economy but to simultaneously reduce federal, state, and local government revenues.
The seeming inability of those in the nation's capital to find a cooperative way to address any of these major investor worries may explain to a substantial degree why investors rank "a divided federal government" so high on their list of factors hurting the current investment environment.
Survey Methods
Results for the Wells Fargo-Gallup Investor and Retirement Optimism Index survey are based on telephone interviews conducted as part of Gallup Daily tracking, with a random sample of 1,000 or more respondents,aged 18 and older, living in all 50 U.S. states and the District of Columbia, selected using random-digit-dial sampling from Feb. 1-8, 2011. Between January 2008 and February 2011, interviews were conducted Oct. 23-25, Sept. 28-30, Aug. 18-21, July 24-26, June 25-27, May 26-28, April 21-23, March 16-18, Feb. 17-19, and Jan. 16-18, 2009; and Dec. 16-18, Nov. 24-26, June 3-6, April 25-28, March 28-31, and Feb. 28-March 2, 2008. For results based on these samples, one can say with 95% confidence that the maximum margin of sampling error is ±3 percentage points.
Results for May 2008 are based on the Gallup Panel study and are based on telephone interviews with 576 national adults, aged 18 and older, conducted May 19-21, 2008. Gallup Panel members are recruited through random selection methods. The panel is weighted so that it is demographically representative of the U.S. adult population. For results based on this sample, one can say with 95% confidence that the maximum margin of sampling error is ±5 percentage points.
For investor results prior to 2008, telephone interviews were conducted with at least 800 investors, aged 18 and older, and having at least $10,000 of investable assets. For the total sample of investors in these surveys, one can say with 95% confidence that the maximum margin of sampling error is ±4 percentage points.
Interviews are conducted with respondents on landline telephones and cellular phones.
In addition to sampling error, question wording and practical difficulties in conducting surveys can introduce error or bias into the findings of public opinion polls.
For more details on Gallup's polling methodology, visit www.gallup.com.