PRINCETON, NJ -- Six in 10 Americans favor increasing offshore drilling for oil and gas in U.S. coastal areas, up from 50% in May 2010.
Last year's finding was recorded about a month after the explosion of the Deepwater Horizon oil rig off the U.S. Gulf Coast that resulted in a massive oil spill. News of that incident has faded, possibly lessening Americans' resistance to coastal area drilling. At the same time, recent turbulence in the Middle East has caused oil prices to rise and has sparked discussion about the stability of the United States' foreign oil supply.
The latest findings are from Gallup's annual Environment survey, conducted March 3-6. The same poll shows 49% of Americans in favor of opening Alaska's Arctic National Wildlife Refuge (ANWR) for oil exploration. This is up slightly from 43% in the previous measurement in 2008, and is the highest level of support Gallup has recorded for drilling in ANWR since the question was first asked in 2002.
Republicans and Residents of the South Most Supportive of More Drilling
Men are more likely than women to support drilling, in terms of both coastal drilling and exploration in ANWR. Support for both activities is also much higher among Republicans than among Democrats.
Regionally, Gallup finds the highest support for coastal oil drilling in the South, at 74%, and higher support in the Midwest than in the East or West. There are essentially no meaningful regional differences in support for oil exploration in the Arctic National Wildlife Refuge.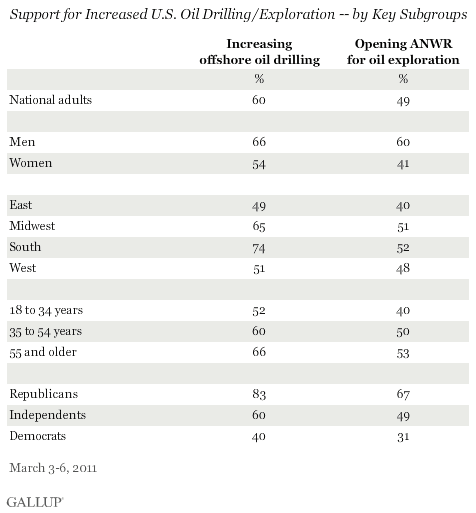 Concern About Access to Energy Increases
Consistent with Americans' heightened willingness to support drilling, the public is more concerned today than a year ago about "the availability and affordability of energy." Forty-six percent of Americans now say they worry about this a great deal, up from 38% in March 2010. Today's level of concern is not extraordinary, but is roughly tied with other high points seen over the past decade.
On Friday, President Barack Obama addressed rising gas prices, and indicated he would be willing to tap into the U.S. Strategic Petroleum Reserve in order to "fill any potential gaps in supply" that might arise in the coming months. Gallup last measured public support for opening these reserves in May 2008, at which time 58% were in favor of doing so to help reduce gas prices and 40% were opposed.
Bottom Line
A solid majority of Americans currently favor increased offshore oil drilling in U.S. coastal areas and a record-high 49% favor opening the Alaskan wilderness to oil exploration. These trends might best be understood in terms of Americans' ongoing anxiety about the nation's economic problems coupled with their expectation that today's already elevated gas prices will continue to rise. While Americans care about environmental protection -- 61% in 2010 called themselves active in or sympathetic to the environmental movement -- the possible benefits of achieving greater oil independence may be gaining appeal.
Survey Methods
Results for this Gallup poll are based on telephone interviews conducted March 3-6, 2011, with a random sample of 1,021 adults, aged 18 and older, living in the continental U.S., selected using random-digit-dial sampling.
The two questions on oil exploration were asked of split samples of approximately 500 national adults each.
Interviews are conducted with respondents on landline telephones (for respondents with a landline telephone) and cellular phones (for respondents who are cell phone-only). Each sample includes a minimum quota of 150 cell phone-only respondents and 850 landline respondents, with additional minimum quotas among landline respondents for gender within region. Landline respondents are chosen at random within each household on the basis of which member had the most recent birthday.
Samples are weighted by gender, age, race, education, region, and phone lines. Demographic weighting targets are based on the March 2010 Current Population Survey figures for the aged 18 and older non-institutionalized population living in continental U.S. telephone households. All reported margins of sampling error include the computed design effects for weighting and sample design.
In addition to sampling error, question wording and practical difficulties in conducting surveys can introduce error or bias into the findings of public opinion polls.
View methodology, full question results, and trend data.
For more details on Gallup's polling methodology, visit www.gallup.com.