PRINCETON, NJ -- Gallup finds the widest margin in nearly 30 years in Americans' prioritizing economic growth (54%) over environmental protection (36%). Americans for the most part have given the environment higher priority since Gallup first asked this question in 1984.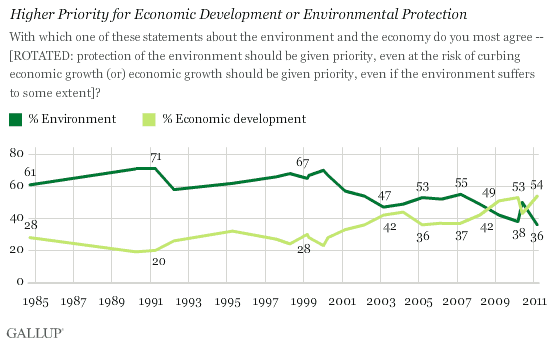 The results, part of Gallup's annual Environment poll, continue the trend toward Americans' assigning a higher priority to the economy since the economic downturn began in 2008. That trend was interrupted by the Gulf of Mexico oil spill; Gallup found Americans returning, rather dramatically but only temporarily, to a pro-environment position last May, shortly after the spill occurred.
The recent trend in these attitudes suggests Americans are responsive to what is going on with both the economy and the environment. The current poll was conducted March 3-6, the week before a major earthquake and tsunami struck Japan and caused a nuclear power plant to fail. It is not clear whether the nuclear disaster in Japan will cause Americans to shift in a more pro-environment direction.
In Gallup's 2000 Environment poll, Americans overall favored the environment over the economy by a better than 2-to-1 margin (67% to 28%). At that time, all major demographic and attitudinal subgroups were strongly pro-environment. Now, all have moved rather dramatically toward a pro-economy position.
Some of the greatest shifts have come among groups on the political right. For example, in 2000, Republicans showed a 26-percentage-point gap in favor of the environment, but now show a 55-point gap in favor of the economy, a total shift of 81 points. Conservatives show a total shift of 77 points toward the economic position. The changes have been smaller among left-leaning groups such as Democrats (38 points) and liberals (32 points).
As a result of these shifts, there are much larger political differences on this measure than there were in 2000, to the point where liberals and conservatives, as well as Republicans and Democrats, today hold opposing viewpoints on whether economic growth or environmental protection should be prioritized.
More broadly, now only a limited number of key subgroups place a greater priority on environmental protection over the economy, whereas all did so in 2000.
Implications
Over the past decade, Americans have dramatically re-evaluated their priorities when considering the trade-offs of economic growth and environmental protection. As recently as four years ago, Americans maintained a strong preference for environmental protection. By 2009, those priorities flipped, and pro-economy attitudes have grown since then, apart from the temporary movement back toward the environment after the Gulf of Mexico oil spill.
These changes illustrate that Americans' opinions on environmental protection are dynamic and responsive to what is happening in the real world. Based on the historical trend, Americans seem to value environmental protection but appear willing to de-emphasize that goal when more immediate, everyday concerns like the economy need attention.
Survey Methods
Results for this Gallup poll are based on telephone interviews conducted March 3-6, 2011, with a random sample of 1,021 adults, aged 18 and older, living in the continental U.S., selected using random-digit-dial sampling.
For results based on the total sample of national adults, one can say with 95% confidence that the maximum margin of sampling error is ±4 percentage points.
Interviews are conducted with respondents on landline telephones (for respondents with a landline telephone) and cellular phones (for respondents who are cell phone-only). Each sample includes a minimum quota of 150 cell phone-only respondents and 850 landline respondents, with additional minimum quotas among landline respondents for gender within region. Landline respondents are chosen at random within each household on the basis of which member had the most recent birthday.
Samples are weighted by gender, age, race, education, region, and phone lines. Demographic weighting targets are based on the March 2010 Current Population Survey figures for the aged 18 and older non-institutionalized population living in continental U.S. telephone households. All reported margins of sampling error include the computed design effects for weighting and sample design.
In addition to sampling error, question wording and practical difficulties in conducting surveys can introduce error or bias into the findings of public opinion polls.
View methodology, full question results, and trend data.
For more details on Gallup's polling methodology, visit www.gallup.com.