PRINCETON, NJ -- Gallup's Economic Confidence Index dropped to -39 in the week ending April 24 -- a new weekly low for 2011. This continues a downward trend that began in mid-February. The current deterioration of confidence contrasts sharply with the improving trend found at this time a year ago.
Gallup's Economic Confidence Index consists of two measures: one evaluating Americans' expectations about the future direction of the economy -- whether it is "getting better" or "getting worse" -- and the other rating Americans' perceptions of current economic conditions.
"Poor" Ratings of Economy Reach 2011 High
Nearly half of Americans rated current economic conditions "poor" during the week ending April 24 -- the highest level of negativity on this measure so far this year. This is also somewhat worse than the 42% "poor" rating found in the same week a year ago.
Optimism About Economic Outlook Drops to 2011 Low
Slightly more than one in four Americans said the economy is "getting better" last week. This measure has been declining since mid-February, and is now at its 2011 low. Far fewer Americans currently feel the economy is improving than held that expectation a year ago, when 41% said things were getting better.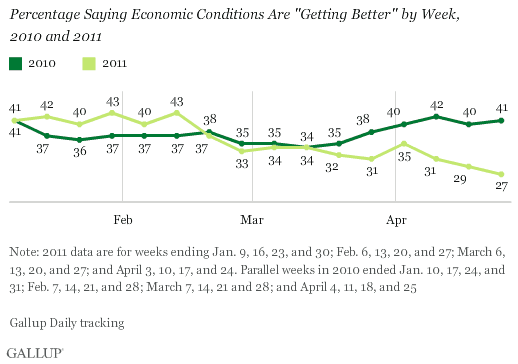 Implications
Americans may have good reason to be less confident now than they were earlier this year. Gas prices are surging and are approaching the 2008 record high of $4.11 a gallon. It seems as though Americans' forecast of a peak price of $4.36 for 2011 is well within striking distance. While upper-income Americans can tolerate these prices better than their lower- and middle-income counterparts, talk of $4 and $5 pump prices is likely to depress all Americans' future expectations for the U.S. economy.
Food prices are also surging, and jobs remain a major economic problem. Gallup Daily tracking shows that while there has been a modest improvement in the jobs situation, essentially the same percentage of Americans are unemployed today (9.6%) as was the case in mid-January. Although some economic observers may downplay the impact of plummeting confidence and surging prices on the U.S. economy, many economists are lowering their economic forecasts for the first quarter of 2011 -- from the 3% to 4% range they originally estimated to the 1 ½% to 2% range.
The beginning of the 2012 presidential campaign may also be creating added uncertainty and depressing economic confidence. Generally, the political confrontations taking shape over federal budget cuts, increased taxes, and raising the federal debt limit may be a source of concern for Americans.
Just 12 months ago, economic confidence was improving and there was talk of "frugality fatigue." The U.S. saw a sharp spike in spending -- particularly among those with higher incomes -- during May 2010. Things were looking up for the nation's retailers and the economy as a whole until the debt crisis in Europe surfaced.
This year, economic confidence is going in the opposite direction. There is an increasing danger of stagflation as prices surge and the economy slows. As a result, retailers and the economy could find it difficult to match last May's sales performance in 2011.
Gallup.com reports results from these indexes in daily, weekly, and monthly averages and in Gallup.com stories. Complete trend data are always available to view and export in the following charts:
Daily: Employment, Economic Confidence and Job Creation, Consumer Spending
Weekly: Employment, Economic Confidence, Job Creation, Consumer Spending
Read more about Gallup's economic measures.
View our economic release schedule.
Survey Methods
Results for this Gallup poll are based on telephone interviews conducted April 18-24, 2011, on the Gallup Daily tracking survey, with a random sample of 3,021 adults, aged 18 and older, living in all 50 U.S. states and the District of Columbia.
For results based on the total sample of national adults, one can say with 95% confidence that the maximum margin of sampling error is ±3 percentage points.
Interviews are conducted with respondents on landline telephones and cellular phones, with interviews conducted in Spanish for respondents who are primarily Spanish-speaking. Each sample includes a minimum quota of 400 cell phone respondents and 600 landline respondents per 1,000 national adults, with additional minimum quotas among landline respondents for gender within region. Landline telephone numbers are chosen at random among listed telephone numbers. Cell phone numbers are selected using random-digit-dial methods. Landline respondents are chosen at random within each household on the basis of which member had the most recent birthday.
Samples are weighted by gender, age, race, Hispanic ethnicity, education, region, adults in the household, and phone status (cell phone only/landline only/both, cell phone mostly, and having an unlisted landline number). Demographic weighting targets are based on the March 2010 Current Population Survey figures for the aged 18 and older non-institutionalized population living in U.S. telephone households. All reported margins of sampling error include the computed design effects for weighting and sample design.
In addition to sampling error, question wording and practical difficulties in conducting surveys can introduce error or bias into the findings of public opinion polls.
For more details on Gallup's polling methodology, visit www.gallup.com.