PRINCETON, NJ -- U.S. adults are evenly split in their reactions to the major deficit-reduction plans being debated in Washington. Forty-four percent prefer the Democratic plan proposed by President Barack Obama, while 43% say Republican Rep. Paul Ryan's plan is better.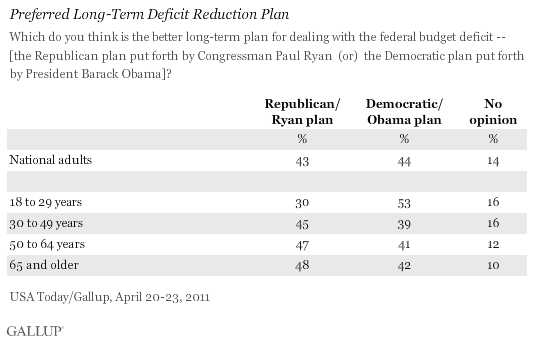 Ryan's plan includes a complete restructuring of Medicare for people younger than 55. Pluralities of middle-aged Americans as well as those 65 and older prefer Ryan's plan to Obama's, while adults 18 to 29 show more support for Obama's, 53% to 30%. These findings are in line with approval of Obama by age, more generally.
Democrats' and Republicans' reactions to the competing budget plans are generally symmetrical; slightly more than 80% each of Republicans and Democrats favor their own party's plan and few favor the opposing party's plan. Independents are evenly divided. Consistent with the different demographic profiles of Republicans and Democrats, whites and those making at least $75,000 annually generally favor Ryan's plan over Obama's; nonwhites and lower-income Americans favor Obama's.
Americans Prefer Republicans for Handling Federal Budget
The same USA Today/Gallup survey, conducted April 20-23, finds Republicans holding a significant edge over Democrats in public perceptions of which party would do the better job of dealing with the federal budget. Nearly half of Americans, 48% prefer the Republicans in Congress on this question, while 36% favor the Democrats in Congress.
One reason Republicans fare relatively well on this measure is that independents prefer the Republicans in Congress over the Democrats for handling the federal budget by 47% to 30%. Another is that a higher percentage of Republicans (86%) than Democrats (73%) favor their own party on the issue. Both findings contrast with the pattern seen in preferences for the Ryan vs. Obama deficit reduction plans, in which independents are evenly divided and Republicans and Democrats are equally likely to support their own party.
Neither Party Given a Free Pass
With accumulated federal deficits creating more than $14 trillion in federal debt, there is a growing concern among Washington lawmakers -- as well as among Americans -- about the federal budget. However, both parties face public relations challenges in advancing their long-term budget proposals.
Americans' biggest concern, at 71%, is that the Democrats' plan will not go far enough to fix the nation's budget problems. However, nearly as many Americans worry that the Republicans' plan will go too far in cutting Medicare, Social Security, and programs for the poor, or in protecting the rich. A majority of Americans are also concerned the Democrats will use the budget deficit as an excuse to raise taxes, but fewer worry they will cut defense spending too much.
Bottom Line
By 48% to 36%, more Americans prefer the Republicans in Congress to the Democrats in Congress for managing the federal budget. At the same time, Americans give equal support to the specific long-term budget plans recently issued by the Republican House Budget Committee Chairman Ryan and President Obama.
Whether this parity is due to public concerns about Ryan's plan, or to the higher support enjoyed by Obama versus the Democrats in Congress, is not clear. In any case, Americans also have major concerns about each party's approach to the budget. These concerns include that Democrats will not go far enough to fix the deficit and will use the deficit as an excuse to raise taxes. For the Republicans, they include that party cutting certain spending programs too deeply and protecting the rich at the expense of others.
Survey Methods
Results for this USA Today/Gallup poll are based on telephone interviews conducted April 20-23, 2011, with a random sample of 1,013 adults, aged 18 and older, living in all 50 U.S. states and the District of Columbia.
For results based on the total sample of national adults, one can say with 95% confidence that the maximum margin of sampling error is ±4 percentage points.
Interviews are conducted with respondents on landline telephones and cellular phones, with interviews conducted in Spanish for respondents who are primarily Spanish-speaking. Each sample includes a minimum quota of 400 cell phone respondents and 600 landline respondents per 1,000 national adults, with additional minimum quotas among landline respondents for gender within region. Landline telephone numbers are chosen at random among listed telephone numbers. Cell phone numbers are selected using random-digit-dial methods. Landline respondents are chosen at random within each household on the basis of which member had the most recent birthday.
Samples are weighted by gender, age, race, Hispanic ethnicity, education, region, adults in the household, and phone status (cell phone only/landline only/both, cell phone mostly, and having an unlisted landline number). Demographic weighting targets are based on the March 2010 Current Population Survey figures for the aged 18 and older non-institutionalized population living in U.S. telephone households. All reported margins of sampling error include the computed design effects for weighting and sample design.
In addition to sampling error, question wording and practical difficulties in conducting surveys can introduce error or bias into the findings of public opinion polls.
View methodology, full question results, and trend data.
For more details on Gallup's polling methodology, visit www.gallup.com.