WASHINGTON, D.C. -- Less than half of Americans rate their current financial situations as "excellent" or "good" (42%), on par with the 10-year low Gallup measured last year.
Gallup first asked Americans to rate their financial situations on the excellent/good/only fair/poor scale in August 2001, and has asked the question at least annually since then. A majority of Americans rated their financial situations positively through most of the past decade, before pessimism struck in reaction to the beginning of the recession in 2008. Since then, less than half of Americans have given their financial situations an excellent or good rating.
As Many Americans Optimistic as Pessimistic About Their Financial Future
In regard to what their financial future holds, Americans fall into one of two equally sized groups: 41% think their situation is "getting better" and 41% think it is "getting worse," according to the April 7-11 Gallup poll.
Americans' optimism about their future financial situations plummeted in 2008. The percentage who think their situation is getting better has been inching back up since that time, but remains well below the relatively optimistic levels found pre-2008. From 2001 to 2007, Americans were much more likely to say their financial situations were getting better than getting worse.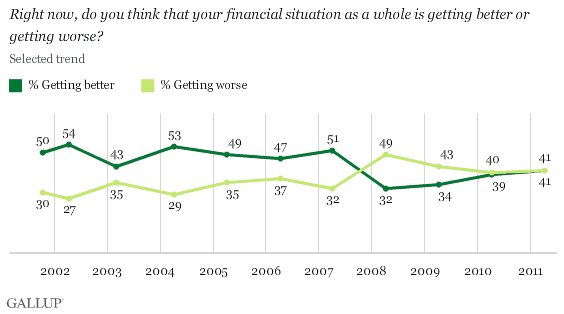 High-Income Americans Align With Middle-Income People on Financial Futures
While high-income Americans rate their current financial situations better than those with lower incomes, they are as likely as middle-income Americans to say their situations are getting better. At the same time, low-income Americans are significantly more pessimistic about their current and future financial situations.
Republicans Rate Current Financial Situation Best, Future Worst
Republicans are slightly more likely than Democrats and significantly more likely than independents to rate their current financial situation as excellent or good. Republicans are, however, less optimistic about the future than either independents or Democrats. Fifty-one percent of Republicans think their financial situation is getting worse, significantly more than the 30% of Democrats and 43% of independents who say the same.
Republicans were also more likely than Democrats to have pessimistic predictions about their financial futures in the same poll last year, but that was before the GOP took control of the House. In each year during the Bush administration, however, Republicans were more optimistic than Democrats, suggesting that economic expectations are related to politics and in particular to the party that controls the White House.
Bottom Line
The lack of improvement in Americans' ratings of their financial situations is in line with their declining economic optimism and concerns swirling around the high-profile budget battle in Washington, including what will be done about the deficit and how it will affect their retirement. Americans' views of the job market also remain highly negative. Until the employment situation improves and the federal budget issues are ironed out, Americans may be less likely to be positive about their current and future personal finances.

Survey Methods
Results for this Gallup poll are based on telephone interviews conducted April 7-11, 2011, with a random sample of 1,077 adults, aged 18 and older, living in the continental U.S., selected using random-digit-dial sampling.
For results based on the total sample of national adults, one can say with 95% confidence that the maximum margin of sampling error is ±4 percentage points.
Interviews are conducted with respondents on landline telephones and cellular phones, with interviews conducted in Spanish for respondents who are primarily Spanish-speaking. Each sample includes a minimum quota of 400 cell phone respondents and 600 landline respondents per 1,000 national adults, with additional minimum quotas among landline respondents for gender within region. Landline telephone numbers are chosen at random among listed telephone numbers. Cell phone numbers are selected using random digit dial methods. Landline respondents are chosen at random within each household on the basis of which member had the most recent birthday.
Samples are weighted by gender, age, race, Hispanic ethnicity, education, region, adults in the household, and phone status (cell phone-only/landline only/cell phone mostly, and having an unlisted landline number). Demographic weighting targets are based on the March 2010 Current Population Survey figures for the aged 18 and older non-institutionalized population living in continental U.S. telephone households. All reported margins of sampling error include the computed design effects for weighting and sample design.
In addition to sampling error, question wording and practical difficulties in conducting surveys can introduce error or bias into the findings of public opinion polls.
View methodology, full question results, and trend data.
For more details on Gallup's polling methodology, visit www.gallup.com.