WASHINGTON, D.C. -- More Americans continue to struggle to access basic necessities than before the 2008 economic crisis. The U.S. earned a Basic Access Index score of 82.0 in June -- about on par with the low point of 81.5 recorded in February and March of 2009 -- and down compared with 83.6 measured in June 2008.
The current score is more than two points lower than the highest measured point of 84.1 in October 2008, revealing that nearly 5 million fewer Americans today have access to the basic necessities of life compared to that time.
These findings are based on approximately 29,000 interviews conducted each month from January 2008 through June 2011 with American adults as a part of the Gallup-Healthways Well-Being Index. The Basic Access Index is a 13-item measure of Americans' access to basic necessities, ranging from food and shelter to clean water and healthcare.
Fewer Americans Have Health Insurance or a Personal Doctor
Americans' access to health insurance declined the most among the items included in the Basic Access Index. In June 2011, 82.1% reported having health insurance, continuing a steady decline from 85.4% in June 2008. Fewer Americans also report having a personal doctor and visiting the dentist at least once in the last 12 months. "Enough money to buy food at all times in the last 12 months" is also trending lower compared to 2008 and 2009.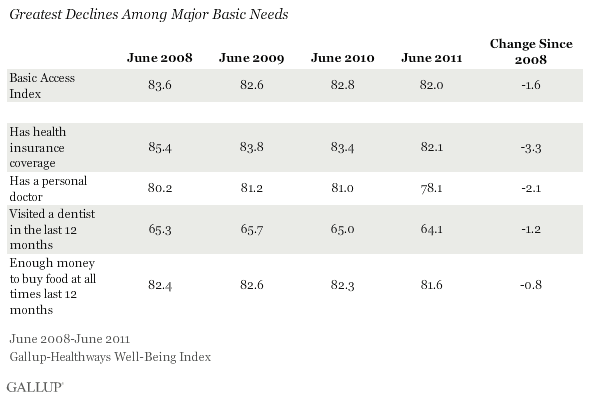 Key Improvement Amid Tough Times: Access to Fresh, Affordable Produce
Even as Americans continue to struggle with access to certain basic needs post-recession, their access to others has improved or remained the same. More Americans reported easy access to fresh, affordable fruits and vegetables in June than did in June 2008, although fewer than in 2009 and 2010. This represents the only substantial improvement among the Basic Access Index metrics during this period. For results on the remaining items, see page 2.
Bottom Line
The continued lack of recovery in the Basic Access Index metrics overall in 2011 shows that Americans are still lagging behind prior years in terms of their access to the basic necessities that foster a healthy, productive life. While Gallup has documented the decline in access to health insurance in recent years, important elements of healthcare including Americans' ability to maintain a personal doctor and visit the dentist have also been casualties of the economic recession. This means millions fewer American adults have those basic needs met now than did before the financial crisis, despite modest improvements found in some areas. These results lend further evidence to the sluggishness of the current economic recovery, and underscore in real terms the health impact of the recession on the lives of American adults.
Survey Methods
Results are based on telephone interviews conducted as part of the Gallup-Healthways Well-Being Index surveys each day, with a random sample of at least 1,000 adults, or roughly 30,000 adults per month, aged 18 and older, living in all 50 U.S. states and the District of Columbia, selected using random-digit-dial sampling.
For results based on the total sample of national adults, one can say with 95% confidence that the maximum margin of sampling error is ±0.6 percentage points.
Interviews are conducted with respondents on landline telephones and cellular phones, with interviews conducted in Spanish for respondents who are primarily Spanish-speaking. Each daily sample includes a minimum quota of 400 cell phone respondents and 800 landline respondents, with additional minimum quotas among landline respondents for gender within region. Landline respondents are chosen at random within each household on the basis of which member had the most recent birthday.
Samples are weighted by gender, age, race, Hispanic ethnicity, education, region, adults in the household, cell phone-only status, cell phone-mostly status, and phone lines. Demographic weighting targets are based on the March 2010 Current Population Survey figures for the aged 18 and older non-institutionalized population living in U.S. telephone households. All reported margins of sampling error include the computed design effects for weighting and sample design.
In addition to sampling error, question wording and practical difficulties in conducting surveys can introduce error or bias into the findings of public opinion polls.
For more details on Gallup's polling methodology, visit https://www.gallup.com/.