PRINCETON, NJ -- Americans are more than twice as likely to say President Obama and the current Congress are doing a poor job (67%) as a good job (30%) of dealing with the most important problems facing the United States.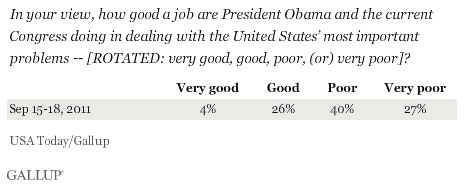 These results are based on a Sept. 15-18 USA Today/Gallup poll. They fit in with the broader theme of relatively low presidential approval ratings, historically low congressional approval ratings, and low levels of trust in government.
That sentiment is not universally shared, though, as Democrats are inclined to think the president and Congress are doing a good job. Republicans overwhelmingly say they are not. This would suggest Americans' ratings are driven more by their views of the president (a Democrat) than of Congress (with Republicans controlling the House of Representatives, and Democrats, the Senate).
Asked to compare the performance of the current president and Congress to past presidents and Congresses, a slim majority, 52%, say the current president and Congress are doing a worse job than their predecessors. Most of the rest, 33%, say they are doing about the same, with 13% saying better.
Republicans overwhelmingly say the current government is doing a worse job than those before it, and 59% of independents agree. Democrats are divided in their views, with roughly equal proportions saying the current president and Congress are doing better or doing worse, and a plurality saying they are doing about the same.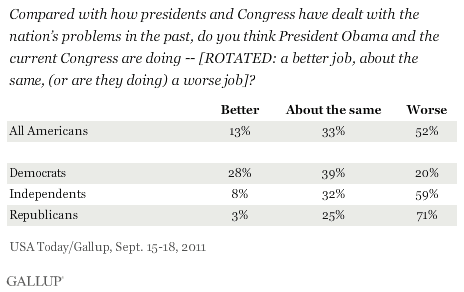 Americans' views now are similar to what they were in July, before the government reached an agreement on raising the federal debt ceiling, when the question was first asked. That poll found 49% saying the president and Congress were doing a worse job than prior presidents and Congresses of solving the nation's problems. Further, 39% in that poll said the job the president and Congress were doing was the "worst in their lifetimes."
Implications
Americans are clearly frustrated with the performance of the legislative and executive branches of government, and half say their performance is historically bad. That level of frustration is sure to put incumbents seeking re-election in 2012 at risk, with the distinct possibility of a shake-up in the composition of the nation's leadership if these attitudes persist through next fall.
Survey Methods
Results for this USA Today/Gallup poll are based on telephone interviews conducted Sept. 15-18, 2011, with a random sample of 1,004 adults, aged 18 and older, living in all 50 U.S. states and the District of Columbia.
For results based on the total sample of national adults, one can say with 95% confidence that the maximum margin of sampling error is ±4 percentage points.
Interviews are conducted with respondents on landline telephones and cellular phones, with interviews conducted in Spanish for respondents who are primarily Spanish-speaking. Each sample includes a minimum quota of 400 cell phone respondents and 600 landline respondents per 1,000 national adults, with additional minimum quotas among landline respondents by region. Landline telephone numbers are chosen at random among listed telephone numbers. Cell phone numbers are selected using random-digit-dial methods. Landline respondents are chosen at random within each household on the basis of which member had the most recent birthday.
Samples are weighted by gender, age, race, Hispanic ethnicity, education, region, adults in the household, and phone status (cell phone only/landline only/both, cell phone mostly, and having an unlisted landline number). Demographic weighting targets are based on the March 2010 Current Population Survey figures for the aged 18 and older non-institutionalized population living in U.S. telephone households. All reported margins of sampling error include the computed design effects for weighting and sample design.
In addition to sampling error, question wording and practical difficulties in conducting surveys can introduce error or bias into the findings of public opinion polls.
View methodology, full question results, and trend data.

For more details on Gallup's polling methodology, visit www.gallup.com.