PRINCETON, NJ -- Gallup's Economic Confidence Index is at -49 for the week of Oct. 3-9. This is one percentage point better than the -50 for the previous week, but substantially lower than it was earlier in 2011, and 20 points lower than it was a year ago.
Gallup's economic trends are based on nightly interviews with approximately 500 national adults, totaling approximately 3,500 interviews each week. Gallup's Economic Confidence Index combines two measures: one assessing Americans' views about whether the U.S. economy is "getting better" or "getting worse," and the second involving Americans' ratings of current economic conditions as "excellent," "good," "only fair," or "poor." Gallup began tracking the Economic Confidence Index in January 2008.
Percentage "Getting Worse" Up, "Poor" Little Changed
Seventy-five percent of Americans said the U.S. economy is getting worse in the week ending Oct. 9, while 21% said it is getting better. These numbers are roughly the same as they have been in recent weeks.
Fifty-three percent of Americans rated current economic conditions as "poor" last week, while 9% rated conditions as excellent or good -- again, little changed from previous weeks.
September Monthly Average Not as Negative as in 2008
The long-term trend in the Index approximates an inverted-U shaped pattern. Confidence plunged to its lowest point in 2008, only to recover in 2009, 2010, and the first part of this year before plunging again this summer -- albeit to levels not quite as negative as those measured in 2008. The July drop in economic confidence was coincident with the highly rancorous negotiations in Washington over the issue of raising the debt ceiling. If there is any good news in this trend, it is that the Index has leveled off, at least for the time being, and the September monthly average of -50 is slightly lower than the August low point of -52.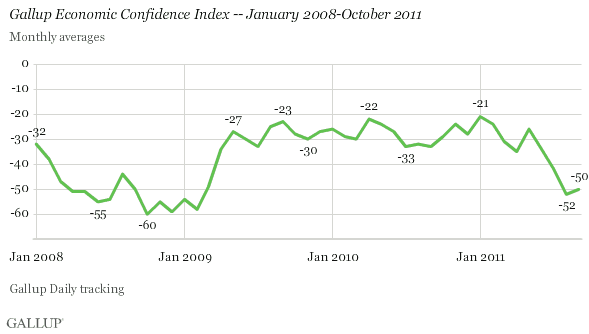 Gallup's Economic Confidence Index hit its recession-era monthly low of -60 in October 2008. The highest point it has reached since 2008 is -21, measured in January of this year. The 29-point drop in economic confidence over the last eight months underscores just how negative the average American's mindset has turned in a short time.
Implications
The president, other presidential candidates, pundits, journalists, and almost anybody else who comments on the current mood of America come back again and again to the economy as by far the public's greatest concern and worry. This latest update on Americans' views of the U.S. economy confirms the reality of these worries. Although the substantial drop in economic confidence that began in July has stabilized in recent weeks, a situation in which three out of four Americans continue to say the economy is getting worse rather than better signifies deep-seated economic concerns that if sustained will have serious economic, social, and political consequences.
Gallup.com reports results from these indexes in daily, weekly, and monthly averages and in Gallup.com stories. Complete trend data are always available to view and export in the following charts:
Daily: Employment, Economic Confidence and Job Creation, Consumer Spending
Weekly: Employment, Economic Confidence, Job Creation, Consumer Spending
Read more about Gallup's economic measures.
View our economic release schedule.

Survey Methods
Results are based on telephone interviews conducted as part of Gallup Daily tracking Oct. 3-9, 2011, with a random sample of 3,444 adults, aged 18 and older, living in all 50 U.S. states and the District of Columbia.
For results based on the total sample of national adults, one can say with 95% confidence that the maximum margin of sampling error is ±2 percentage points.
Interviews are conducted with respondents on landline telephones and cellular phones, with interviews conducted in Spanish for respondents who are primarily Spanish-speaking. Each sample includes a minimum quota of 400 cell phone respondents and 600 landline respondents per 1,000 national adults, with additional minimum quotas among landline respondents by region. Landline telephone numbers are chosen at random among listed telephone numbers. Cell phone numbers are selected using random-digit-dial methods. Landline respondents are chosen at random within each household on the basis of which member had the most recent birthday.
Samples are weighted by gender, age, race, Hispanic ethnicity, education, region, adults in the household, and phone status (cell phone only/landline only/both, cell phone mostly, and having an unlisted landline number). Demographic weighting targets are based on the March 2010 Current Population Survey figures for the aged 18 and older non-institutionalized population living in U.S. telephone households. All reported margins of sampling error include the computed design effects for weighting and sample design.
In addition to sampling error, question wording and practical difficulties in conducting surveys can introduce error or bias into the findings of public opinion polls.
For more details on Gallup's polling methodology, visit www.gallup.com.