WASHINGTON, D.C. -- Americans' satisfaction with the way things are going in the United States remains low at 13% in October, similar to the 11% last month and still among the lowest on record.
Americans' low satisfaction level does not bode well for an incumbent president's re-election. U.S. satisfaction was also low before two recent incumbent presidents were defeated for re-election. In November 1979, 19% of Americans were satisfied with the way things were going in the United States, the last Gallup reading before Jimmy Carter's defeat in 1980. Also, in August 1992, 22% were satisfied prior to George H.W. Bush's unsuccessful re-election bid.
Satisfaction levels were higher when Ronald Reagan (48% in September/October 1984), Bill Clinton (39% in October 1996), and George W. Bush (44% in October 2004) all won re-election.
The current low satisfaction level likely is tied at least partly to Americans' continuing high levels of concern about economic issues, measured in the same Oct. 6-9 Gallup poll. More than 7 in 10 Americans continue to name some economic issue as the most important problem facing the United States, which has been the case for six straight months.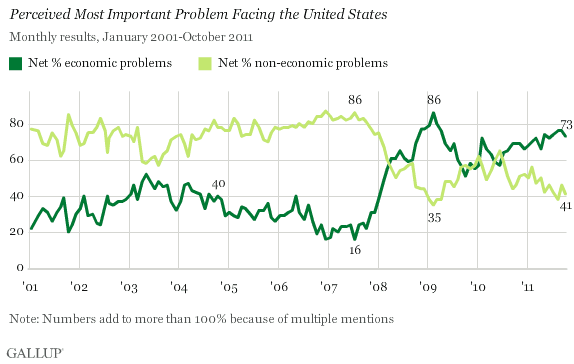 Specifically, Americans continue to be most concerned about unemployment (32%) and the economy in general (31%). The top non-economic problem remains dissatisfaction with government.
Americans' concerns about the economy are another potential challenge for Barack Obama's re-election. Just before George W. Bush was re-elected in 2004, 40% of Americans mentioned an economic problem as the most important. The same percentage picked an economic issue as the top problem in July 1996 (Gallup's reading that was closest to the 1996 election) before Bill Clinton was re-elected. However, a significantly higher 69% named an economic issue as the most important problem in August 1992 (Gallup's reading that was closest to the 1992 election) and George H.W. Bush lost his re-election bid.
Implications
In some ways, the political environment in the United States for the 2012 election could shape up to be the worst in any recent presidential election year, with the exception of 2008, which did not have an incumbent running. However, Americans' mood could change, given that the election is still more than a year away.
Historically, satisfaction levels have not increased dramatically in the year leading up to a presidential election, and Americans' low satisfaction has persisted for years. Many factors continue to keep Americans dissatisfied, including their negativity toward Washington and stubbornly high unemployment and underemployment.
Americans also have long-standing concerns about the economy: the economy in general or unemployment has been named the top problem in every month since February 2008.
Still, there are many other factors, including who the eventual Republican nominee will be and the trajectory of the economy over the next 12 months, that will play a significant role in whether Obama wins a second term.
Survey Methods
Results for this Gallup poll are based on telephone interviews conducted Oct. 6-9, 2011, with a random sample of 1,005 adults, aged 18 and older, living in the continental U.S., selected using random-digit-dial sampling.
For results based on the total sample of national adults, one can say with 95% confidence that the maximum margin of sampling error is ±4 percentage points.
Interviews are conducted with respondents on landline telephones and cellular phones, with interviews conducted in Spanish for respondents who are primarily Spanish-speaking. Each sample includes a minimum quota of 400 cell phone respondents and 600 landline respondents per 1,000 national adults, with additional minimum quotas among landline respondents by region. Landline telephone numbers are chosen at random among listed telephone numbers. Cell phone numbers are selected using random-digit-dial methods. Landline respondents are chosen at random within each household on the basis of which member had the most recent birthday.
Samples are weighted by gender, age, race, Hispanic ethnicity, education, region, adults in the household, and phone status (cell phone only/landline only/both, cell phone mostly, and having an unlisted landline number). Demographic weighting targets are based on the March 2010 Current Population Survey figures for the aged 18 and older non-institutionalized population living in U.S. telephone households. All reported margins of sampling error include the computed design effects for weighting and sample design.
In addition to sampling error, question wording and practical difficulties in conducting surveys can introduce error or bias into the findings of public opinion polls.
View methodology, full question results, and trend data.
For more details on Gallup's polling methodology, visit www.gallup.com.