WASHINGTON, D.C. -- Sudanese living in the country's northern states are more likely to report receiving some type of financial help in 2011 than in the past two years. This increase likely reflects the additional economic pinch that many are feeling with South Sudan's separation.
Twenty-seven percent of Sudanese respondents in September said their household received help in the form of money or goods from individuals living in Sudan, another country, or both, down from 35% in March, but still more than double the number in 2010. The bulk of the increase comes from a rise in reported help from someone living in the country.
These results are based on Gallup surveys conducted with Sudanese living in the northern states that now make up Sudan. Gallup conducted the March 2011 survey a few weeks after people in the southern states voted to split from Sudan. The September 2011 survey took place after South Sudan gained independence in July and amid protests over spiraling food prices.
In recent years, Sudan's economy was one of the fastest growing in the region. But unrest in the North-South border region, the global economic crisis, and a drop in commodity prices -- especially oil that accounts for about 90% of the country's exports -- created significant challenges. Separation from South Sudan, where most oil production is located, has further complicated Sudan's economic picture.
Sudanese respondents' optimism about their standard of living has deteriorated with the economy. Up until early 2011, they were far more likely to report improving rather than worsening personal economics. For the first time since 2009, Sudanese respondents appear divided -- about 4 in 10 feel their standard of living is getting better and a similar percentage say it is getting worse.
Financial Assistance Up in All Regions
Although the remittance debate usually focuses on its international dimension, financial help from within the country is also a source of revenue for many Sudanese households. Further, the Gallup results show that the percentage of those receiving financial assistance from within Sudan increased in all regions between 2009 and 2011 -- although the sample size in the Northern region is too small to report results. Households in Kurdufan and Kassala are the top beneficiaries of such help.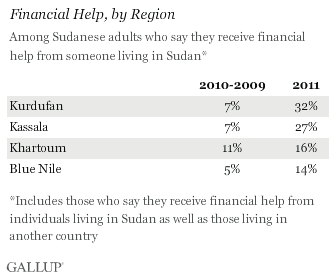 Earlier in June, armed violence broke out in the Kurdufan region near the southern border between the Sudan Armed Forces and the remnant of a rebel faction from the Sudan People's Liberation Movement/Army. The fighting exacerbated access to food and other basic needs and it has displaced thousands of people who had fled to South Sudan. The Kassala region in eastern Sudan has been home to large numbers of refugees for many years. The region, which encompasses Gedaref, Kassala, and the Red Nile states, is also among the poorest in the country, according to the Office of the United Nations High Commissioner for Refugees.
Reliance on Social Networks Declining
Against this background, it is important to look at Sudanese' ability to rely on social networks. Most Sudanese surveyed, just like other sub-Saharan Africans, say they have relatives or friends they can count on to help them whenever they need them. But the percentage who say they rely on others is declining. At the same time, increasing numbers of Sudanese respondents report having someone outside Sudan they can count on in case of need.
Bottom Line
As Sudanese' outlook on their standard of living has grown more pessimistic, an increasing proportion say they receive money or goods from others, mainly from people already living in Sudan. At the same time, Sudanese' ability to rely on help from people living in other countries has increased. Overall, the findings suggest expatriate Sudanese who live for the most part in developed countries may have been struggling to send money to relatives back home because of economic challenges in their host countries. As a result, this situation may have put greater pressure on Sudanese already in Sudan to help relatives make ends meet.
While the results do not estimate the value of domestic and international remittances to Sudan, they do gauge the extent of financial assistance in a context of declining national revenues. Further, the results provide important information about recipient households' locations to better understand where the financial needs are currently.
For complete data sets or custom research from the more than 150 countries Gallup continually surveys, please contact SocialandEconomicAnalysis@gallup.com or call 202.715.3030.
Survey Methods
Results are based on face-to-face interviews with 840 to 1,000 adults, aged 15 and older, conducted in March 2009, August 2009, March 2010, August 2010, March 2011, and September 2011 in Sudan (northern states). For results based on the total sample of national adults, one can say with 95% confidence that the maximum margin of sampling error is ±4.5 percentage points. The margin of error reflects the influence of data weighting. In addition to sampling error, question wording and practical difficulties in conducting surveys can introduce error or bias into the findings of public opinion polls.
For more complete methodology and specific survey dates, please review Gallup's Country Data Set details.