PRINCETON, NJ -- Americans continue to express much greater dissatisfaction than satisfaction with the United States' position in the world, and their views have improved little since hitting a low point in 2008.
From 2000-2003, Americans were generally satisfied with the position of the U.S. in the world. That changed in early 2004, nearly a year into the Iraq war, and opinions continued to grow more negative through February 2008, when 30% were satisfied. Since then, the United States has elected a new president and has ended its mission in Iraq, but continues to fight a war in Afghanistan and endure a sluggish economy. Further, Americans believe China has overtaken the U.S. as the world's leading economic power.
The current results are based on Gallup's annual World Affairs poll, conducted Feb. 2-5.
Americans, however, are not universally negative about the United States' world standing. Currently, they believe that the United States rates favorably (53%) rather than unfavorably (46%) in the eyes of the world, the most positive assessment since 2004. From 2005-2009, more Americans were inclined to believe the world viewed the United States negatively than positively, a shift from the strongly net positive views of 2000-2004.
Also, by 51% to 44%, Americans continue to believe that other world leaders respect President Obama.
Although the 51% who think other leaders respect Obama is a personal low for the president, it still compares favorably to his immediate predecessors' ratings. Apart from more positive ratings early in his presidency, especially after the 9/11 terrorist attacks, Americans were inclined to believe world leaders did not respect President George W. Bush. And on two occasions -- in 1994 and 2000 -- only as many as 44% of Americans thought world leaders respected President Bill Clinton.
The poll also finds 7 in 10 Americans still believing the United States should play a leading (19%) or major (52%) role in trying to solve international problems, in line with Americans' typical views on this issue.
Republicans Take Dimmer View of U.S. Position in World
Republicans' widespread dissatisfaction with the U.S. position in the world is a major reason Americans, overall, are generally dissatisfied. Currently, 19% of Republicans are satisfied and 81% dissatisfied. That compares with 31% satisfaction among independents and 57% among Democrats.
Republicans' views are no doubt influenced by the fact that a Democrat occupies the White House. When George W. Bush was still in office, Republicans were generally more satisfied with the United States' world standing and Democrats less satisfied. Partisans' opinions shifted at some point during Obama's first year in office -- but not immediately after he became president. In February 2009, just weeks after Obama was inaugurated, Republicans still were more likely to be satisfied than Democrats, although the party gap in satisfaction narrowed considerably from what it was in 2008. By February 2010, the party differences evident today were clearly established.
Gallup observed a similar, though less dramatic, party shift in satisfaction with the United States' position in the world between the end of the Clinton presidency and the beginning of the Bush presidency.
On the question that asks Americans to evaluate Obama directly -- whether other world leaders respect him -- the parties show an even wider gap, with 20% of Republicans and 78% of Democrats believing this to be the case.
Republicans are not quite as pessimistic about the United States' global image, but are on balance still negative, with 43% saying the U.S. is viewed favorably and 57% unfavorably. Democrats, as expected, are quite positive in this regard.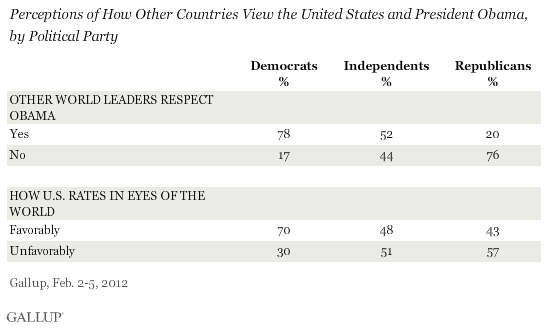 Implications
Americans remain highly dissatisfied with the United States' position in the world. This may be an extension of their dissatisfaction with conditions in the United States more generally, likely as a result of the economy.
However, Americans' assessment of how other countries view the United States is improving, and Americans continue to believe the U.S. should play a major role in international affairs.
With long and costly operations in Iraq and Afghanistan ending or nearing an end, and significant cutbacks in defense spending likely, the United States' involvement in international affairs is undergoing a significant transformation. The nature of U.S. foreign policy going forward, as well as the health of the U.S. economy, will play key roles in whether Americans' satisfaction with the country's standing in the world improves in the coming years.
Survey Methods
Results for this Gallup poll are based on telephone interviews conducted Feb. 2-5, 2012, with a random sample of 1,029 adults, aged 18 and older, living in all 50 U.S. states and the District of Columbia.
For results based on the total sample of national adults, one can say with 95% confidence that the maximum margin of sampling error is ±4 percentage points.
Interviews are conducted with respondents on landline telephones and cellular phones, with interviews conducted in Spanish for respondents who are primarily Spanish-speaking. Each sample includes a minimum quota of 400 cell phone respondents and 600 landline respondents per 1,000 national adults, with additional minimum quotas among landline respondents by region. Landline telephone numbers are chosen at random among listed telephone numbers. Cell phone numbers are selected using random-digit-dial methods. Landline respondents are chosen at random within each household on the basis of which member had the most recent birthday.
Samples are weighted by gender, age, race, Hispanic ethnicity, education, region, adults in the household, and phone status (cell phone only/landline only/both, cell phone mostly, and having an unlisted landline number). Demographic weighting targets are based on the March 2011 Current Population Survey figures for the aged 18 and older non-institutionalized population living in U.S. telephone households. All reported margins of sampling error include the computed design effects for weighting and sample design.
In addition to sampling error, question wording and practical difficulties in conducting surveys can introduce error or bias into the findings of public opinion polls.
View methodology, full question results, and trend data.

For more details on Gallup's polling methodology, visit www.gallup.com.