ABU DHABI - One in three Qatari nationals between the ages of 15 and 29 (33%) say they plan to start a business in the next 12 months, the highest percentage to say so in the Arab world in 2011. Across the Arab League, a median of 9% of young people are aspiring entrepreneurs.
The findings are based on a new Silatech Index report, "Qatar's Rising Entrepreneurial Spirit," which examines the role entrepreneurship plays in creating a more competitive and diversified economy for Qatar. The Qatar National Vision for 2030 plan spells out the country's long-term strategy for modernization and sustainable development and reinforces the focus on entrepreneurship. The country aims to convert its wealth from natural resources into high-value industries and services.
Majorities of Young Qataris Have Access to Resources Needed to Start a Business
Young Qataris' entrepreneurial ambitions may be related to their access to the resources they might need to start a business. Nearly three in four 15- to 29-year-olds in Qatar (74%) say there is someone other than their family members they trust enough to make a business partner, and two in three (66%) say they personally know someone who would be able to advise them about managing a business. About 6 in 10 young Qataris also say they have access to money to start a company (61%) and access to training on how to start a business (58%).
Young Qataris' likelihood of starting businesses appears to be increasing as conditions become more favorable for entrepreneurs. The government is vigorously promoting support services for aspiring and current entrepreneurs as young Qataris seek to start a business.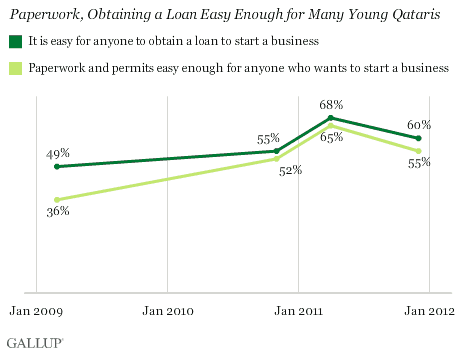 For example, Qatar has made significant gains in simplifying the processes to obtain a loan and a business license, as evidenced in the World Bank's "Doing Business 2012" report. Qatar rose 32 places to No. 98 in its "getting credit" indicator and 8 places to No. 116 in the "starting a business" indicator. In 2011, 55% of young Qataris agreed that the government makes paperwork and permits easy enough for anyone wanting to start a business, up from 36% in 2009. Additionally, Qatari youth are more likely to say that it is easy for anyone to obtain a loan to start a business in the country; 60% of 15- to 29-year-olds agreed with this statement in 2011, compared with 49% in 2009.
Implications
Entrepreneurial intentions among young Qataris suggest that the government's focus on entrepreneurship is having some success. Young Qataris are becoming increasingly positive about key aspects of starting a business as the government has focused on making progress toward a more diversified economy. Qatar must continue with its efforts if it is to capitalize on entrepreneurship. If Qatar proves successful in helping today's aspiring young entrepreneurs to become tomorrow's successful entrepreneurs and job creators, it may soon find many countries in the Arab world studying its lead.
For complete data sets or custom research from the more than 150 countries Gallup continually surveys, please contact SocialandEconomicAnalysis@gallup.com or call 202.715.3030.

Survey Methods
Results are based on approximately multiple surveys between 2009 and 2012 with approximately 200 to 300 Qatari nationals aged 15 to 29 each time. Face-to-face interviews took place in 2009 and telephone interviews in 2010, 2011, and 2012. Surveys were conducted March 11-19, 2009; Oct. 18-Nov. 21, 2010; Feb. 10, 2011-April 19, 2011; and Nov. 21, 2011-Jan. 6, 2012. For results based on the total sample of Qatari youth, one can say with 95% confidence that the maximum margin of error ranges from ±6.6 to ±7.8 percentage points. The margin of error reflects the influence of data weighting. In addition to sampling error, question wording and practical difficulties in conducting surveys can introduce error or bias in to the findings of public opinion polls.
For more complete methodology and specific survey dates, please review Gallup's Country Data Set details.