PRINCETON, NJ -- Fifty percent of Americans say they have a great deal or a fair amount of confidence in President Obama to do or to recommend the right thing for the economy, more than say the same about Republican presidential candidate Mitt Romney (42%). Americans have more confidence in Obama and Romney than in other U.S. economic or political leaders.
These findings are from Gallup's annual Economy and Personal Finance survey, conducted April 9-12. Gallup has asked this question each year since 2001 for the president, congressional leaders, and the Federal Reserve chairman.
Confidence in President Obama on Economy Unchanged
Americans' confidence in President Obama's ability to do or recommend the right thing for the U.S. economy is unchanged from last year -- but down from his high of 71% in 2009.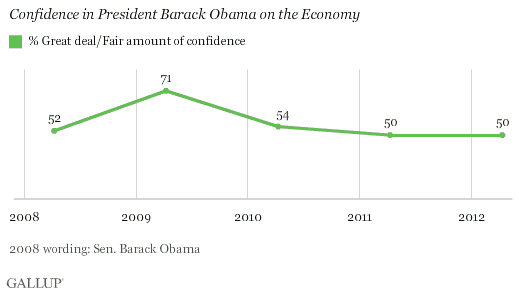 Former President George W. Bush also experienced a sharp decline in confidence on the economy; his support plunged from a high of 73% in 2002 to 55% in 2004, before ending at 34% in 2008.
Not surprisingly, 86% of Democrats express confidence in Obama on the economy, while 17% of Republicans agree. Independents are split, with 47% expressing a great deal or fair amount of confidence and 52% saying they have only a little or almost no confidence in the president's economic leadership. There is a seven-percentage-point gender gap, with 53% of women and 46% of men saying they have a great deal or fair amount of confidence in Obama.
Americans' confidence in Romney on the economy also varies widely by party. Sixty-nine percent of Republicans express confidence, while 25% of Democrats and 35% of independents do so. Men (43%) and women (40%) are about equally confident in Romney's economic leadership.
Confidence in Democratic and Republican Congressional Leaders at Decade Low
Americans' confidence in the Democratic leaders in Congress on the economy fell slightly this year, reaching a new low of 39%, down from 41% in 2011 and 43% in 2010. Confidence in Democrats on this measure was at its highest, 66%, in 2001.
Confidence in the Republican leaders in Congress also declined, to 38% this year from 44% last year. This essentially matches Republicans' previous lows of 37% in 2008 and 38% in 2009. As is true for their Democratic counterparts, confidence in Republicans on this measure was highest in 2001, at 66%.
Confidence in Fed Chairman Bernanke Drifting Downward
Gallup has measured Americans' confidence in Federal Reserve Board Chairman Ben Bernanke since 2006. This year, 39% of Americans express confidence in Bernanke, continuing the steady decline seen since 2009, when 49% of Americans expressed confidence in his economic leadership. At the same time, 46% of Americans now express little or no confidence in the Fed chairman -- the highest since measurement of him as chairman began in 2006.
Half of Democrats (51%) express confidence in Bernanke, compared with 33% of Republicans and 36% of independents. However, Democrats' confidence in Bernanke on the U.S. economy has declined since 2009, when it was at 64% after President Obama nominated him for another term. Republicans' and independents' confidence in Bernanke is also down, but only slightly since 2009. Approval of Bernanke by party was highest among Republicans and lowest among Democrats prior to 2009 when he was serving under former President Bush.
Confidence in Bernanke has yet to reach the levels achieved by former Fed Chairman Alan Greenspan. Seventy-four percent of Americans expressed confidence in Greenspan in 2001, although that approval declined to 56% by 2005, just before he retired.
Implications
Americans' greater confidence in Obama than in Romney to do or recommend the right things for the economy is good news for Obama's re-election campaign. It also runs counter to the general perception that Romney's strong suit if he became president would be managing the economy. Americans' improving economic confidence in early 2012 may be helping the president maintain the level of confidence in his economic leadership that Americans had a year ago.
Further, Romney's campaign for the Republican presidential nomination may have limited his ability to distinguish himself from Obama on managing the U.S. economy. It is also possible that some respondents interpret the question wording, which asked Americans to rate each on his ability to "recommend the right thing for the economy," as more of a philosophical position than one involving managing the economy. That is, it is possible that some respondents feel Obama has better ideas for the economy even if they also believe Romney would do a better job of actually managing the economy.
The economy is going to play a key role in this year's presidential election, which brings to the fore the issue of how much confidence Americans have in the Fed chairman. Bernanke has adopted numerous unprecedented policies in an effort to do everything possible to support and stimulate the U.S. economy. Of course, these new policies have many supporters and detractors.
In this regard, it is noteworthy that more Americans express little or no confidence (46%) in Bernanke than express confidence in him (39%). As was seen during the Republican nomination process, Fed policy can become a presidential campaign issue -- and these low ratings suggest Bernanke and the Fed are now particularly vulnerable. The degree of Bernanke's potential vulnerability, however, likely depends on whether the economy continues to improve or whether economic activity slows substantially this year as it did last year.
Survey Methods
Results for this Gallup poll are based on telephone interviews conducted April 9-12, 2012, with a random sample of 1,016 adults, aged 18 and older, living in all 50 U.S. states and the District of Columbia.
For results based on the total sample of national adults, one can say with 95% confidence that the maximum margin of sampling error is ±4 percentage points.
Interviews are conducted with respondents on landline telephones and cellular phones, with interviews conducted in Spanish for respondents who are primarily Spanish-speaking. Each sample includes a minimum quota of 400 cell phone respondents and 600 landline respondents per 1,000 national adults, with additional minimum quotas among landline respondents by region. Landline telephone numbers are chosen at random among listed telephone numbers. Cell phone numbers are selected using random-digit-dial methods. Landline respondents are chosen at random within each household on the basis of which member had the most recent birthday.
Samples are weighted by gender, age, race, Hispanic ethnicity, education, region, adults in the household, and phone status (cell phone only/landline only/both, cell phone mostly, and having an unlisted landline number). Demographic weighting targets are based on the March 2011 Current Population Survey figures for the aged 18 and older non-institutionalized population living in U.S. telephone households. All reported margins of sampling error include the computed design effects for weighting and sample design.
In addition to sampling error, question wording and practical difficulties in conducting surveys can introduce error or bias into the findings of public opinion polls.
View methodology, full question results, and trend data.

For more details on Gallup's polling methodology, visit www.gallup.com.