PRINCETON, NJ -- Fifty percent of Americans now have a favorable opinion of presumptive Republican presidential nominee Mitt Romney, up from 39% in February and his highest by 10 percentage points. His current 41% unfavorable rating, though, leaves him with a net score of +9, after being at -8 in February. In roughly half of the 28 measurements Gallup has taken of Romney since 2006, more Americans have viewed him negatively than positively.
The spike in Romney's favorable rating in the May 10-13 USA Today/Gallup poll is predictable, given that he has become the presumptive Republican nominee. Presidential candidates typically get a spike in their favorable ratings in the wake of winning the nomination. Gallup's prior measurement of Romney, in February, came as Rick Santorum was surging in the polls after a series of primary and caucus wins that made him Romney's main challenger.
Republicans and independents are fueling the rise in Romney's favorable rating, with Democrats' views of him unchanged. Eighty-seven percent of Republicans now view him favorably, up from 65% in February. His favorable rating among independents is 11 points higher, and independents now view Romney more positively (48%) than negatively (43%).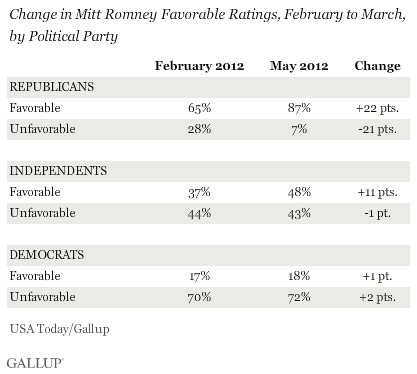 As a result of the increase, Romney's favorable rating nearly matches President Obama's 52%. Obama has a 46% unfavorable rating. Obama's favorable rating has ranged between 50% and 55% since January 2011. It was 64% after he clinched the 2008 Democratic nomination, and reached a personal high of 78% just before he was inaugurated in January 2009.
Romney's Favorable Rating Low Compared With Those of Prior Nominees
Although Romney's favorable rating is improved, it ranks among the lowest for recent nominees in the first Gallup poll conducted after they wrapped up the presidential nomination. Gallup has tracked favorable ratings of presidential candidates using the current question format since 1992. Only Bill Clinton, at 38% in March 1992, had a lower favorable rating than Romney currently does, partly because Clinton was still unfamiliar to a substantial minority of Americans (23%) after wrapping up the 1992 Democratic nomination. Clinton's rating improved in the months that followed as he became better known, reaching 50% in May.
John Kerry (60%) and Bob Dole (57%), who -- like Romney and Clinton -- faced incumbent presidents in the election, had higher favorable ratings after they became the presumptive nominees for their respective parties.
John McCain had the highest favorable rating of any recent nominee -- 67% in March 2008.
The favorable ratings of incumbent presidents in prior election years were, like Obama's, generally similar to those of their opponents when their challenger was decided. That includes a 56% favorable for George W. Bush in February 2004 and a 58% for Bill Clinton in March 1996. George H.W. Bush had a 48% favorable and a 44% unfavorable rating in March 1992.
Implications
Americans view Romney more positively now than at any point since his first presidential campaign, helped by the usual surge a candidate gets in moving from a presidential nomination candidate to the party's presumptive presidential nominee. However, even with the improvement, he still rates as one of the least positively viewed presidential candidates at a similar point in the campaign.
And while his favorable rating now nearly matches his opponent's, when asked to choose which candidate they see as more likable, Obama wins by a wide margin.
Romney's struggle to gain Americans' favor is a concern for his election prospects, particularly because in each of the last five contests, the candidate with the higher favorable rating at the time of the election has been elected.
Working in Romney's favor is that Obama's favorable rating remains somewhat depressed. That means the 2012 election could match two of the least well-liked candidates in recent elections, in contrast to the 2008 election, in which Obama and McCain were two of the most well-liked.
Sign up to get Election 2012 news stories from Gallup as soon as they are published.
Survey Methods
Results for this USA Today/Gallup poll are based on telephone interviews conducted May 10-13, 2012, with a random sample of 1,012 adults, aged 18 and older, living in all 50 U.S. states and the District of Columbia.
For results based on the total sample of national adults, one can say with 95% confidence that the maximum margin of sampling error is ±4 percentage points.
Interviews are conducted with respondents on landline telephones and cellular phones, with interviews conducted in Spanish for respondents who are primarily Spanish-speaking. Each sample includes a minimum quota of 400 cell phone respondents and 600 landline respondents per 1,000 national adults, with additional minimum quotas among landline respondents by region. Landline telephone numbers are chosen at random among listed telephone numbers. Cell phone numbers are selected using random-digit-dial methods. Landline respondents are chosen at random within each household on the basis of which member had the most recent birthday.
Samples are weighted by gender, age, race, Hispanic ethnicity, education, region, adults in the household, and phone status (cell phone only/landline only/both, cell phone mostly, and having an unlisted landline number). Demographic weighting targets are based on the March 2011 Current Population Survey figures for the aged 18 and older non-institutionalized population living in U.S. telephone households. All reported margins of sampling error include the computed design effects for weighting and sample design.
In addition to sampling error, question wording and practical difficulties in conducting surveys can introduce error or bias into the findings of public opinion polls.
View methodology, full question results, and trend data.
For more details on Gallup's polling methodology, visit www.gallup.com.