WASHINGTON, D.C. -- Americans are more than twice as likely to rate the state of moral values in the United States as "poor" rather than as "excellent" or "good." The 43% who say the state of moral values is "poor" is up from last year, but similar to what Gallup measured from 2006 to 2010.
Americans remain largely pessimistic about the direction in which the nation's morals are headed, according to Gallup's annual Values and Beliefs survey, conducted May 3-6. Seventy-three percent of Americans say moral values in the country as a whole are getting worse, up from 69% last year. However, their outlook now is slightly less negative than in 2004 to 2008, when about eight in 10 Americans said moral values were getting worse. Nineteen percent now say values are getting better, and 5% volunteer that they are staying the same.
The net result of these two trends is a slight decline from last year in Americans' perceptions of moral values, but still representing a more positive outlook than from 2006 through 2008. Almost seven in 10 Americans today can be classified as having a negative view of moral values -- based on the percentages who think moral values are only fair or poor and either worsening or staying the same.
Twelve percent have a positive view of morals, saying they are excellent or good and either improving or staying the same. Another 16% fall somewhere in between in their views.
Americans' views on moral values differ by party identification, with 82% of Republicans having negative opinions of U.S. moral values, compared with 72% of independents and 53% of Democrats.
To better understand what Americans mean when they say moral values in the country are getting worse, Gallup asked respondents to describe in their own words the most important problem with the state of moral values in the country today. The resulting verbatim responses were coded into categories.
Americans are most likely to cite a lack of respect or tolerance for other people as the most important problem with moral values. Other frequent responses include the decline of family structure, a lack of religion and faith, and a lack of morals in general.
Few Americans cite divisive social issues such as gay marriage or abortion. Similarly, despite the recent uproar about race relations surrounding the Trayvon Martin case, few say racism or discrimination is the most important moral values problem.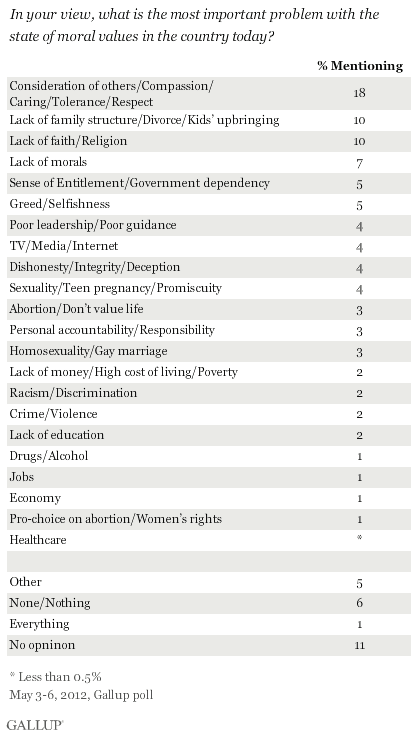 Bottom Line
Americans today are slightly more negative in their overall perceptions of the state of moral values in the country than they were last year, though not quite as negative as in the prior seven years. Although Americans are down on the current and future state of moral values, these generally negative opinions are unlikely to influence their vote in the upcoming presidential election. Few Americans cite a moral or social issue as the most important problem facing the country, and moral issues rank far behind other issues when U.S. voters rate the importance of various issues to their vote. Further, Americans' explanations of what they consider to be the most important moral problems facing the country focus on general issues of civility, family structure, religion, and morals in general -- rather than more politically charged issues such as abortion and gay marriage.
Survey Methods
Results for this Gallup poll are based on telephone interviews conducted May 3-6, 2012, with a random sample of 1,024 adults, aged 18 and older, living in all 50 U.S. states and the District of Columbia.
For results based on the total sample of national adults, one can say with 95% confidence that the maximum margin of sampling error is ±4 percentage points.
Interviews are conducted with respondents on landline telephones and cellular phones, with interviews conducted in Spanish for respondents who are primarily Spanish-speaking. Each sample includes a minimum quota of 400 cell phone respondents and 600 landline respondents per 1,000 national adults, with additional minimum quotas among landline respondents by region. Landline telephone numbers are chosen at random among listed telephone numbers. Cell phone numbers are selected using random-digit-dial methods. Landline respondents are chosen at random within each household on the basis of which member had the most recent birthday.
Samples are weighted by gender, age, race, Hispanic ethnicity, education, region, adults in the household, and phone status (cell phone only/landline only/both, cell phone mostly, and having an unlisted landline number). Demographic weighting targets are based on the March 2011 Current Population Survey figures for the aged 18 and older non-institutionalized population living in U.S. telephone households. All reported margins of sampling error include the computed design effects for weighting and sample design.
In addition to sampling error, question wording and practical difficulties in conducting surveys can introduce error or bias into the findings of public opinion polls.
View methodology, full question results, and trend data.

For more details on Gallup's polling methodology, visit www.gallup.com.